---
The Nintendo Switch is popular, but the processing power can't keep up with the competition in the form of the PlayStation 5 and Xbox Series X. Now there is new evidence that Nintendo is currently working on an improved version of the hybrid console.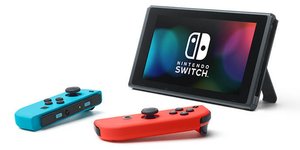 The Nintendo Switch Pro might come after all
Rumors have been circulating for years that the Nintendo Switch will have a more powerful successor: a Nintendo Switch Pro. An Nvidia employee is now revealing more clues to this secret project. Specifically, the existence of a Tegra T239 ARM chip is confirmed to Linux developers (source: Reddit).
In and of itself, that doesn't mean much for the Nintendo Switch Pro. However, the name of the chip is consistent with the previous report by the well-known leaker kopite7kimi. He already revealed in June 2021 that Nintendo will use exactly this chip (source: kopite7kim).
Check out the new games for Nintendo Switch Online + Expansion Pack here:
Leak reveals how powerful the Switch Pro could be
With the report of the new Nvidia chip, the existence of a Nintendo Switch Pro a fair bit more likely. However, fans should not expect the new version of the console to be launched anytime soon. However, the technical data gives hope that a Nintendo Switch Pro will no longer have problems with jerky games.
Based on the leaked data, fans on the GamingLeaksAndRumours subreddit assume that the new Switch slightly more powerful than the PS4 and also when the Steam Deck might fail. Even then, however, the PlayStation 5 and Xbox Series X would still be far superior to her.
However, this information is only rumours. Nintendo has never officially confirmed that work is being done on a Switch Pro. More than a year ago, the imminent unveiling of a better switch version was suspected. In the end, though, it was just the regular Switch with a slightly larger OLED screen (check it out on Amazon).