The Livebox 6 entered the first homes, a few days after its officialization. Does it keep its promises? Let's take a closer look.
Livebox 6 has been announced, and it is already available. As a reminder, this new internet box can be described as a real catch-up from Orange. Firstly, it's not as good as SFR and Free, these ISPs offer symmetrical (theoretical) speeds of up to 8 Gb/s with 10G-EPON technologies for Free and XGS-PON for SFR. Nevertheless, Orange has equipped its box with solid connectors, 4 of which can offer a speed of up to 1 Gb/s and a last one which goes up – theoretically – up to 2.5 Gb/s, for 800 Mb/s in upload ( and up to 1 Gb/s for the Pro).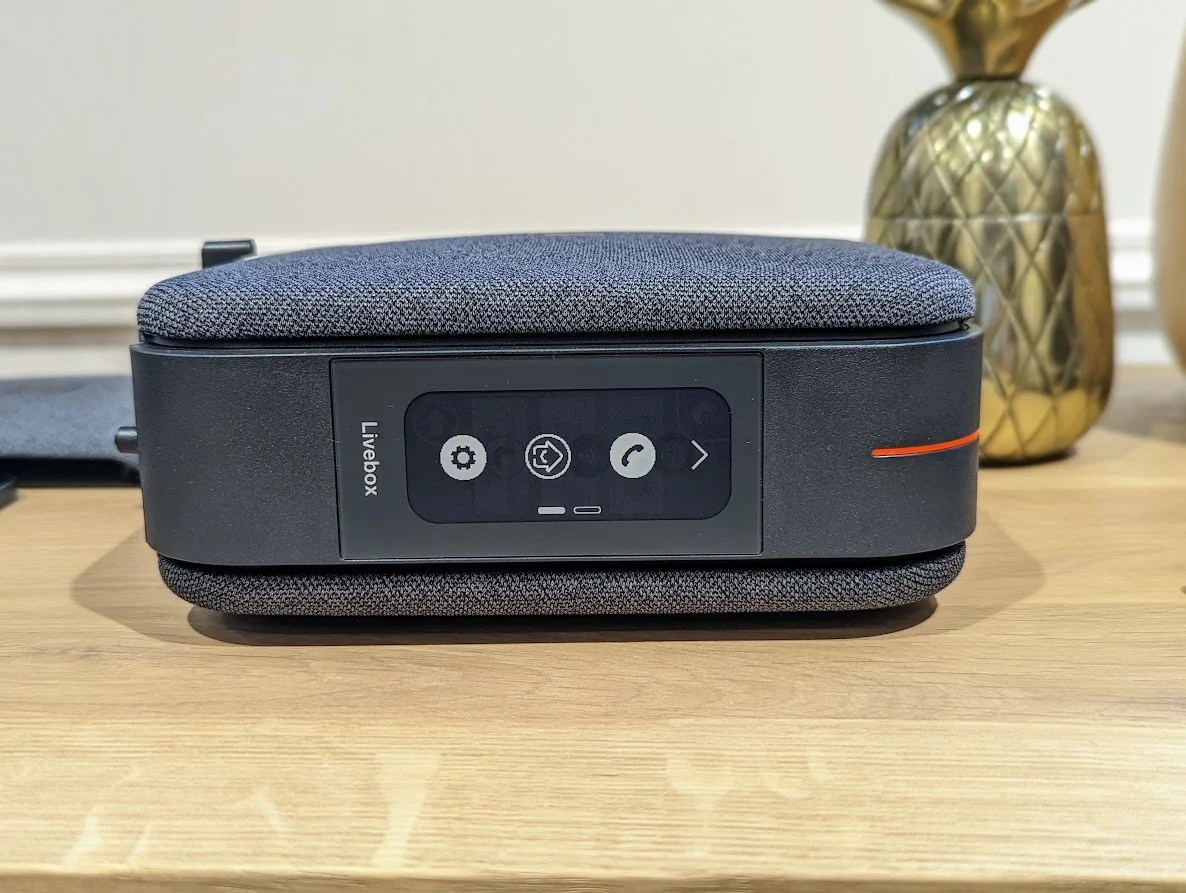 Second, the Livebox 6 is a WiFi 6E compatible box. This new standard is based on the use of the 6 GHz band (in addition to the traditional 2.4 and 5 GHz bands), less congested and therefore faster, smoother and more reliable in homes with a very large number of devices. connected.
Marketed the day after its presentation, the Livebox 6 is already installed in homes. We can therefore discover the first feedback from users, which was also relayed by Univers Freebox.
Speeds that meet expectations
Like all technophiles, the first thing you will do once the box is installed is to launch a speed test. For those unfamiliar with this type of tool, it is a test that measures the data transfer speed between your device and a remote server, these tests usually indicate latency, downstream throughput (download) and the upstream rate (upload).
It is all the more simple as the Livebox 6 displays the flow rates directly on its integrated screen in electronic ink.
Thank you @Orange_Caribbean #Livebox6 pic.twitter.com/9jZnkV0NwT

— Right (@Right_zr) April 12, 2022
It is thus possible to discover speeds ranging from 1800 Mb/s to more than 2100 Mb/s in downlink speed and up to 700 Mb/s in uplink speed. When you connect to the 2 Gb/s Ethernet port, the measured speeds can even be higher than Orange's promises. More than 2100 Mb/s in download speed and more than 800 Mb/s in upload speed, several screenshots of speed test show the performance of the internet box. However, you must connect with an Ethernet cable and have compatible equipment, including the cable.
Very happy with the speeds offered by my new #Livebox6 received last Friday to replace the 5. Wahou! @Orange_France pic.twitter.com/4LMnxQjvcG

— Didier Meance 🔌🔋🚙 (@dmeance) April 14, 2022
Switching to Livebox 6, a bit of rewiring…
It works well 🙂
Promise 2 Gb down / 800mb up held

before after 🙂 pic.twitter.com/xaOYc6yc54

— Nicolas Savides (@NicoSavides) April 14, 2022
If you have a compatible Wi-Fi 6E enabled mobile device, like the Galaxy S22 Ultra, it's also worth testing the performance of this wireless networking standard. As you can see above we can expect speeds beyond Wi-Fi 5 and Wi-Fi 6, one Twitter user measured 1700 Mb/s download and 700 Mb/s rising debit.
With Wi-Fi 6e via Orange livebox6 (Samsung S22 Ultra 5g), which is compatible. pic.twitter.com/QjT0vgLOCd

— Nova4593 (@Nova4593) April 11, 2022
Everything is not perfect
Julien Jay, former editor-in-chief of Clubic, got a Livebox 6 and delivered his first feedback on the Medium platform.
What is striking about this Livebox is the relative simplicity of its start-up and since its great stability, especially in the face of a Livebox 5 (…) I do not notice any notable problem to report and my sometimes capricious peripherals such as the printer or certain IoT objects are all accessible and functional without any worries.

(…)

On the Wi-Fi side, the various Wi-Fi 6 devices tested generally report a speed of around 660 Mbps max in reception, around 300 Mbps for the part covered by the repeater, which is a bit disappointing (and well below services of an Orbi kit for example).

(…)

If it is still a little early to conclude, and apart from Wi-Fi 6E, it is a big yes for this Livebox 6 which offers much better services than the Livebox 5 which it supplants. As for the box itself, it does not seem to overheat which is quite positive.
He mentions a problem with Wi-Fi 6E which seems buggy, which could be fixed with his OTA software updates. Indeed, Wi-Fi 6E is deactivated after a few minutes, the devices then switch to Wi-Fi 6. According to him, Orange could even increase the maximum speed offered, the integrated ONT is at 2.5 Gbps . This leaves a little room to review the range of offers.
Another problem he raises, still related to Wi-Fi 6E: accessories, Wi-Fi repeaters and the TV box are not compatible with this standard. In addition, the Orange et moi mobile application is not quite finalized, the functions inherited from My Livebox have not all been migrated. Finally, last criticism which could be a possible evolution: the energy saving mode cuts everything except the connected telephone… which limits the use of the box. An energy saving mode which deactivates the screen and the LEDs, and which restricts the flow rates, would have been much more useful according to Julien Jay.
Note, however, that Orange seems to have delivered an almost perfect copy, which already differentiates the incumbent operator from its competitor Free. Indeed, the troublemaker of the sector is used to marketing products that are not finalized, often buggy, with functions that can be expected for several months.
A salty price for the best Orange box
For the moment, the Livebox 6 is only offered with an expensive package: the Livebox Max offer. 34.99 euros per month for the first 12 months, then 54.99 euros per month thereafter, it is clearly not cheap.
---
To follow us, we invite you to download our Android and iOS application. You can read our articles, files, and watch our latest YouTube videos.