Kobo+ by Fnac is a monthly subscription service that provides access to 50,000 ebooks in French on your smartphone, tablet or Kobo eReader. At the moment, it is possible to try this "Book Netflix" for free for 30 days, instead of the usual 14.
The scenario is known. When it's time to pack for the holidays, you always slip those two or three books that have been gathering dust on your bedside table for many months: " It's a good time to take the time to read them ".
And then, when you open them, you remember why you waited so long. Too long, not rhythmic enough or bought on a whim, they are not really suitable for relaxation. It's time for regret.
Dematerializing these books is not only a good solution to lighten your suitcase, but also to give yourself more choice. This is where Kobo comes in. The brand is well known for its readers, but for the past few months it has also offered a subscription allowing free access to a catalog of more than 500,000 ebooks, including 50,000 titles available in French.
The SVOD of the book
This subscription usually comes with a 14-day free trial. However, for the start of the summer holidays, Kobo is extending this trial period by an additional 15 days. Until July 31, the Kobo+ by Fnac ebooks subscription is on a free trial for 30 days. All you have to do to try it out is download the app to your Android or iOS smartphone, tablet, or Kobo eReader.
You must enter your credit card number to benefit from this free month. However, as this is a non-binding subscription, you can stop it at any time. Once past the 30-day trial, the cost of the subscription is 9.99 euros per month. Reading 2 ebooks each month makes the subscription profitable.
What does Kobo+ by Fnac and its app offer?
Kobo+ by Fnac is a monthly subscription offered within the free Kobo by Fnac application. Basically, the application offers a store to buy ebooks, but also a selection of free ebooks, often works that have fallen into the public domain. Once the book has been purchased or downloaded, the application then allows you to read it via a simple but well-designed interface.
For 9.99 euros per month, Kobo+ by Fnac allows you to go further by accessing a varied catalog of ebooks. The full list and top ebooks can be viewed on this page.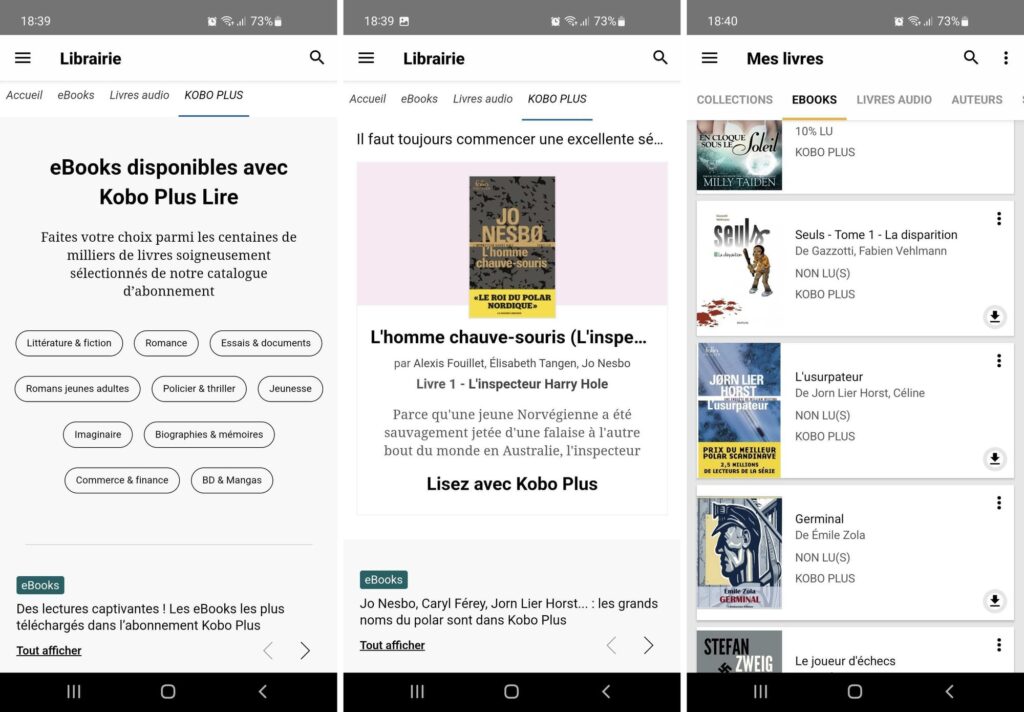 This selection is primarily intended for the general public. She relies on lightness and relaxing reading. There are therefore many romances, with the main books by Marc Levy (And if it was true…, See you again) as well as the latest book by Anne-Gaëlle Huon (What the stars owe to the nightbut also his bestseller The ladies).
Polars also have a good place in this subscription. You can find some books by Michel Bussi there (Die on the Seine), Blake Pierce (The City of Prey) or even Bruno Bouzounie (At the end of the night). A youth section, with comics (Leonardo, Cedric) or novels for young adults are also present.
And, if you lack inspiration, the Kobo Plus section of the application constantly offers editorialized selections of books, whether by genre or by desire (quick reading, good series to start, books feel goodetc.).
Once you've chosen an ebook, all you need to do is add it to your virtual library. Kobo by Fnac then allows you to download the ebook in question in order to read it offline. As on an e-reader, you can also switch from one book to another (the application will then save your progress in the book), adjust the font or its size, switch to dark mode, or go to n' any chapter of the book.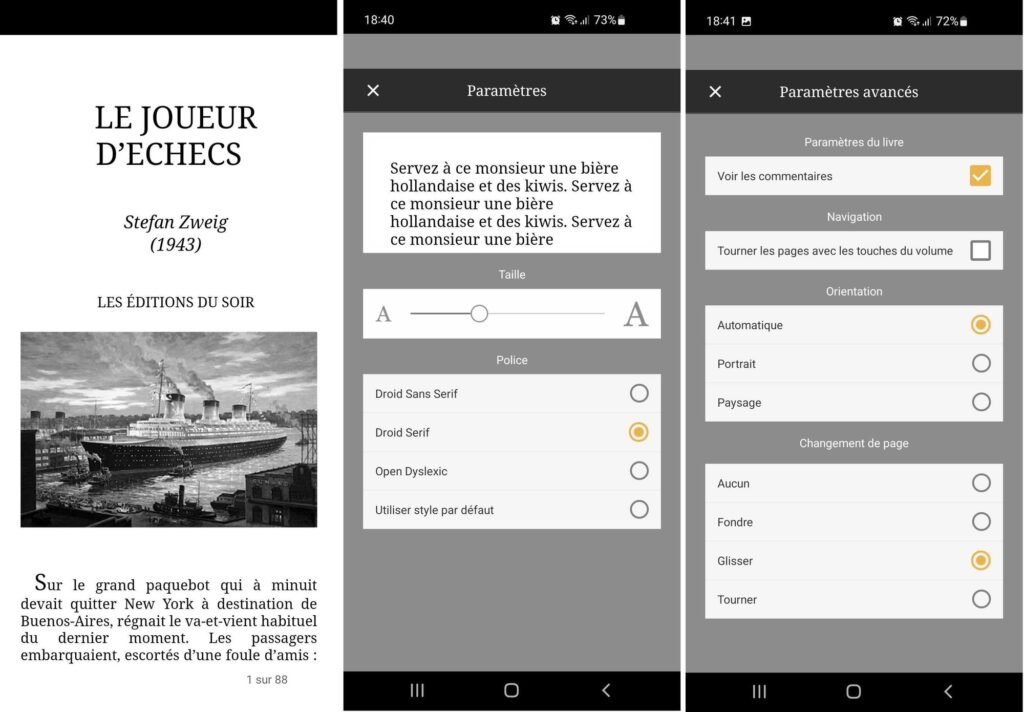 How to take advantage of the 30-day free trial of Kobo+ by Fnac?
Nothing could be simpler to take advantage of this free month of reading: just download the Kobo by Fnac application on your smartphone or tablet or go to the Fnac website.
Some links in this article are affiliate. We'll explaine everything here.

This is content created by freelance writers within the Humanoid xp entity. Numerama's editorial team did not participate in its creation. We are committed to our readers to ensure that this content is interesting, qualitative and corresponds to their interests.