Report in Roubaix: Amine Elbahi, target of Islamists
By denouncing the fundamentalist influence in "Forbidden Zone", this Roubaisian puts his life in danger.
Faced with insults and death threats, Amine Elbahi barely blinks. For weeks, a torrent of furious hatred has been falling, via social networks, on this 25-year-old lawyer. Beheading, butchering… His enemies condemn him to a disastrous end. His wrong? Having openly denounced, in "Forbidden Zone", the excesses of radical Islam in Roubaix, his hometown, revealing in passing the complacency of certain elected officials, whom he names, with regard to religious fundamentalists. Courage has a price. Since his damning testimony, he has been under police protection day and night, like Ophélie Meunier, the presenter of the television show. This protocol, triggered in an emergency, reassures him. He must nevertheless limit his outings and avoid crowds, public transport and Roubaix, his stronghold. His daily life has been reduced to the bare minimum. Risking his life to defend his freedom, at home in France, Amine Elbahi did not expect it. However, he does not regret his words: "I feel even more serene, determined and free to express myself, he swears. If what I said bothers, it's because I have to aim straight…"
Read also:The quiet march of Islamism
Nothing destined him to become the target of these extremists. His mother, to whom he is close, left Oran, in Algeria, at the beginning of the 1980s. At the age of 20, she arrived alone in Marseille, then moved to Paris and then, in 1988, to Roubaix. In 1996, Amine was born. His childhood is not sweet. Fourth in a family of six children, three brothers and two sisters, he grew up in L'Épeule, a working-class district, in a modest, close-knit Muslim family, united around a strong maternal figure. The boy remembers the early departures and late returns of this mother, a tender, authoritarian housekeeper, steeped in suffering. Faced with his distress, the child forges a shell, flourishes in solitude and a strict upbringing. "My family knows what misery is, but my mother managed very well despite the difficulties and the absence of my father, whom I never knew. She, who even today cannot read or write, instilled great values ​​in us: learning, work, respect for others and freedom of thought. Sometimes it was hard at home. But we were happy. »
Raised by an illiterate mother, this law graduate imposed himself, very young, by his eloquence
As a child, he surprised by his maturity and lucidity. "Very quickly, he says, I understood that individuals were not all housed in the same boat, that they were not all fighting with the same weapons, but that there were tools to move forward and s 'adapt. Nothing is set in stone, but "we get nothing for nothing", my mother kept telling me. At 10, he sold his things on the market to earn a few tickets. At 12, in college, doctors detected a malformation in his knees, a handicap from which he still suffers. This is the age when we get merry on the football pitch. Amine stamps his feet on the sidelines… until he finds a solution to this twist of fate: at 14, he will become the youngest referee in his region. "I refereed every weekend," he says. I put lots of boxes, they nicknamed me "Lucky Luke, the man who shoots faster than his shadow"! »
His strong character, his stubbornness leave a memory amused to some, annoyed to others. Amine Elbahi likes to be noticed. One day, he launched a sustained strike to denounce the exclusion of a student from his class. Later, his popular eloquence and his nerve, boosted by a certain insolence, earned him being elected to the council of high school life. Throughout his schooling, his piquant leadership impresses his comrades, tenses his teachers. In fifth, the schoolboy takes off. His mother enrolled him in boarding school at the private Catholic college Sainte-Marie, in Cassel, about sixty kilometers from Roubaix. The values ​​of the institution are discipline, rigor and mutual aid. He is not 15 years old but already has a singular strength of mind, coupled with a serious resistance to authority.
Amine is bored in class. Expelled from his chic high school due to regular absenteeism, he finds himself in a so-called "sensitive" establishment. The high school student is already pointing out the shortcomings of local politics. He notes in a notebook ideas, proposals for a fairer world. At 16, in second, he joined the Youth Advisory Council, a committee intended to involve young people in local life. He is again disappointed: "The debates lacked substance," he complains. A year later, in 2014, he became involved in politics with the Jeunes Populaires, youth movement of the Union for a Popular Movement (UMP), where he managed communication from the Roubaix branch. "I had the art of the punchline, easy contact and the desire to learn and share my ideas with more mature people. Teenagers and their video games didn't interest me. I wanted to discover what was not accessible to me. »
With the militants, Amine Elbahi speaks bluntly. He regrets the absence of solidarity, deplores the withdrawal into oneself, the social injustices and the toxic communitarianism encouraged by the fundamentalists. With his outspokenness, he wants to move the lines. He will be involved in the campaign of Guillaume Delbar, UMP candidate for the municipal elections of March 2014. Roubaix, haunted by unemployment and poverty (45% of the inhabitants live at the time below the poverty line, estimated at 977 euros per month), dark in abstentionism: 55.59% in the second round, against 36% on the national territory! This sad record, added to the break-up of the left, benefits the right-wing candidate who, to everyone's surprise, wins the ballot. Elbahi, full of hope, is at his side, on the front line for the defense of republican values ​​and the fight against extremism. But, two months later, on August 28, 2014, her world collapsed.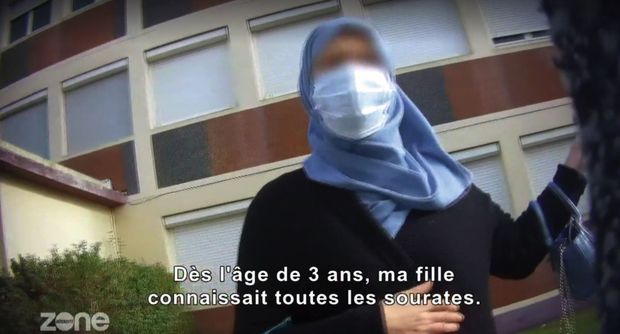 The young man would never have imagined being directly affected by the evils he abhors. That Thursday, her 19-year-old older sister, a law student, goes to the market. A decoy. She is actually fleeing to the Syrian hell, which she has been made to take for a paradise. Alone, she goes through Belgium and then Turkey. Her relatives will never see her again. Only Amine keeps in touch: "She's not an idiot who watched TV and said to herself: 'Jihad is great!' She joined a recruitment network which operated in Roubaix and which did enormous damage. She was not driven by a will to fight, but by the dream of living on holy ground. I realized that I couldn't do anything anymore. There, she married a French fighter and had a boy, born in December 2015, and a girl, born in January 2017. Since the fall of Daesh, she has been a widow, a prisoner in a camp. Her children are locked up in another, in Roj. My biggest fight is to repatriate them. My nephew and my niece don't have to pay for their mother's mistakes, it's inadmissible to leave them there…"
After the shock and misunderstanding, anger overwhelms Amine. Two months before the disappearance of his sister, he had reported his sudden radicalization to the authorities, via Stop jihadism, the toll-free number set up by the government. He described her assiduous prayers, her radical remarks, her full veil. In vain: "They were volunteers. They understood nothing! Roubaix was then hit by a large wave of departures to Syria, in particular that of twenty-three people from the same family.
"

If what I said bothers, it's that I have to aim straight

"
Almost eight years later, this absence remains a deep wound, still painful. Amine Elbahi is a collateral victim of the Islamist drift he denounces and of which he is now the target. "The death threats that I receive today are nothing compared to the departure of my sister," he says. In the face of adversity, his commitment remains unwavering. A master 2 in public business law in his pocket, still a student, he continues a training cycle and dreams of donning the robe of a lawyer. "I like the idea of ​​defending causes that are not mine," he argues. I built myself through words, I like to contradict. What interests me is the verbal fight. In the meantime, he is fighting on several fronts.
In November 2019, Amine founded the Caisse sociale, a local association that aims to help Caf recipients assert their rights. At the same time, he fights extremes and, through scathing statements, denounces "the inaction of the State and of certain local officials who, through cowardice, complacency and clientelism, bring us into this unacceptable situation". He also criticizes a former relative, the mayor Guillaume Delbar, ex-Les Républicains rallied to the banner of La République en Marche, whom he accuses of having lacked vigilance in the financing of an association suspected of religious proselytism. The accusations against this close friend of Gérald Darmanin fall badly, right at the time when the government supports the plan of the Minister of the Interior on "Islamist separatism".
"Roubaix is ​​the proof that we let it happen, gets carried away Amine Elbahi. Rather than identifying the enemy, a minority, we experience a form of renunciation. Instead of acting, we react! Knowledge is relegated to the background in favor of emotion. I am amazed at our ability to collectively move us from a situation that we have all known for a long time. Roubaix, like many territories in France, has become the symbol of the failure of the state, unable to assert its authority. I expect our politicians to come up with ideas. Today it is empty, hollow. Nothingness. A question about his possible candidacy for the June legislative elections seems to flatter him. "I have to build myself professionally to get involved," he replies. I carry ideas and it is up to the politicians to come and support them. As proof, the dozens of text messages he receives from them daily. Amine Elbahi is a man as hated as he is courted.
Any reproduction prohibited