Investing.com – Cryptocurrency exchange Coinbase (NASDAQ:) is now also siding with the fintech in the US Securities and Exchange Commission (SEC) lawsuit against Ripple.
On Monday, the cryptocurrency exchange filed an amicus request, which will allow it, if accepted, to bring its expertise to Ripple in the context of the trial. Coinbase Chief Legal Officer Paul Grewal said:
"One of the most important procedural safeguards enshrined in the Constitution is that governmental authorities cannot condemn behavior as a violation of law without first adequately indicating that such behavior is unlawful. The SEC lost view this fundamental principle by suing the seller of XRP tokens after signaling in public statements that these transactions were legal".
The number of people who now officially sympathize with Ripple therefore continues to increase, which strengthens the company's position vis-à-vis the supervisory authority.
Meanwhile, Coil CEO Stefan Thomas announced that his company is working on a peer-to-peer micropayment network that will use XRP for transaction settlement.
Thomas joined Ripple in 2012 and became CTO of the company in 2013. In 2018, he joined the Coil monetization platform, which is backed by Ripple.
In the longer term, it is planned to integrate and for the processing of payment transactions.
Ripple: technical benchmarks
Ripple is currently up 0.04% with a price of $0.4572, while the weekly loss stands at -2.42%.
The cryptocurrency is still in a sideways range around the 38.2 percent Fibo retracement of $0.4639. On the downside, this zone is bounded by the 50 percent Fibo retracement of $0.4352 and the October 20 low at $0.4295.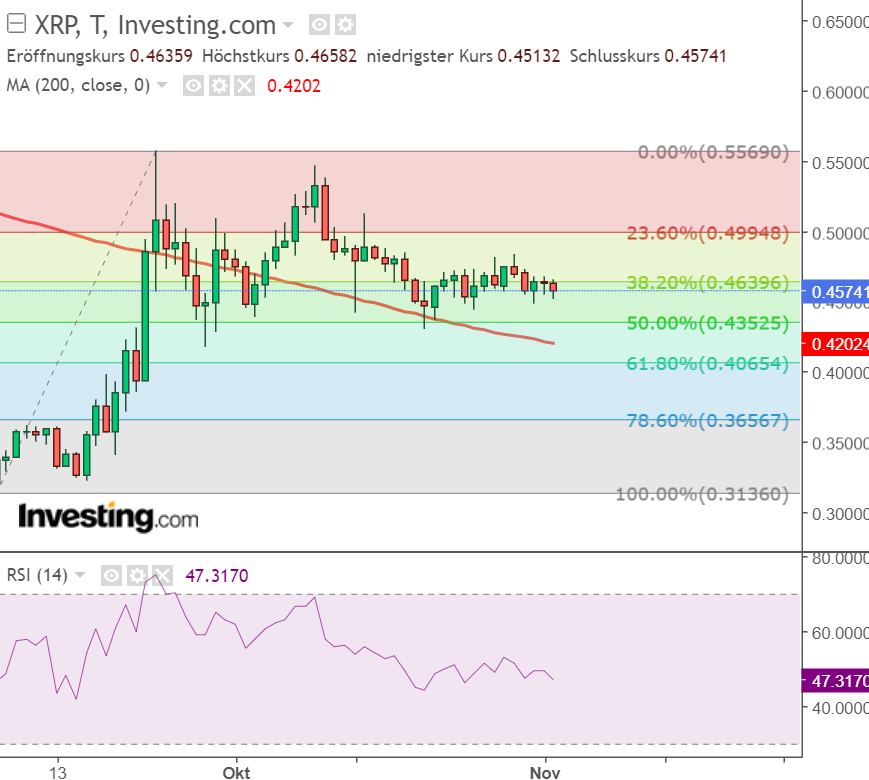 However, the October 29 high at $0.4835 offers resistance. If we manage to cross it, we will move towards the next zone of resistance. This lies with the 23.6 percent fibo retracement at $0.4994 and is reinforced by the psychological level of $0.5000.
By Marco Oehrl