British royals
They are defended after accusations of racism
Queen Elizabeth, Prince William and Co. are currently facing serious allegations: Is the British royal family racist? No, say some People of Color (PoC) – and support the Royal Family.
The allegations made against the Royal Family by Duchess Meghan, 39, and Prince Harry, 36, in their interview with Oprah Winfrey, 67, are serious. "The months I've been pregnant have been about the fact that he (Archie) won't get a title and concerns and conversations about how dark his skin might be when he's born," Meghan said.
The talk show host was stunned, asked several times who asked such a question, but Harry and Meghan remained tough: It would be "too harmful" for the person concerned to make it public. Only Queen Elizabeth, 94, and Prince Philip, 99, were subsequently taken out of the line of fire by Harry.
Team Meghan vs. Team Queen

Since then, the headlines have been rolling over, some are "Team Meghan" and rage on the net about the British royal family, others doubt the credibility of the Sussexes. Like star presenter Piers Morgan, 55, who even quit his job because of it.
The only ones who say (almost) nothing are those affected themselves. The Queen calls the allegations "worrying" in a short statement. Prince Charles, 72, was absolutely silent on his first appearance after the explosive interview – he is said to have not had the heart to watch the interview with his son and his wife. Only Prince William, 38, couldn't help but replied to a reporter at one appointment that they are "not a racist family".
Harry + Meghan: Your wedding choir sticks to Prince Charles

Now People of Color speak out to defend the British royal family against the serious accusations of racism. Some members of the choir, who sang at Harry and Meghan's dream wedding in May 2018, take the side of the royal family. Karen Gibson, founder and conductor of "The Kingdom's Choir," told TMZ on Thursday that it was Prince Charles himself who invited the African American group to Windsor. After the performance he is said to have praised the choir in the highest tones.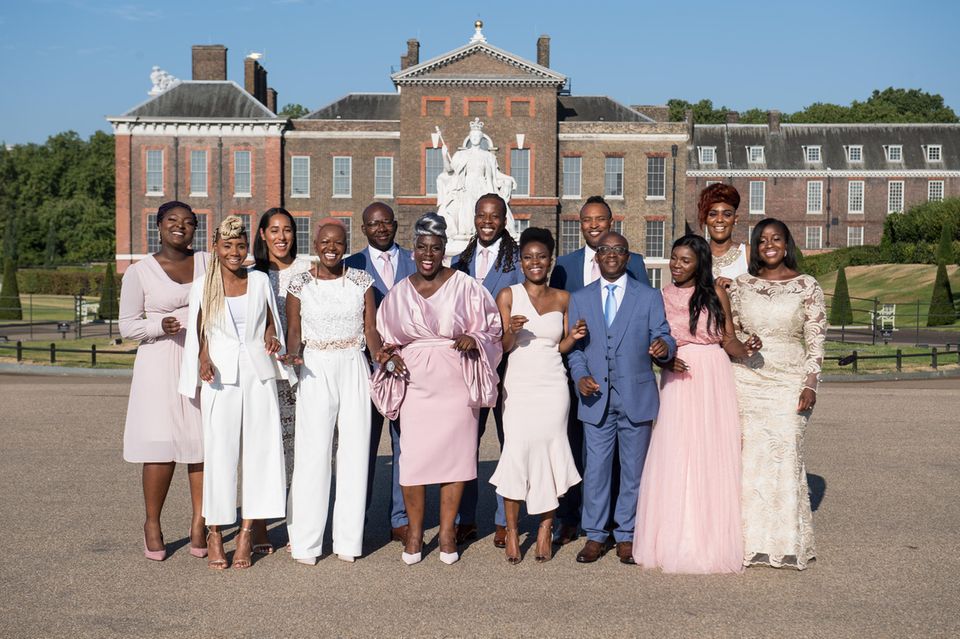 Sir Kenneth Olisa defends Queen Elizabeth

Queen Elizabeth and Co. also get support from Sir Kenneth Olisa, who wrote an essay in the Daily Mail on why he, "the Queen's first black lord lieutenant, does not believe that the royals are racist". Right at the beginning of his text, Sir Kenneth Olisa announces that he and his wife Julia discussed the color of their child's skin with the family – Julia is white, he black. His mother-in-law asked this question. "That was absolutely not meant in a bad way or was received that way," recalls Olisa.
"I am desperate and saddened that, after our collective response to Covid has cast such a warm light on British community values, the nation is now at great risk of being divided on the issue of racism," writes Sir Kenneth Olisa . "In 2015, Her Majesty the Queen appointed me Lord-Lieutenant of Greater London – the first non-white British to hold this ancient office. In that capacity, I support the Queen and the Royal Family and help them build bridges, people and organizations and to strengthen London's sense of belonging to an inclusive capital, "he continued, asserting:" As a result, I have had the privilege of meeting all the members of the royal family on many occasions – and I can attest that they are charming and are inclusive. This is not just my perception – it is one that is shared by the many thousands of people (…) ".
Sources used: dailymail.co.uk, justjared.com, tmz.com
This article originally appeared on GALA.de.
aen