Samsung has unveiled its new wireless headphones, the Galaxy Buds 2 Pro. These are the first from the brand to integrate the new SSC Hi-Fi codec allowing 24-bit wireless transmission.
As expected for several months now, Samsung took advantage of the announcement on Wednesday of its Galaxy Z Flip 4, Galaxy Z Fold 4, Galaxy Watch 5 and Galaxy Watch 5 Pro to also unveil a new pair of wireless headphones. This new model is positioned in the high-end segment as its name of Galaxy Buds 2 Pro explicitly indicates.
They are in fact the successors to the Samsung Galaxy Buds Pro, launched in January 2021, at the same time as the Samsung Galaxy S21. In the meantime, the Korean firm had launched its Galaxy Buds 2 in August 2021, but had skipped a new pair of headphones at the start of the year. The Galaxy Buds 2 Pro are therefore the manufacturer's first headphones after a year of absence. Time for Samsung to refine its formula to offer some original improvements for its new models.
A new "Hi-Fi" codec for Samsung
The main innovation brought to Samsung on its new wireless headphones is the integration of a brand new Bluetooth audio codec. Remember that while Samsung generally offers support for AAC and SBC, the Korean manufacturer does not include aptX codecs or LDAC on its headphones. The firm also used until now its own audio codec, called Scalable and compatible only with its own smartphones. Samsung has decided to go even further this year with a brand new codec developed specifically with the Buds 2 Pro in mind, the SSC Hi-Fi, for Samsung Seamlesss Codec Hi-Fi.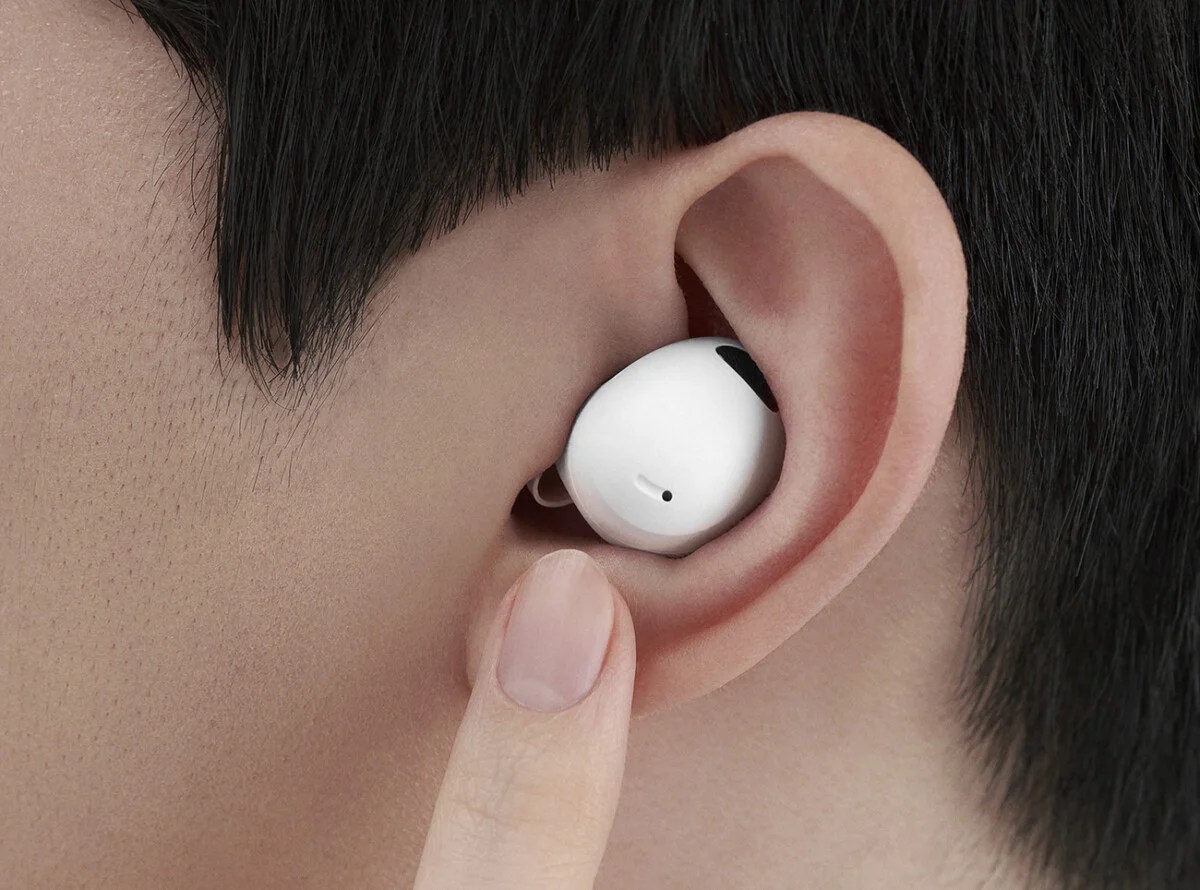 As its name suggests, it is a codec allowing, in principle, Hi-Fi transmission of sound, that is to say without compression. Samsung claims that the codec can thus go up to a sampling rate of 24 bits. What promise, on the side of Samsung, up to 256 times more sound data with SSC Hi-Fi than with destructive codecs such as AAC or SBC. The sound transmission of the Galaxy Buds 2 Pro is also done in Bluetooth 5.3 with an announced range of up to 10 meters. Be careful though: this new Bluetooth SSC Hi-Fi audio codec will only be compatible with Samsung smartphones equipped with at least version 4 of One UI.
The Galaxy Buds 2 Pro are also equipped with touch surfaces for volume control and natively integrate Google Assistant. They are also compatible with 360 audio and with virtualization in 5.1 or 7.1 if you listen to or watch compatible content.
Noise reduction still active in the game
Active noise reduction is obviously part of it thanks to three dedicated microphones per earpiece. Enough to allow the Korean firm to announce a reduced level of up to 33 dB on certain frequencies. For comparison, Huawei announces a noise reduction of around 47 dB on its FreeBuds Pro 2 and Nothing of around 40 dB on its Nothing Ear (1). Remember, however, that these data are generally taken on a single frequency and do not, on their own, give an idea of ​​the effectiveness of the reduction of all surrounding noise.
The transparent mode will meanwhile increase the volume of external sounds by around 25 dB.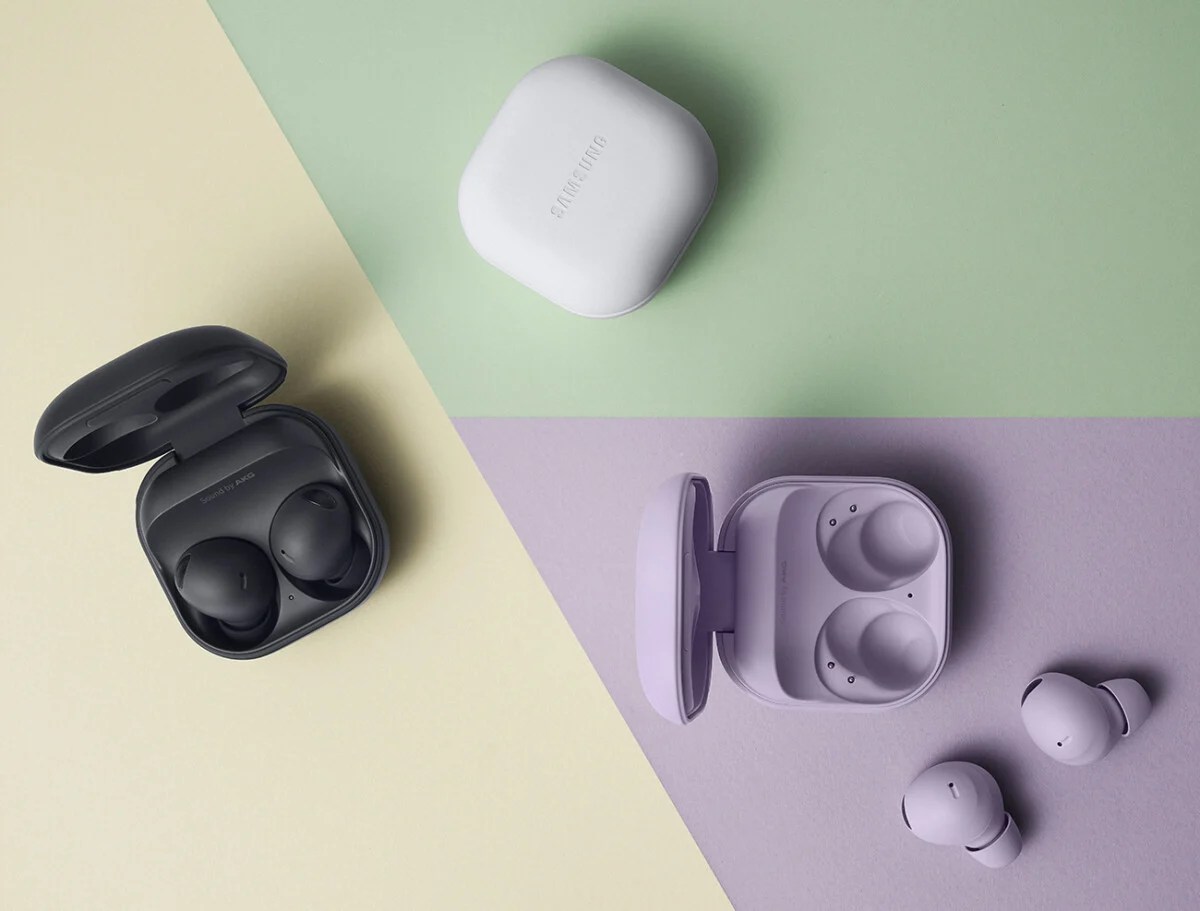 Samsung advertises up to five hours of use of the headphones alone with active noise reduction and up to 18 hours thanks to the case's 515 mAh battery. Without active noise reduction, the autonomy can then increase to 8 hours with the headphones alone and 29 hours with the case charged. The case of the Samsung Galaxy Buds 2 Pro is also compatible with Qi wireless charging by induction.
The Samsung Galaxy Buds 2 Pro are available this Wednesday in three colors: black, purple or white. They are displayed at a price of 229 euros and, on the occasion of the launch, Samsung offers an offer with a 15 W Duo wireless charger offered.
---
To follow us, we invite you to download our Android and iOS application. You can read our articles, files, and watch our latest YouTube videos.