For the first time, Schleswig-Holstein Netz AG connected more power from photovoltaics than from wind turbines to the grid last year. In the case of solar power, it was 176 megawatts peak (MWp) and 139 MW in the case of wind turbines, as the company – SH Netz for short – announced. The total output from renewable energies in Schleswig-Holstein grew last year by 359 MW to 8771 MW.
Rapid expansion requires adapted procedures
"After years of low wind power expansion, this has picked up speed again," said the CEO of Hanse-Werk and the chairman of the supervisory board of SH Netz, Matthias Boxberger. In addition, the growth in photovoltaic systems has more than quintupled. The development will continue. "In Schleswig-Holstein alone, we expect the total EEG system output to double to 19,000 MW by 2035."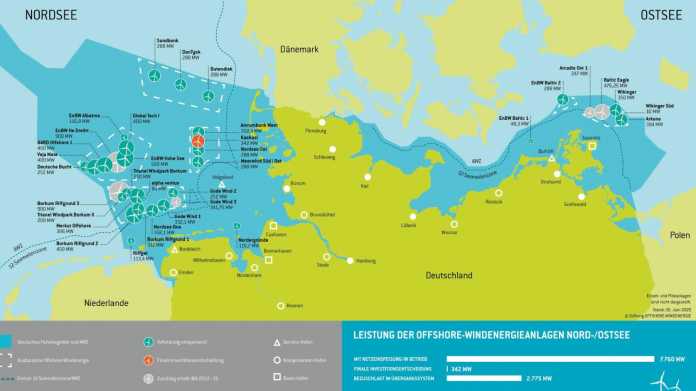 According to Boxberger, this requires accelerated planning and approval procedures for plants and energy networks. "This domestic energy is needed quickly for energy transitions in all areas of consumption and for our country's ambitious climate protection path."
Total installed wind power capacity in front
At the end of 2021, photovoltaic systems with an output of 1705 MWp were connected to the SH Netz grid, 11.5 percent more than in the previous year. The districts of Rendsburg-Eckernförde, Schleswig-Flensburg and Dithmarschen were ahead in terms of expansion.
The installed capacity of wind power increased by 2.2 percent to 6551 MW. The expansion concentrated primarily on the districts of North Friesland and Schleswig-Flensburg. The output of biogas combined heat and power plants increased by 9.3 percent to 515 MW.
SH Netz operates electricity and gas lines in more than 900 municipalities in Schleswig-Holstein for around 2.8 million directly or indirectly connected customers.

(kbe)