This happens in episode 9
In episode 9 of "Star Trek: Picard" season 2 there is a fight against the Borg. Can Picard's team avert disaster? We'll tell you in the recap!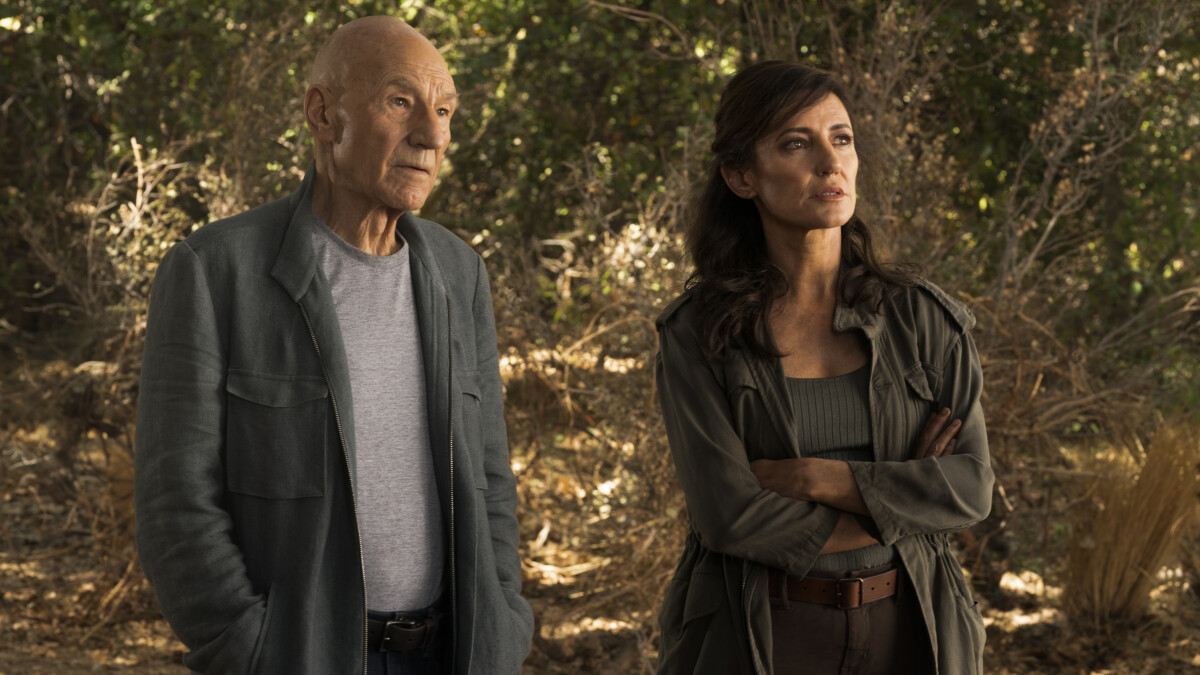 In Germany, episode 9 of "Star Trek: Picard" season 2 will be released on April 29, 2022 at around 11 a.m. in the stream on Amazon Prime Video.
The new episode prepares the finale: the Borg fight against Picard and his crew. Can the battle be won?
Jean-Luc Picard relives a traumatic event from his childhood.
Episode 9 of "Star Trek: Picard" Season 2 is here, preparing for the final episode. The Borg Queen (Annie Wersching) and her army of drones attack the La Sirena, forcing Rios (Santiago Cabrera), Teresa (Sol Rodriguez) and Ricardo (Steve Gutierrez) to flee quickly. Rios is injured.
Jean-Luc Picard (Patrick Stewart) then beams Rios, Teresa and Ricardo away to protect them from the upcoming battle. Teresa takes the chance to tell Rios to stay with her, but he wants to support his friends and soon returns to Chateau Picard.
Meanwhile, Agnes (Alison Pill) tries to regain control of her body. At least she can distract the Borg Queen a bit and in the end even persuade her to save Seven (Jeri Ryan) by being assimilated again. Agnes gets the Borg Queen to reconsider her actions.
And the Borg Queen even gives Agnes' approach to doing good a chance. However, she ends up flying away on the La Sirena while Picard and his team stay behind. No more spaceship for them! No chance of a return to the 24th century?
Meanwhile, with the help of Tallinn (Orla Brady), Jean-Luc has ventured back into his past and relived a gruesome experience when young Jean-Luc saw the corpse of his mother, who committed suicide with a rope.
Star Trek Picard Season 2: This is how you see episode 9 in Germany!

"Star Trek: Picard" will be shown in Germany exclusively on Amazon Prime Video in the stream. If you don't have an Amazon account, you can also use other ways to stream the new episodes: This is how you see "Star Trek: Picard" season 2 in the stream!
The finale of "Star Trek: Picard" season 2 will be released in Germany on May 6, 2022. It is unclear whether "Star Trek: Strange New Worlds" will also be available directly. In the USA, the new series starts on May 5, 2022. We list all "Star Trek" new releases.
| | |
| --- | --- |
| Rate Star Trek: Picard | |
| genre | Action & Adventure, Sci Fi & Fantasy |
| first airing | 01/23/2020 |
| First broadcast in Germany | – |
| home page | cbs.com |
| More sources | |
| network | CBS All Access |
| production | CBS Television Studios |
| squadrons | |
Don't miss anything with the NETWORK-Newsletter
Every Friday: The most informative and entertaining summary from the world of technology!
This page was created using data from Amazon, Netflix, MagentaTV, Sky Online, iTunes, The Movie Database, Fanart.tv, Warner Home Entertainment, Sony Home Entertainment or their respective production studios and/or publishers. In case of errors or problems please use the contact form.