STAR TREK: DISCOVERY

Even in space there are idiots aplenty. A producer of "Star Trek: Discovery" now reveals racist hostilities in the series – and at the same time reacts brilliantly.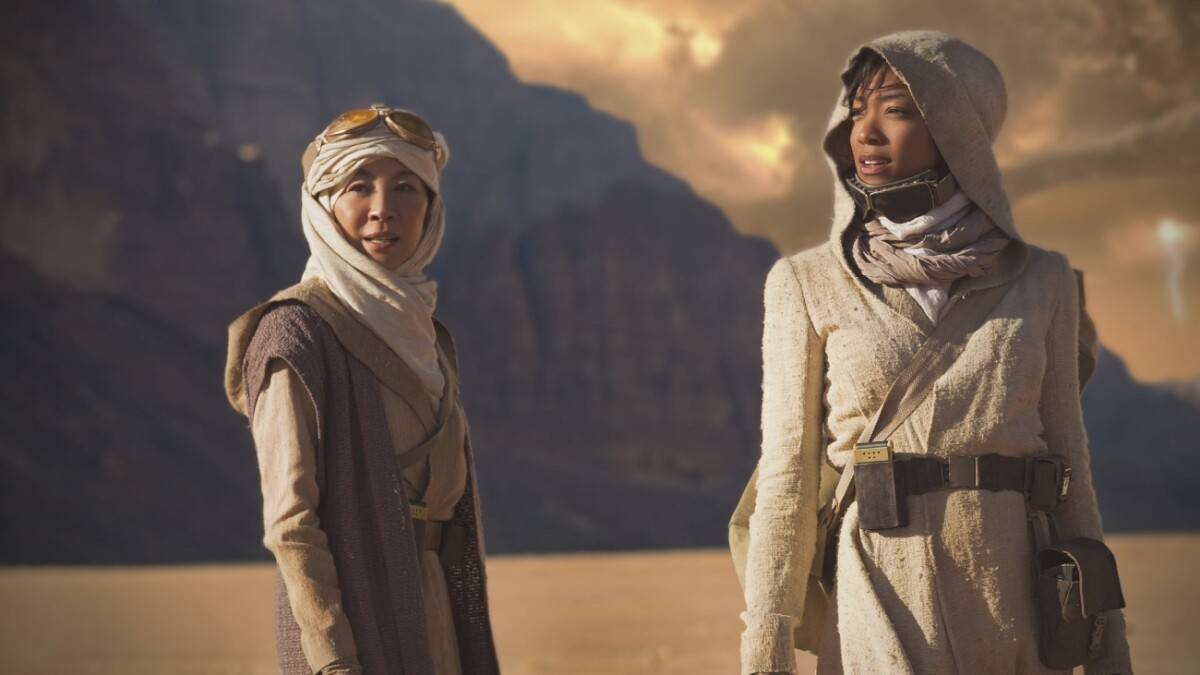 Jenny Lumet, a 'Star Trek: Discovery' producer, recalls racism after the series premiere.
Lumet reacted to the unfortunate hostilities almost grandiosely.
Read here what exactly happened.
In 2017, "Star Trek: Discovery" breathed new life into the "Star Trek" series universe. The 4th season of the series about the main character Michael Burnham (Sonequa Martin-Green) has already been released – and a 5th season will follow next year.
Unfortunately, however, there were also racist attacks and insults on "Star Trek: Discovery", as Jenny Lumet, one of the producers of the series, has now revealed. The attacks began after the premiere episode had aired. As a reminder: In the first scene of the first episode, Michael Burnham and her then-Captain Philippa Georgiou (Michelle Yeoh) are walking on a desert planet.
Discovery producer Lumet told industry publication THR: "In the premiere we had Michelle Yeoh and Sonequa Martin-Green walking around on a planet. The hate mail! 'There are no Black or Asian people in space.'"
And then follows the wonderfully sarcastic reaction to such stupid statements: "Yeah, I know it's tricky. 'There's that blue guy over there and there's a tentacle guy over here, but Michelle Yeoh? What the hell is she doing there?'"
You can hardly put it better. But fortunately – apart from a few Neanderthal fans – the "Star Trek" universe stands for inclusion and a general respect for all life and all imaginable life and identity designs.
For example, science officer Paul Stamets, played by Anthony Rapp, and doctor Hugh Culber (Wilson Cruz) are married in "Star Trek: Discovery". Since Season 3, Blu del Barrio has also been the first non-binary actor to appear in the Star Trek universe.
| | |
| --- | --- |
| Rate Star Trek: Discovery | |
| genre | Action & Adventure, Sci Fi & Fantasy |
| first airing | 09/24/2017 |
| First broadcast in Germany | 09/24/2017 |
| home page | cbs.com |
| More sources | |
| network | CBS All Access |
| production | Paramount Television, CBS Television Studios, CBS Television Studios, Bad Robot, Roddenberry Entertainment, Secret Hideout |
| squadrons | |
Don't miss anything with the NETWORK-Newsletter
Every Friday: The most informative and entertaining summary from the world of technology!
This page was created using data from Amazon, Netflix, MagentaTV, Sky Online, iTunes, The Movie Database, Fanart.tv, Warner Home Entertainment, Sony Home Entertainment or their respective production studios and/or publishers. In case of errors or problems please use the contact form.