STAR WARS: AHSOKA

In Star Wars: Ahsoka, Anakin Skywalker returns to complete Ahsoka Tano's Jedi training. He's not a Force Ghost, but then what exactly is he?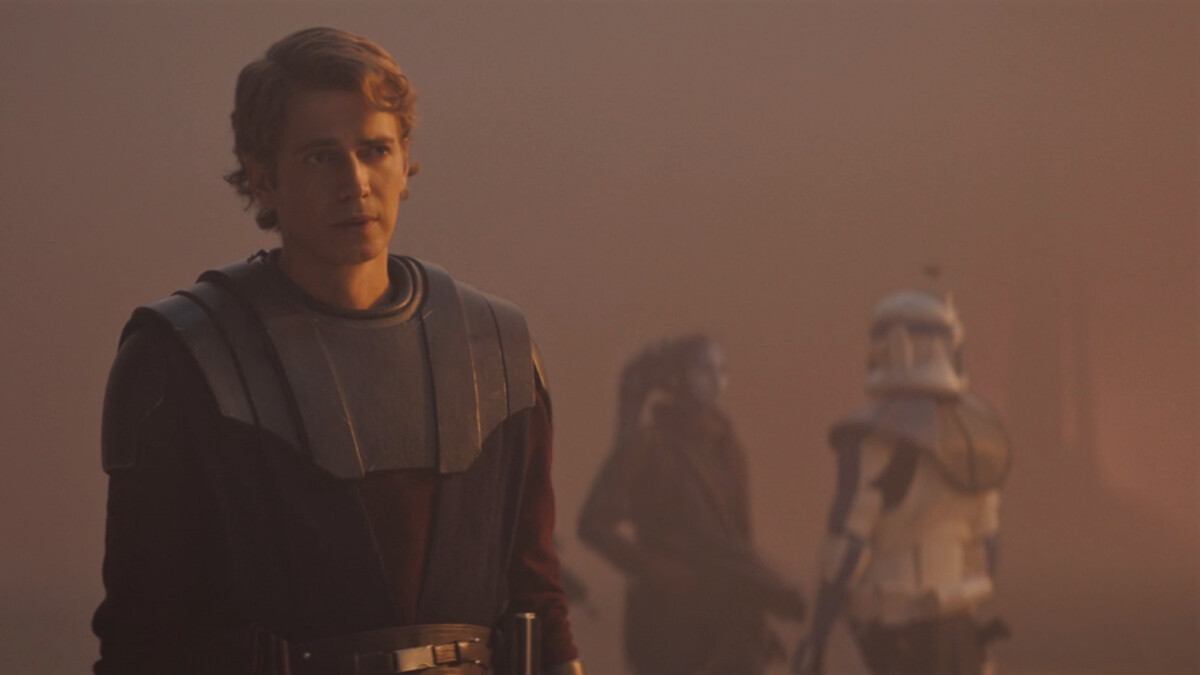 Anakin Skywalker dominates television screens in "Ahsoka" episode 5.
We see Hayden Christensen from the prequel films again in the role.
Ahsoka's former master isn't a Force ghost, but then what is he?
At Don't miss any "Star Wars" series and films on Disney+! from 8.99 euros*
Advertisement
In the fifth episode of "Ahsoka" we travel a little through time with Anakin Skywalker (Hayden Christensen) and Ahsoka Tano (Rosario Dawon/Ariana Greenblatt). We even experience a small live-action interpretation of "Star Wars: The Clone Wars" on Disney+ when Anakin gives Ahsoka a final lesson to complete her Jedi training.
Of course, Anakin is long dead and Ahsoka meets him in the world between worlds. This begs the question: What exactly is Anakin? He's not a force ghost, but he doesn't shimmer bluish enough. Is he a Force vision of Ahsoka? There are some clues as to what exactly the former Jedi Master is.
Star Wars: The World Between Worlds is a place of power where Force ghosts live!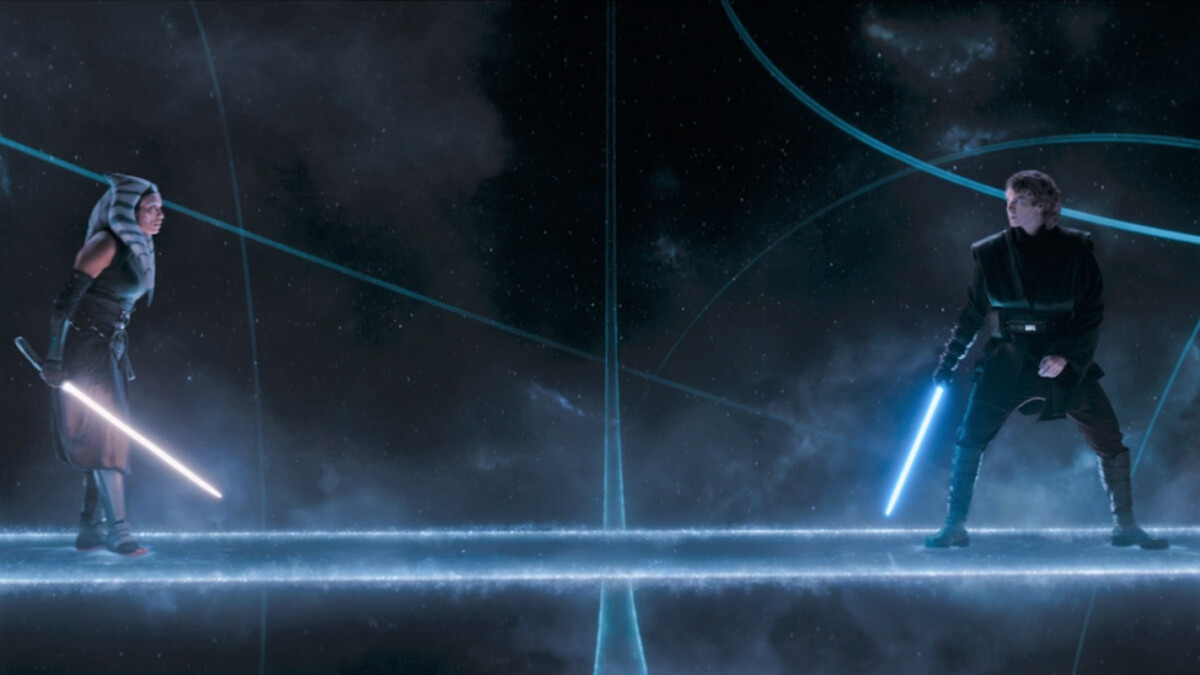 The world between the worlds in "Star Wars Rebels" is a place of power, it exists between the world of the living and the world of the dead. Those who enter the world between worlds have access to various portals that allow them to travel through time and space. There are always moments that have a certain importance for power.
These moments are when Force users or other beings are particularly connected to the Force. So the fact that Ahsoka is slipping into the world between worlds means that she is on the verge of death. This also explains why Hera (Mary Elizabeth Winstead) and Carson Teva's (Paul Sun Hyung Lee) sensors can't find them.
Only Jacen (Evan Whitten) can sense it because it is connected to the Force and he is Force-sensitive. It's somewhat comparable to Obi-Wan's death in Star Wars IV: A New Hope, when he vanishes into thin air and becomes one with the Force. The series suggests that Ahsoka is one with the Force the moment she is in the world between worlds.
Star Wars: That's why Anakin looks like he does in "Revenge of the Sith"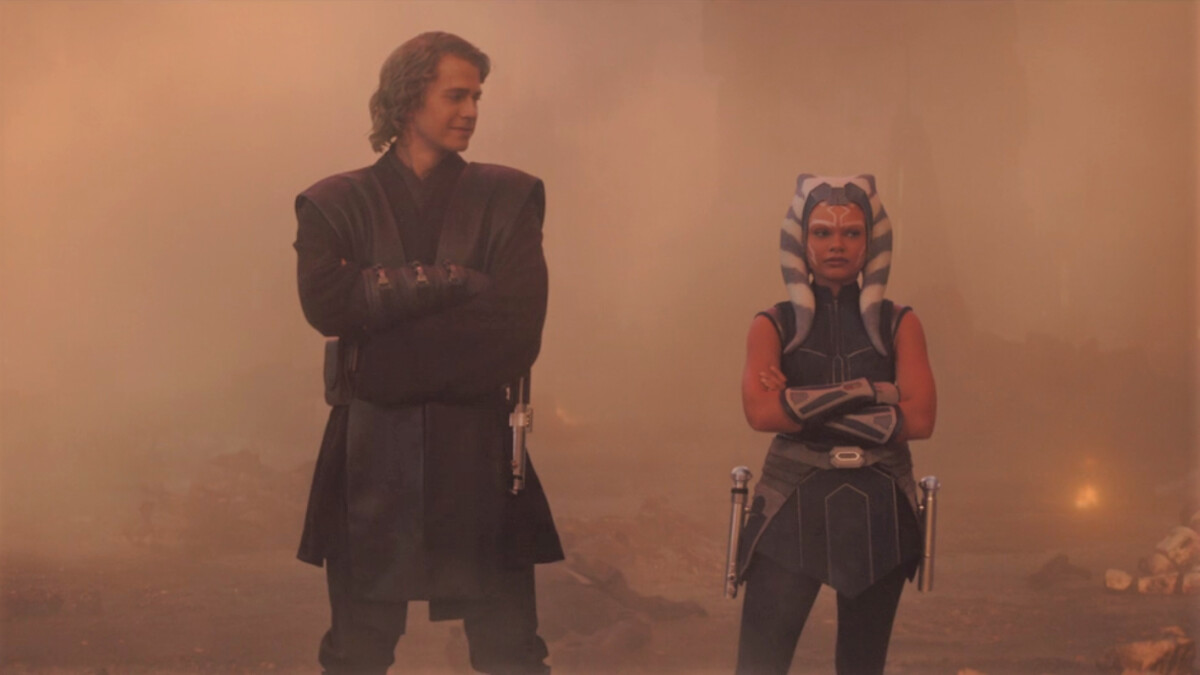 The explanation of the world between worlds also sheds light on what exactly Anakin is – and why he looks like he does in "Star Wars: Episode III – Revenge of the Sith". When a Jedi dies, he enters the world between worlds. If he manifests himself as a force ghost in the world of the living, he looks shimmering bluish.
In the world between worlds, the connection to the Force is so strong that the Jedi look "normal." Since Anakin's Force Ghost in "Episode VI – Return of the Jedi" looks like the Anakin we see shortly before his fall to the Dark Side in "Revenge of the Sith," this also explains why Anakin in "Ahsoka" looks the way he looks.
It is the Anakin who becomes the Force Ghost who was most powerful with the Force. It is Anakin Skywalker, not Darth Vader, who became one with the Force.
Star Wars: Why is Anakin seen with a red lightsaber and Sith eyes?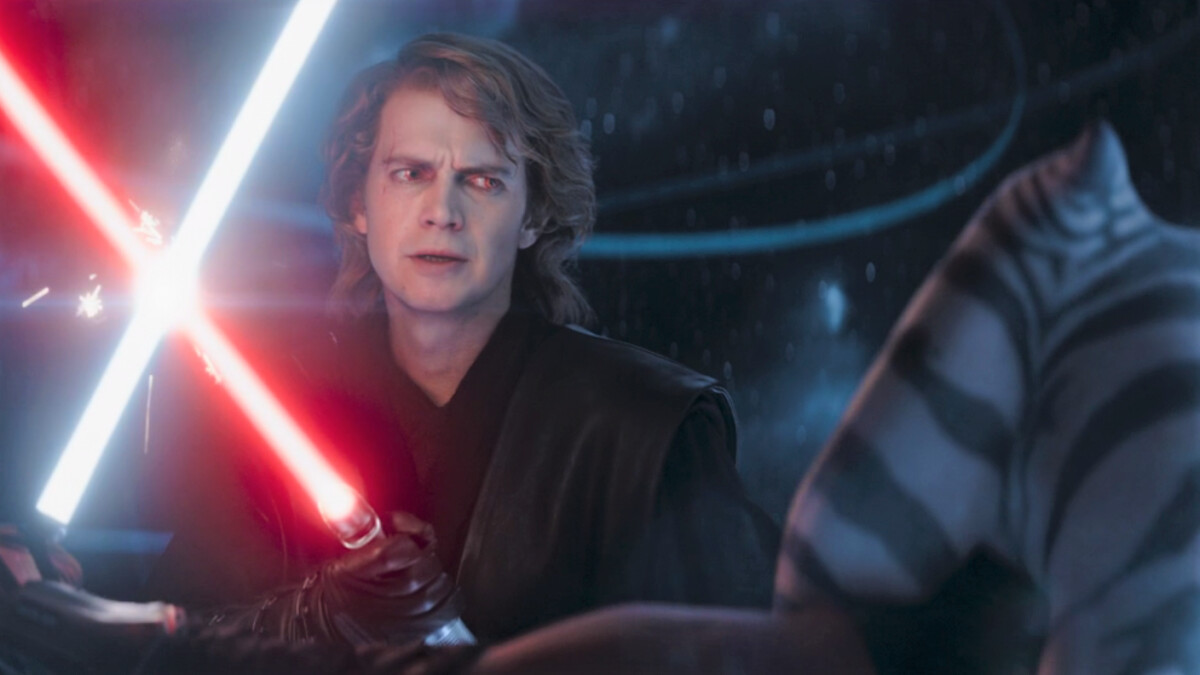 To teach Ahsoka not to feel responsible for everything, he confronts her. Above all, it's about Anakin getting the big "what if" out of Ahsoka's head. What if she hadn't left the Jedi Order? If she was his student, is there evil in her too?
Contrary to many other people and fans who draw a clear line between Vader and Anakin as two different sides of one personality, the transition is fluid for Ahsoka. Anakin IS Darth Vader. So it doesn't matter whether he wears his suit or the mask. And that's how Ahsoka sees him, with glowing yellow Sith eyes and a red lightsaber.
She learns that although Anakin and Vader are one person, the Dark Side does not rob Anakin of his good past and qualities. This makes her realize that she had a master who was and is not purely good or purely evil. A person is always more and sometimes you can't see where you're going.
When it comes to Sabine Wren (Natasha Liu Bordizzo), Ahsoka herself has chosen a path to losing her by pursuing things too doggedly and almost blindly. In order to stop Thrawn (Lars Mikkelsen), she also wants to risk destroying the chance to save Ezra (Eman Esfandi). That would mean she would lose Sabine.
Anakin teaches them what he was never able to learn himself: to appreciate what you have and not to let individual things consume you, because if you get into this downward spiral, it's difficult to get out of it. In the end, Anakin lost everything in his goal to save Padmé from death because he was too narrow-minded in chasing after phantoms.
In the next episode, which will appear in the Disney+ news program on September 20, 2023, Ahsoka will be in another galaxy and hopefully finally meet Ezra Bridger. We list all new "Star Wars" releases for you!
| | |
| --- | --- |
| Star Wars: Ahsoka review | |
| genre | Drama, Action & Adventure, Sci-Fi & Fantasy |
| First broadcast | August 22, 2023 |
| First broadcast in Germany | August 23, 2023 |
| Homepage | disneyplus.com |
| Other sources | |
| network | Disney Play |
| production | Lucasfilm |
| Squadrons | |
Don't miss anything with this NETWORK WORLDNewsletter
Every Friday: The most informative and entertaining summary from the world of technology!
This page was created with data from Amazon, Netflix, MagentaTV, Sky Online, iTunes, The Movie Database, Fanart.tv, Warner Home Entertainment, Sony Home Entertainment or the respective production studios and/or publishers. If you have any errors or problems, please use the contact form.