One of the members of "SWAT" present since the beginning of the series will not return for the sixth season. The character had shared several episodes ago his wish to take over the management of a shelter for immigrant women.
Sad news for SWAT followers worn by Shemar Moore. A character present since the first episode leaves the series at the end of season 5, which ended last night in the United States on CBS. It's Christina Alonso, played by Lina Esco, as reported TVLine.
This departure is not really surprising, because Christina shared several episodes ago with Jim (Alex Russell) her decision to leave SWAT The policewoman has indeed decided to take over from Mama Pina (Terri Hoyos), who leads a local shelter for immigrant women fleeing bad situations, and who is currently hospitalized.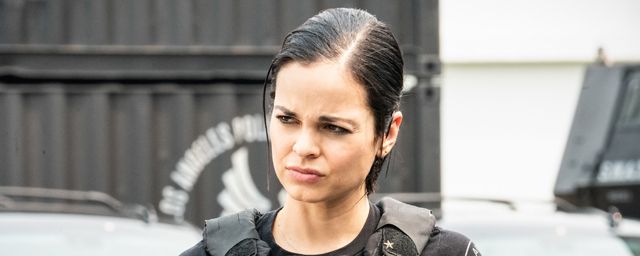 If leaving the detective series was "Ione of the hardest decisions [qu'elle a] had to take", Lina Esco, however, was delighted with the fate of her character who will be totally invested in volunteering. "It resonates with Chris because she is a woman who offers refuge to women who have no hope in other countries and who escape for a better life."
In a statement, the actress shared her love for Christina one last time: "Bringing a strong, intelligent, bisexual character like Chris Alonso to life has been both a pleasure and an incredible opportunity to increase the visibility of women everywhere. Five years later, I'm leaving SWAT to pursue new creative endeavors."
Chris Alonso not being dead and simply taking another path means that she could potentially return later if given the opportunity.
In the United States, SWAT has been renewed by CBS for a sixth season which will air in the fall. In France, the first two episodes of season 5 were broadcast on February 8 on TF1, and the sequel will soon arrive on the channel.
Find seasons 1 to 4 of SWAT in full on Salto.