The most optimistic football coach is back! The Ted Lasso series returns to Apple TV+ for a third season full of benevolence and humor. Is this the last game for the character played by Jason Sudeikis?
"Believe". Ted Lasso and his legendary joie de vivre are back for a new spin. The phenomenon series co-created and carried by Jason Sudeikis returns for a third season full of humor and love on Apple TV+.
Winner of several Golden Globes and Emmy Awards, Ted Lasso recounts the hectic life of an American football coach recruited by Rebecca Welton, the owner of the English club AFC Richmond, to train his football team, although he has no experience in this sport.
Despite the heavy and cynical atmosphere, Ted Lasso will gradually succeed in finding a place for himself in this new environment thanks to his optimism and his determination, which are essential for the well-being and the performance of the team.
Previously on Ted Lasso Season 2
During Ted Lasso's second season, the AFC Richmond team do everything they can to boost their performance in the hope of moving up to the Premier League. The coach tries new training methods and seeks to improve team cohesion.
AFC Richmond can also count on the psychologist Sharon Fieldstone who will help the coach, the players and the manager to become the best versions of themselves.
But the good atmosphere is shattered when it is revealed that the assistant Nate, whom Ted helped a lot, was the one who told reporter Trent Crimm of The Independent that Ted was prone to panic attacks.
Nate announces at the same time that he is leaving AFC Richmond and Ted's fragile universe is shattered after all his efforts. We leave the coach in bad shape, while the psychologist also leaves the landscape, and at a turning point in her career in England.
How many episodes for season 3 of Ted Lasso?
The third season of Ted Lasso arrives this March 15 on Apple TV+. As with the second season, this third salvo has twelve episodes. These have a duration of approximately forty-five minutes and will be available at the rate of one episode per week.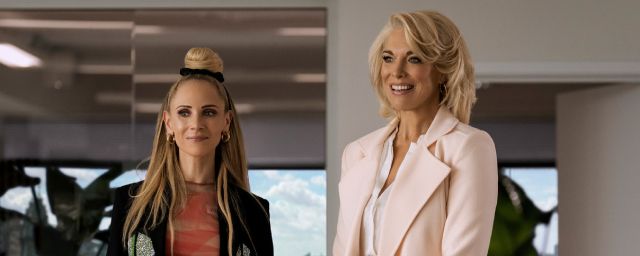 Who is in the cast of season 3 of Ted Lasso?
The main actors are obviously back for this third season. We thus find Jason Sudeikis, Hannah Waddingham, Jeremy Swift, Phil Dunster, Brett Goldstein and Juno Temple.
Also returning are Brendan Hunt, Nick Mohammed, Anthony Head, Toheeb Jimoh, Cristo Fernandez, Kola Bokinni, Billy Harris and James Lance. Season 3 of Ted Lasso welcomes a new face: Jack, a charming investor played by Jodi Balfour.
What is the story of Ted Lasso Season 3?
In Ted Lasso's third season, AFC Richmond comes under fire from the media, who believe the club will finish dead last in the Premier League. Following Nate's departure, Roy Kent becomes assistant coach alongside Beard with Ted.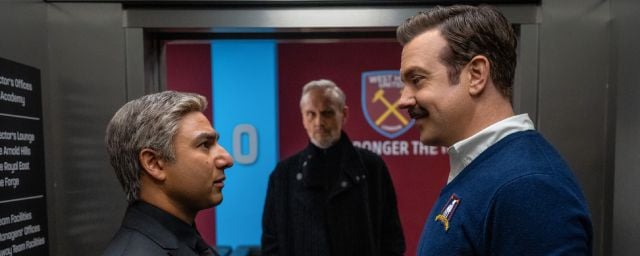 Speaking of Nate, the latter has become a popular child prodigy and now works for Rupert, Rebecca's ex-husband, and coaches West Ham United. For his part, Ted tries to manage the pressure that the team is under and his personal problems. Finally, Rebecca wants revenge on her ex-husband and Keeley runs her communication agency as best she can but with great passion.
Each character of Ted Lasso has very specific objectives in this new season and despite the difficulties, each of them will give the best of themselves… one last time?
Nothing is official yet, but statements from the three writers behind the show – Jason Sudeikis, Brendan Hunt and Joe Kelly – hint that Season 3 could be the last.
Showrunner Bill Lawrence told Deadline that the arc of the series was designed over three seasons even if the door remains open for more episodes: "I don't want to speculate too much, but even if Ted Lasso continues, the story written by the writers has a beginning, a middle and an end for the first three seasons, and then we could move away from that after that. ." We will have to wait for an official announcement to know for sure.
Season 3 of Ted Lasso airs one episode a week on Apple TV+.