A meme born in 2009 that has never stopped growing to the point of becoming mind-boggling, it's Goncharov, aka "the greatest movie ever made by the mafia". And signed by none other than Martin Scorsese!
If you like the universe of Martin Scorsese, you logically had to rinse all of his filmography. And no, it's not Goodfellas which is the best mafia film ever made by the master. But Goncharovwhich Marty made in 1973!
The trouble is that this work would have unfortunately fallen into oblivion, after being snubbed at the Oscars ceremony in 1974. A cruel injustice when you look at the headliners who populate the film; enough to make you dizzy: Robert de Niro, Harvey Keitel, Al Pacino, Gene Hackman, John Cazale, and Cybill Shepherd. Just that.
Obviously, this work absolutely does not exist. Born from a meme, this supposed fiction is the subject of a bewildering mythology largely fueled by Internet users, to the point that film reviews written by cinephile Internet users are flourishing, as reported by the New York Times. Not to mention the complicity of certain talents, like Lynda Carter, who does not hesitate to post a pic of her alongside Henry Winkler at a supposed 1973 Goncharov film premiere at the Grauman Chinese Theatre.
It all started with a photo posted on Tumblr showing a pair of boots designed for the US release of Gomorrah by Matteo Garrone in 2009; a film that had been backed by Martin Scorsese. On the boot, director Matteo Garrone is renamed Matteo JWHJ0715, while the title Gomorra is changed to Goncharov.
The famous shot, below: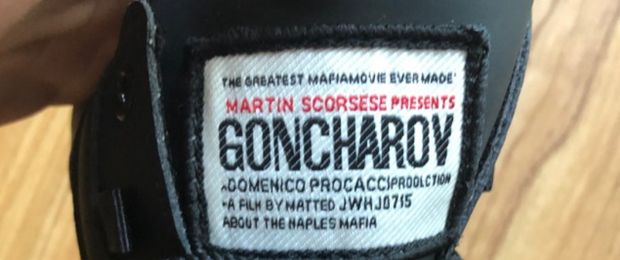 What exactly will this supposed nugget unfairly go under the radar talk about? The story takes place in Naples, in the 1970s, when the Soviet Union has disappeared (sic!). Goncharov (played by Robert de Niro), Russian killer and also manager of a nightclub (resic!!), tries to climb the ranks in the mafia.
Stuck in his marriage to his wife Katya (Cybill Shepherd), Goncharov becomes close to a banker friend, Andrey (played by Harvey Keitel). While Katya consoles herself in the arms of another woman (played by Sophia Lauren), John Cazale surfaces, in the guise of Ice Pick Joe. A psychopathic killer executing his victims using an ice pick. No laughing.
Katya will get rid of her cumbersome husband with her precious help. We didn't really understand what Al Pacino and Gene Hackman are doing in the cast, but the fact remains that they too are on the poster for this film where betrayal, crime and love come together.
There are countless fake trailers on this Goncharov (like this one), which blithely mixes images from The Godfather II, The Scarecrow, Scarface, Taxi driver, A Dog's Afternoon… Musical themes have even been created.
Fake posters too:
Fake covers of the film on DVD, of course…
In fact, the phenomenon around Goncharov is so massive that many people actually think that this work does exist, and / or remember, even vaguely, having seen it before. This false collective memory has a name: the Mandela effect, named after the former political prisoner who became President of South Africa in 1994.
The argument developed is that there would have existed, in the years 2000 to 2005 in the United States, the collective belief that Nelson Mandela would have died in prison in the 1980s, when he received the Nobel Peace Prize in 1993 , that he was President of South Africa from 1994 to 1999 and that he lived until 2013.
But by the way… What does Martin Scorsese think of this Goncharov? Well can you imagine that he would have been informed of the existence of this fake film by his daughter Francesca, who sent him the New York Times article on the subject. "Have you seen that?" she asks him. Marty's jocular response: "Yes. I made that movie years ago."