One of the Chinese young shoots has just delivered tasty details on its future electric SUV named G9. XPeng takes the opportunity to generate more than 25,000 pre-orders.
XPeng is one of the Chinese brands to watch very closely. This car manufacturer is not yet present in France, but it is already the case for Norway with its P5 and P7. And here we are looking at its new G9 SUV. The first pre-order figures in China fell and the XPeng G9 got off to a good start with 22,819 orders in the first 24 hours.
If the orders continue to flow at this speed, the launch of the G9 will be completed within a few hours. Pre-orders come with a 2,000 RMB (around $300) deposit, but it's fully refundable. Also, it will take some time to see how many of them actually translate into purchases. This launch remains, despite everything, a huge performance for XPeng.
A quick charge
The advantage highlighted by this SUV is its charging speed. The 800V SiC platform, on which the G9 is built, offers the fastest charging speeds among current electric cars. This translates to 200 km of range recovered in five minutes. To enable customers to achieve such performance, XPeng is planning a dedicated charging network that will start operating later this year across China. It will be able to provide 480 kW of power and it will deliver up to 670 A of current.
For a more immersive drive.
Take a seat.

XPENG G9.#ElectricVehicles #SmartMobility pic.twitter.com/r6sT9Rnr5r

—XPENG (@XPengMotors) August 10, 2022
The G9 has a CLTC range of 702 km. The real thing will probably be much weaker, but certainly sufficient for even long journeys. XPeng also mentioned the maximum engine power of 405 kW (front: 175 kW and rear: 230 kW) and a maximum torque of 717 Nm. It can also accelerate from 0 to 100 km/h in about three seconds. Enough to shade the Tesla Model X Plaid.
31 LiDAR sensors for autonomous driving
The last big feature promoted on the G9 SUV is its Advanced Driver Assistance System (ADAS). The latter uses 31 LiDAR sensors, two NVIDIA DRIVE Orin-X intelligent assisted driving chips, a Gigabit Ethernet communication architecture and up to 508 TOPS of computing power. On the dashboard, there is a dual screen equipped with a Qualcomm Snapdragon 8155 chip, as well as a head-up display (HUD) in augmented reality.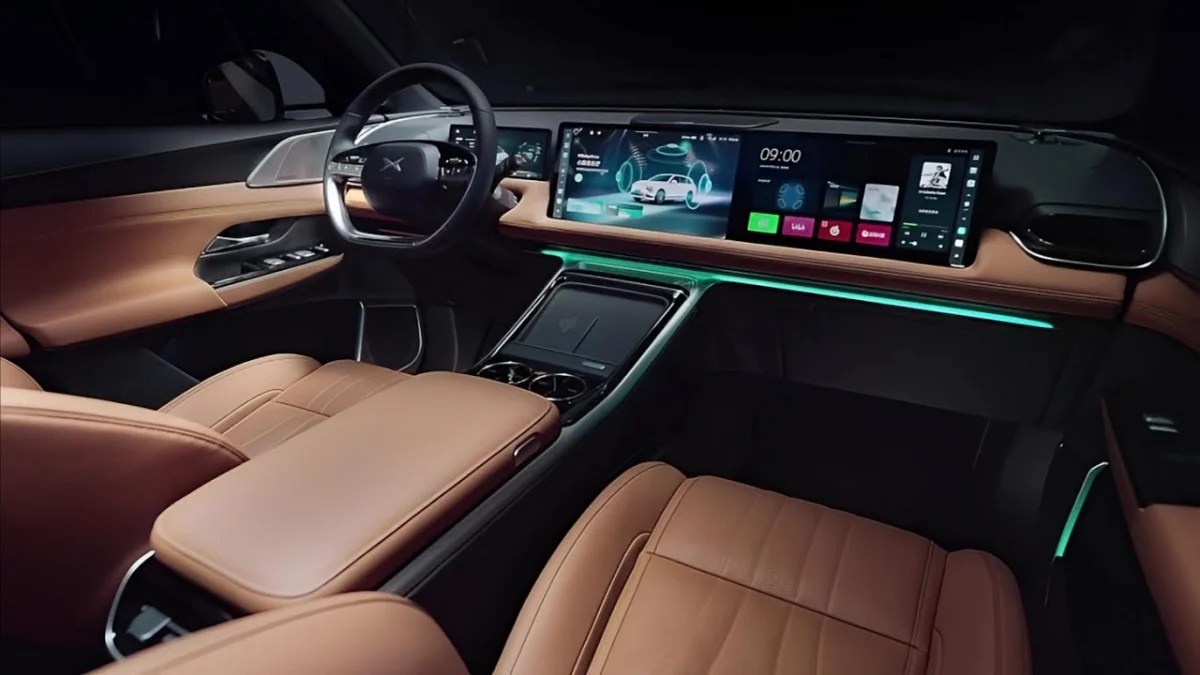 The interior of the G9 will also feature XPeng's Xopera infotainment system, which promises a 5D experience :
This system simulates the sound insulation of a concert hall using a Dynaudio Confidence sound system containing 28 loudspeakers that produce a total power of 2250 W. (…) With Dolby Atmos, hardware and software work in tandem to deliver an immersive 5D experience. Users will experience seat vibrations, changes in ambient lighting, air conditioning and in-car scents (…)
The first deliveries in China are scheduled for the fourth quarter. There are also plans to launch the G9 in European markets, but XPeng has no plans for that yet.
---
To follow us, we invite you to download our Android and iOS application. You can read our articles, files, and watch our latest YouTube videos.