Episode 3 of The Last of Us won over a large majority of audiences and critics alike, to the point of already being considered a major TV series episode. So how was this chapter on Bill and Frank put together? Warning, spoilers.
Warning, spoilers. It is advisable to have seen episode 3 of The Last of Us before continuing to read this article.
With each episode, The Last of Us creates a tidal wave of comments on social networks. A real success in the United States on HBO and in France on Prime Video, The Last of Us is the phenomenon series of the moment. And the third episode, "Long, long time" confirms the popularity of the adaptation of the famous video game.
If the plot of the first two episodes of the series was substantially similar to that of the video game work, the third chapter is largely detached from it. The latter abandons his main heroes a little, Joel (Pedro Pascal) and Ellie (Bella Ramsey), to focus on two secondary characters, Bill (Nick Offerman) and Frank (Murray Bartlett).
In the game, Bill is a lone survivalist who sometimes dates and supplies Joel with gear while Frank is a corpse whom Bill and Joel find after a hectic mission to find a car battery. We understand in subtext that Frank was Bill's partner and companion.
The Last of Us: why the episode on Bill and Frank is so important?
The series is more explicit and offers with the third episode a real setting for a beautiful love story between Bill and Frank, which moved many spectators to tears and which is already considered by some as one of the best episodes of the series. 'History of series. So how was this special episode conceived?
Behind the scenes of the episode on Bill and Frank
Led by Craig Mazin (Chernobyl) on writing, Neil Druckmann, creator of the game and co-showrunner of the series, opened up to the idea of ​​exploring Bill and Frank's romantic past.
A story implicitly known by fans of the game – and confirmed by Neil Druckmann – but never developed. And it was director Peter Hoar (It's A Sin) who was in charge of directing it.
In a river interview for Esquirethe director remembers that he had not understood – at least that he had not fully realized – the true nature of the relationship between Bill and Frank.
He explains that he reviewed this part of the game with Evan Wells, one of the producers, in order to understand the intricacies and then delve into the story created by Craig Mazin in order to get to the heart of the game. public, a majority of whom already knew the game:
"Everyone is a bit sensitive to video games. Any adaptation is a version of it. It's not the same thing. It would be very boring if we only adapted the gameplay without any interactivity. So the manipulation happens in the other direction.
We needed to emotionally 'manipulate' the audience, instead of the audience following their journey and finding out how they feel as they go. So the Frank and Bill story was the best time to do it."
This third episode of The Last of Us tells us about twenty years of relationship between Bill and Frank, with striking sequences of their life together, in particular that of their first intimate relationship where Bill abandons himself with fragility and emotion. to Frank, who will become a precious love to protect, a goal in life.
It was then a collaborative work with their interpreters Nick Offerman and Murray Bartlett. For this scene that Peter Hoar considered a kind of art that imitated life, given that Murray Bartlett is gay in real life and has done these kinds of scenes before:
"When we got to that particular scene, it was art that mimicked life because Murray was saying, 'Don't worry, you'll be fine. I'll take care of you. I'll be nice to you. Don't be nervous.' And Nick was nervous, not because he was in bed with a man, but because this scene had a big meaning."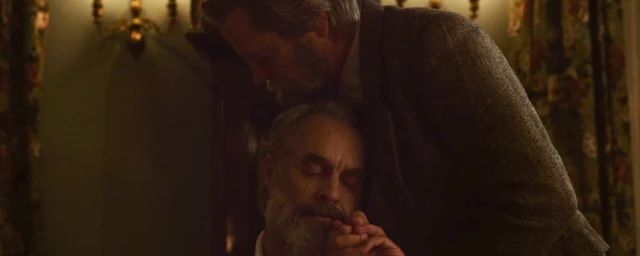 The softness of the scene was sublimated by the delicate acting of Nick Offerman who cared about the details: "What Nick did really well was he behaved in many ways like Bill. When the cracks appear and the emotion kicks in, he does such a great job of those little things. And the little shocks that he does that I, as a gay man, might notice are a bit difficult. Like moving the plate around and turning it over a few times."
Who says couple, says home. It was therefore necessary to imagine the appropriate house for Bill and Frank. And that was a big challenge for Peter Hoar and his teams: "To surround this set that we had already built with this fence, and then build these pipes and these grinders that would draw the gas and make this flame appear. Then the big hole dug and electrified things".
Nick Offerman was quite an expert on the matter and even offered to help with some structures. "Of course we realized how perfect he was to play Bill. It was a joy to be able to tell the story of The Last of Us without talking about Joel and Ellie, actually. It's quite unique. Little series would be brave enough to do it"admits the director.
Another memorable scene that feeds Bill and Frank's relationship is the moment they share at the piano on Linda Ronstadt's "Long, long time" – which has seen its listening explode on Spotify! – and qi allows Nick Offerman to sing with emotion live:
"I hoped Nick would do it with his heart and be relaxed. And he did. We shot the scene with three cameras, so we didn't have to reframe. I was worried because I wasn't facing the windows – and that meant visually it wasn't as pretty as if we were positioned the other way around.
But of course, if I had, you wouldn't have seen anything. It worked very well. You have the sun in Murray's eyes and the little tear that comes out of it. He's so sweet."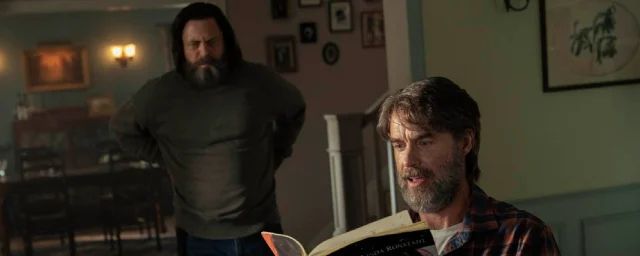 The exploration of this gay romance is in tune with the very essence of the video game which, despite its violence and its post-apocalyptic context, remains a story of love and humanity, carried by a queer heroine, as recalled by Peter Hoar:
"Neil understands his game and understands his audience. And I think he probably thought he allowed an opening for the players, which maybe he didn't expect. And maybe he wanted to talk about characters you don't normally see, Bill being one of them.
Obviously, Ellie's sexuality is discussed in part, and then there's the 'Left Behind' segment. This feeds the narrative construction. But I think they saw that people like to identify with those characters. I think Ellie is one of the most popular LGBTQ characters."
After this episode centered on Bill and Frank, Ellie will also be entitled to her special episode on her past since the DLC (additional downloadable content) "The Last of Us: Left Behind" is adapted in an episode of the first season of the series. . And we bet that it will still be necessary to provide handkerchiefs.
The first three episodes of The Last of Us are available on Prime Video.