The new Google with AI at the top of the results goes into testing
Google is starting to roll out its new generative AI-powered search interface. It is only possible to test the new tool in the United States through Search Labs.
Research is about to be turned upside down. After the official announcement of his new (SGE) " generative research experience during Google I/O 2023, the firm is taking a new step towards the general public deployment of its technology. Some Google users will now be able to test the new version of Google Search boosted with AI.
Users can try out tomorrow's search by visiting Search Labs now, Google announced Thursday, May 25. This new program allows preview testing of the latest Google products before they go into public service.
Unable to test in Europe
Google, however, limits access to its new search interface to users registered on the waiting list. Issue ? As for Bard, Google reserves the first trials for American users. Only Google accounts with a verified US phone number seem to be accepted. Using a VPN or changing the country of your account is ineffective.
" While we can't share exact dates for Search Labs availability in other countries, we hope to expand outside of the US soon. ", explains the company in its FAQ.
Search Labs allows Google to test its product with a limited community of users. Feedback from testers is used directly by the company's developers to correct potential bugs or inconsistencies before the tools are deployed to the general public.
Disrupted research
With his " generative research experience ", Google aims to revolutionize the way of finding information on the web. Like Bing originally, the firm wants to implement generative artificial intelligence directly in its search pages to provide answers more quickly to the Internet user, without them clicking on several links. " Instead of asking a series of questions and gathering the information on your own, research can now do some of the work for you ", assures Google.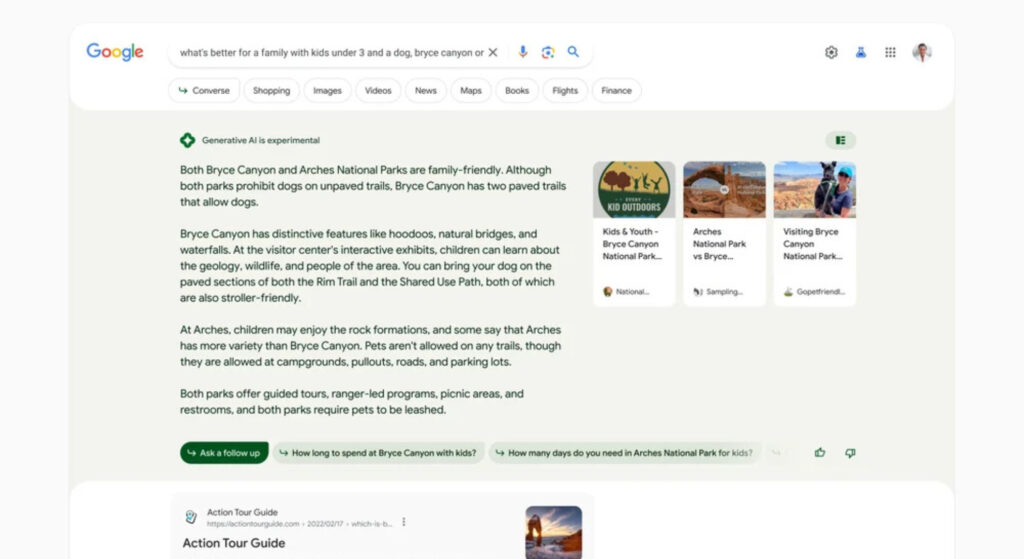 The first visuals suggest a central place for the new interface. After validating his request, the user will see a green tab appear directly below the search bar. A text response will then be generated, summarizing the main information present on the web. Links will then be displayed, to allow the Internet user to pursue his research in greater depth.
Totally redesigned Google Shopping
More than a novelty reserved for geeks, the new Google search experience is aimed at the simplest searches. AI will be able to give you hints for an easy task, help you understand a topic in seconds, or (more worryingly) " make a decision that you would normally break down into parts. »
Finally, Google does not forget online shopping and plans to completely overhaul the Shopping interface. The new tool will make it possible to compare several similar items present on several sales sites directly from the generative tab. The user can even personalize his search to ask the AI ​​to precisely target certain products.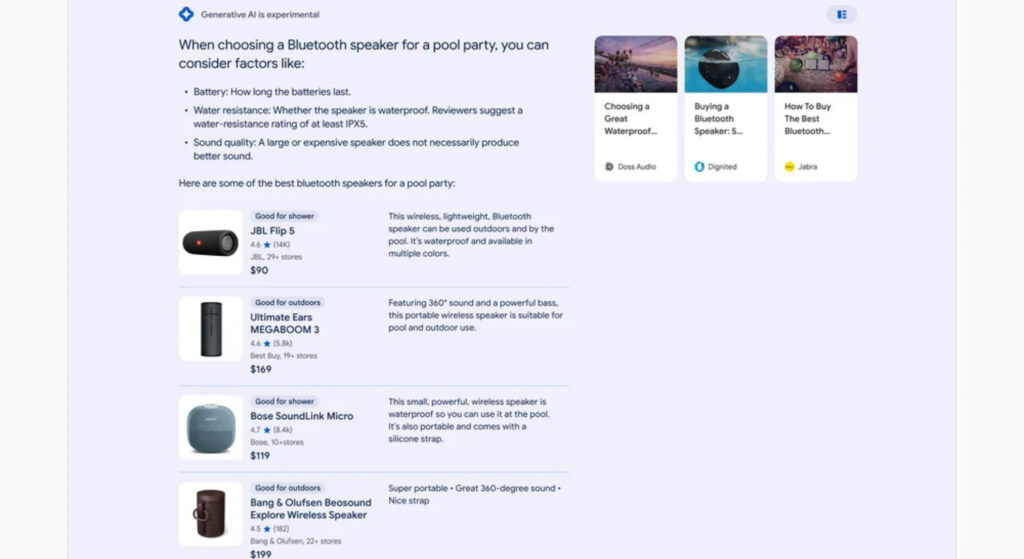 " This new generative AI-powered shopping experience is powered by Google's Shopping Graph, which contains over 35 billion product listings, making it the world's most comprehensive dataset on shopping. ever-changing products, sellers, brands, reviews and inventory ", assures Google.
A new experience that makes site publishers fear a drastic drop in their audience and by extension their income.
---
If you liked this article, you will like the following ones: do not miss them by subscribing to Numerama on Google News.