Sightful, an Israeli startup, designed the Spacetop, an alternative to traditional laptops. The Spacetop is a mixed reality device, equipped with two lenses providing Full HD definition for each eye, capable of creating a virtual screen of up to 100 inches.
For years, the design of the laptop has remained relatively unchanged. A foldable format with a central hinge, a 10 to 17 inch screen, a keyboard, a touchpad, a webcam, speakers… Then, the arrival of hybrid formats, equipped with detachable keyboards, and more recently with screens collapsible, paved the way for a diversity of designs. However, one question remains: can the laptop take another form?
An Israeli start-up, Sightful, seems to think so. She designed the Spacetop, a product that aims to replace the traditional laptop computer with mixed reality glasses.
The Spacetop: a new horizon for portable computing?
So what does the Spacetop promise? Increase our productivity, of course! Yes, you read correctly. No need for a 13 or 15 inch screen. Thanks to Spacetop, you can benefit from a virtual screen of 100 inches. Don't get carried away too quickly, this is a virtual screen and not a personal cinema screen, even if the idea may be attractive.
Technically, the Spacetop is made up of two lenses offering Full HD definition for each eye, capable of creating a virtual 100-inch screen, or several screens for a maximum size of 100 inches.
In terms of features, these glasses, weighing about 100 grams, are connected to a keyboard containing the heart of the machine. Do not get carried away, it is simply the data sheet of a smartphone. There is a Qualcomm Snapdragon 865 chip, 8 GB of RAM, 256 GB of storage, Wi-Fi 6 and Bluetooth 5.1, as well as a 5G modem. As for the battery, it offers an autonomy of "only" 5 hours.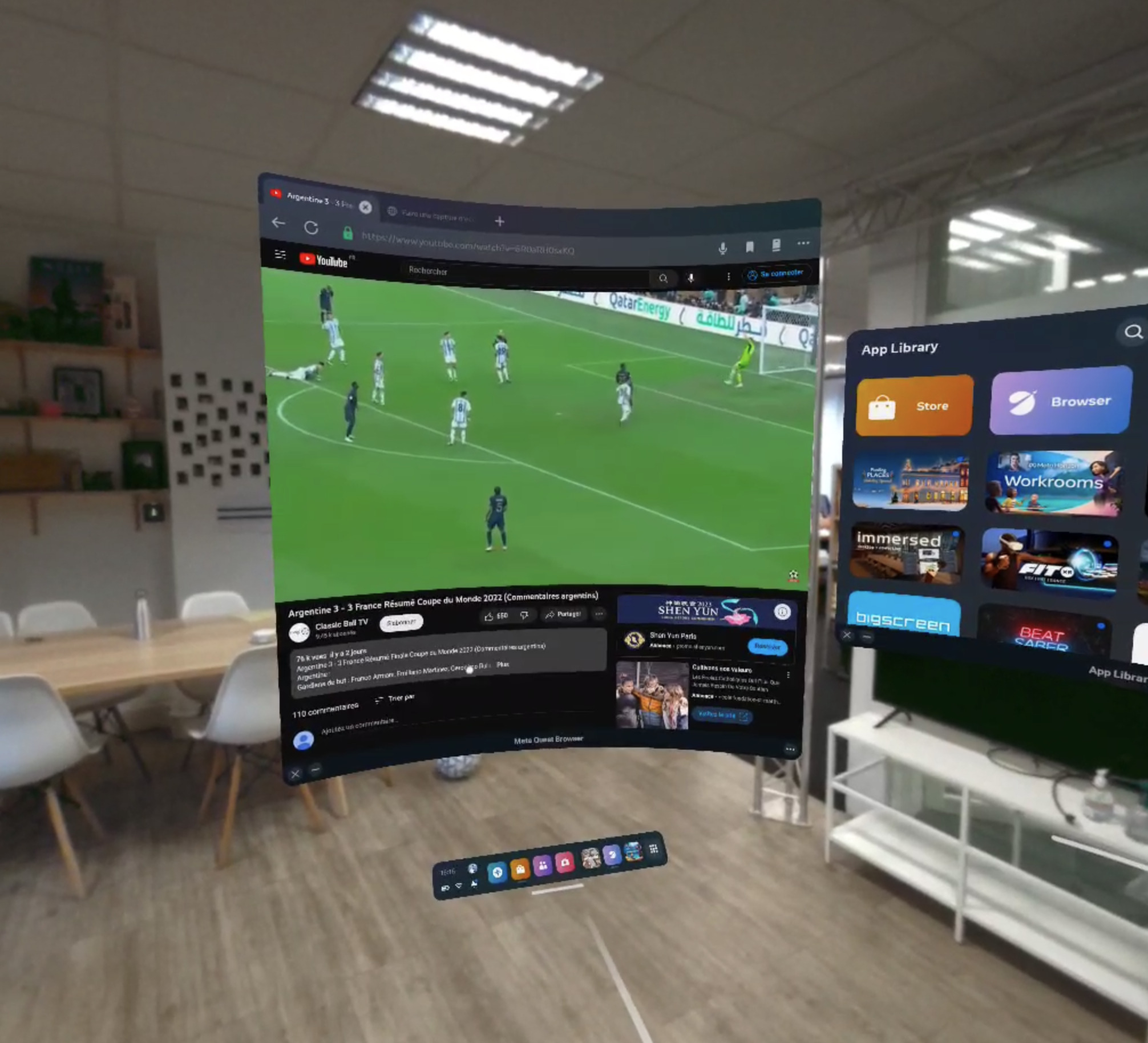 The experience is reminiscent of that offered by the latest Oculus Quest Pro headset, whose workspace footage has been widely shared. This has been possible for years on VR headsets, whether from HTC or Meta Oculus.
Spacetop Limits
Even though the Spacetop is self-contained, its configuration is very lightweight. With an Android system, or a GNU/Linux distribution, it will only run light programs. On the other hand, the Spacetop should offer applications to connect via cloud computing, whether to its remote PC, or to remote machines, like Shadow. This is perhaps where the use is most interesting, but it requires a good connection with low latency and sufficient throughput.
For now, the Spacetop is just a prototype that will be sold to 1000 people or, depending on your point of view, 1000 guinea pigs. It is therefore still perfectible. The real question is whether it offers sufficient comfort to replace a laptop PC several hours a day, or if it can replace a computer on the move, on a construction site for example. With the basic data sheet, one can also wonder if a smartphone would not be enough to provide images to the glasses. Why bother with a second machine?
Doubts remain as to visual comfort over a long period, as well as the performance of the machine. With this data sheet, a remote connection to a more powerful PC is necessary… Even with 5G, this limits the use of the product.
Will the Spacetop replace the laptop? We have doubts. However, we look forward to seeing how early adopters will use this innovative product. In the meantime, prepare your favorite painkiller for headaches…
---
Want to join a community of enthusiasts? Our Discord welcomes you, it's a place of mutual aid and passion around tech.