After a triumph in 2021, The World of Hans Zimmer – A Symphonic Celebration returns for a tour with a few dates in France. The sensational concert is still conducted by Gavin Greenaway, the great Hans Zimmer's lifelong collaborator.
You must know Hans Zimmer
Do you know what Inception, The Lion King and Pirates of the Caribbean have in common? Or between The Dark Knight, Kung Fu Panda and 12 Years a Slave? All these worldwide successes had the honor of being accompanied by an original soundtrack created by the iconic German composer Hans Zimmer. Soon, it is with Top Gun: Maverick that we will be able to discover his new extraordinary creations.
Able to touch all styles, all eras and almost all instruments, he has honored more than 100 films thanks to his creative vision. With 11 Oscar nominations, 3 Golden Globes and 4 Grammy Awards, each of his artistic collaborations is an event in its own right scrutinized by fans around the world.
A grandiose spectacle at the service of emotion
The World of Hans Zimmer is much more than a stroll through the most emblematic pieces of his repertoire: it is a plunge into the maze of emotions that these unique works give us, from epic to dramatic, from terror to jubilation.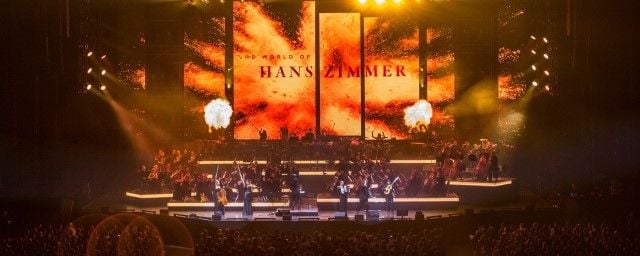 If these themes touch us in the cinema, the power they release on stage is seen tenfold by the interpretation of a symphony orchestra. Brass, strings, percussion, even more amazing instruments such as the Indian flute or the electric guitar…: the variety and intensity are supported by a scenography mixing light and ambient dressing, and directly designed by the master himself .
This beautiful program must be led by a brilliant conductor: Gavin Greenaway is once again at the helm. A long-time collaborator of Hans Zimmer, he is co-composer and conductor for the soundtracks of masterpieces of the seventh art such as Gladiator, Pearl Harbor or even Interstellar. The conception of this one-of-a-kind show was for them the culmination of a fruitful artistic agreement, which has lasted for more than 25 years.
Where and when to experience The World of Hans Zimmer concert?
The tour, which was a success in 2021, therefore resumes service in 2022, with 6 dates across France:
27.09 in Reims
28.09 in Paris
29.09 in Rouen
30.09 in Amneville
01.10 in Grenoble
02.10 in Aix-en-Provence
For more information, visit the ticket office website.