For once, there is a deal check today that has nothing to do with smartphones! As every technology journalist in Germany knows, Monsieur Cuisine is on the interest list of many readers. Since the popular Thermomix alternative is extremely rare to buy, we will take you straight to the right offer.
Smart food processor Monsieur Cuisine Connect Trend finally available again
Thermomix alternatives are really rare to buy
Experience has shown that the offer with a discount of 50 euros is valid while stocks last
Please don't take it amiss that we're kicking off the week with a slightly different deal article. Because in the Lidl online shop, the Monsieur Cuisine Connect trend is once again for sale and that means that for many people the hunt for the inexpensive Thermomix clone is on. In several years of technical journalism, references to the Monsieur Cuisine have always been very popular – so maybe you too.
According to the recommended retail price, you pay EUR 399.00 for the smart food processor, but Lidl reduces the price in the online shop by EUR 50. The price of 349.00 is solid, but that won't bother anyone interested in Monsieur Cuisine. Because it is foreseeable that the popular kitchen appliance will soon be sold out. At least that's how it was the last time there was an offer.
Is it worth buying the smart food processor?
My points of contact with smart food processors were usually characterized by great distrust. So I can't assess the quality of Monsieur Cuisine myself. However, there are test reports on the net that speak positively about the user-friendliness of the food processor. Technically, however, the Monsieur Cuisine is inferior to its role model, the Vorwerk Thermomix.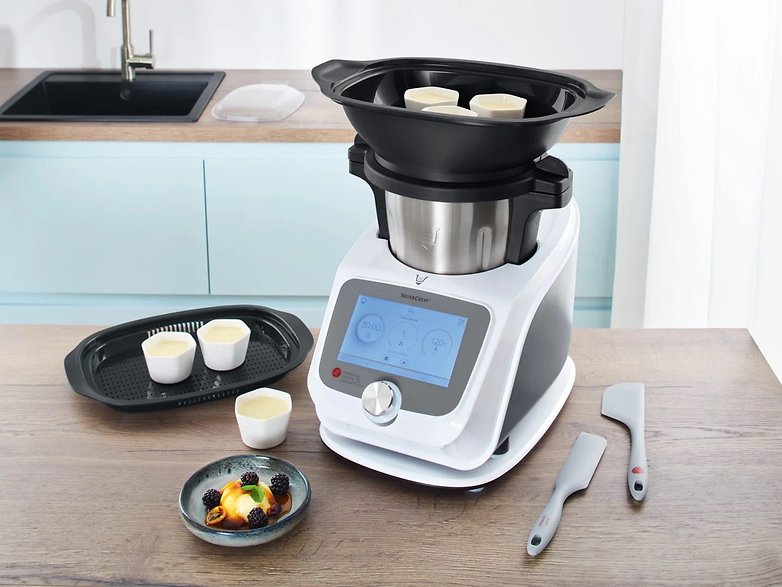 Nevertheless, there are over 500 recipes on the Cookidoo platform, which are explained to you step-by-step on a 7-inch screen. The motor of the food processor has an output of 800 watts, with which you can knead up to 500 grams of flour. There is also a counterclockwise rotation for stirring soups, risottos and stews and a clockwise rotation for chopping ingredients. The automatic programs include the kneading already mentioned, you can also steam cook and briefly fry at up to 130 degrees.
The Thermomix offers you much more with sous-vide cooking or fermentation, but it is also significantly more expensive. So if you want to set foot in the world of smart food processors, the Monsieur Cuisine is an exciting option.
Do you already have experience with the Monsieur Cuisine? If so, please let us know in the comments!