On the occasion of important events, many of us prefer to go for outfits that are both simple and elegant, which stand out from the everyday. Here we show you which nail polish colors to wear to best complement this refined look.
You probably already know: a beautiful manicure is ideal to enhance an outfit or complete a look. A varnish with a beautiful color is indeed capable of becoming that little detail that will make all the difference. In summer, bright and intense shades are particularly popular, they are highlighted by the sun and have the art of bringing good humor! The only thing is, a flashy color polish doesn't always prove to be the best choice when it comes to making a good impression …
On certain special occasions – such as a job interview, the christening of a nephew, or a first meeting with in-laws – it's best to restrict your creativity and limit your color palette to less extravagant shades. It's a fact, too bright colors will immediately distract the attention of your interlocutors and what could be more normal than wanting to be the center of attention when you are spoken to? Here are four polish colors capable of highlighting you, without overshadowing you:
Number 1 – transparent nail polish
Granted, this isn't really a color per se, however, the beauty of naturalness is far too often underestimated… Whereas – when it comes to looking serious and professional – the motto is often: less is more, and this also applies to our nails. So swap your brightly colored manicure for a good swipe of a nail file and a coat of top coat, That's it. Be careful though, if the shape of your nails is not worked and uniform, the result can quickly seem neglected.
What is also important when deciding to sport a natural look: having well-groomed cuticles. To do this, be sure to push them back regularly so that they do not encroach too much on your nails and moisturize them daily with a hand cream or an oil specially designed for this purpose. Once your manicure is perfectly done, all you have to do is sublimate your nails with this subtle layer of shine that the top coat. Thus, the rendering will be simple, but still chic.
Another great advantage of transparent varnish: no problem with the material flaking! Plus – unlike with colored varnish – small mistakes can be easily corrected, if only with a second coat.
The Start to Finish of O.P.I – a 3-in-1 treatment: protective base, top coat and strengthening.
The Nail Glow by Dior – a radiance care polish that naturally intensifies the pink and white of the nails.
© Pinterest / searsparkinglot
Number 2 – pale pink nail polish
You might not know it, but pale pink is all the rage in Buckingham, where the manicure rules submitted to members of the royal family are very strict. Considered to be in bad taste, bright colors are also strictly prohibited there, which makes the possibilities rather limited … Between soft and subtle tones and delicate pink, it seems that pale pink occupies a special place.
Does this sound boring to you? Not when it comes to sporting a look that is both timeless and ultra-stylish, right? A pale pink shade knows how to give the nails that little touch of femininity and that well-groomed appearance that we appreciate so much. Fresh as you want, don't forget to finish your manicure with a top coat that will make your pale pink nail polish even more radiant and resistant.
The Essie nail polish, shade: Ballet Slippers (6) – available from 10 euros on amazon.fr – this product is Queen Elisabeth's favorite nail polish.
The Beach House Colorisi Hamptons Nail Polish (12) – a varnish with a shiny finish and beautiful coverage from the first application.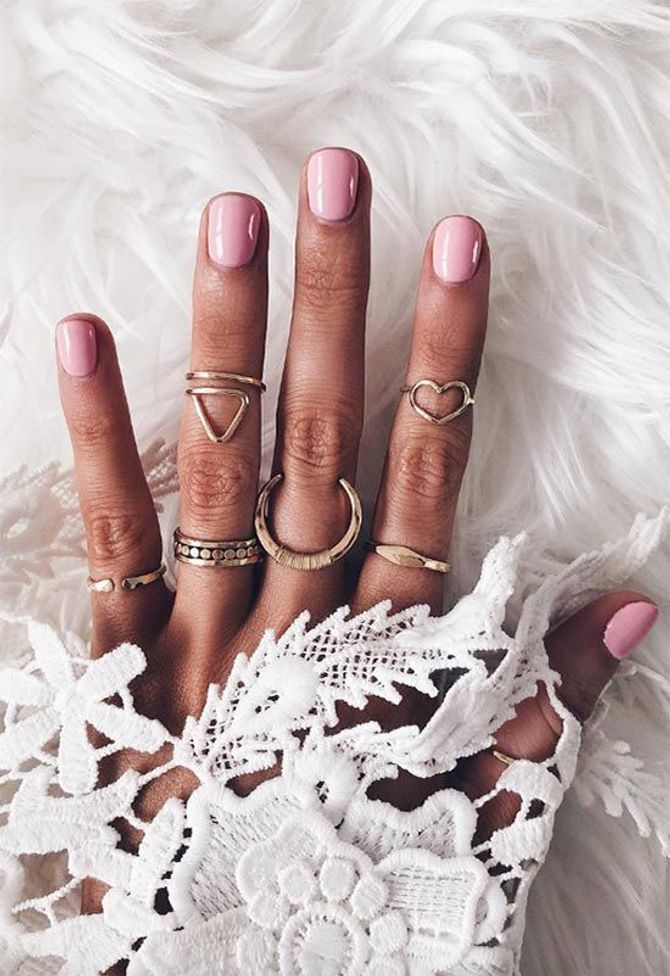 © Pinterest / kelseylittner
Number 3 – toned nail polish nude
Isn't pink your color? In this case, a varnish nude could very well do the trick! Whether their finish is glossy or matte, these delicate vanilla, beige or brown tones are timeless and guarantee a result that is both modern and elegant. With the nude, it's always flawless, this palette of soft and subtle shades goes with all skin tones and all outfits.
You should know that at this time, the colors nude and pearly are back on the front of the stage! After having been called out of date for a long time, they are now once again considered great classics to have absolutely in his collection of varnishes. You will understand: these shades are now to the manicure what the black blazer or the white blouse are to fashion. They give the outfit that touch of elegance and femininity that we love so much.
The La Laque Couture Nail Polish by Yves Saint Laurent shade Light Beige (22) – a product with a protective and beautifying formulation, with deep intensity and lasting shine.
The Color Hit Sephora nail polish in Enchanted world (140) – a nude elegant, promising hold and shine for five days.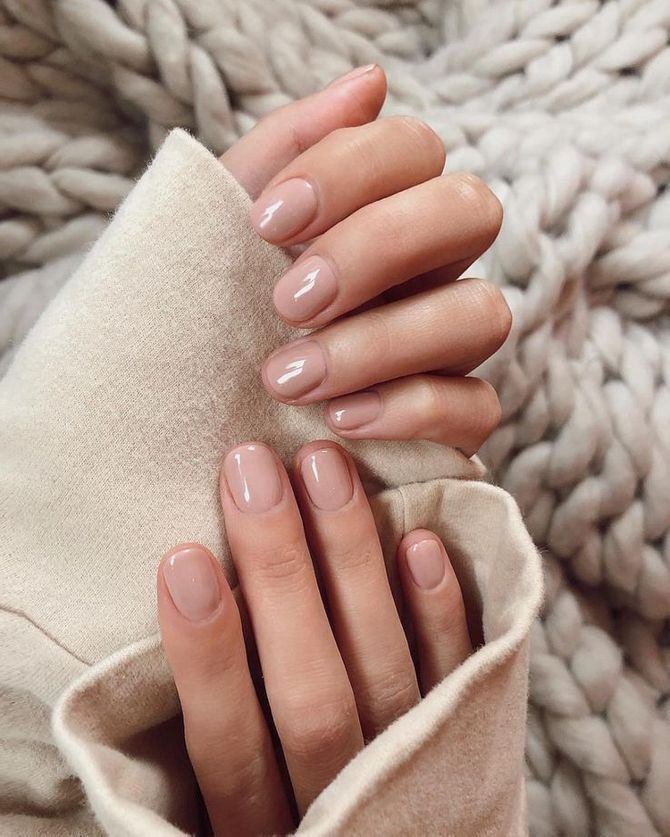 © Pinterest / williamtaylor75346
Number 4 – raw nail polish
Fancy something a little less discreet? Then the greige nail polish – the perfect mix of gray and beige – is the one for you. It has been talked about for several years now and is now one of the most popular colors in nail polish. Pairing equally well with a colorful summer outfit, as well as a professional outfit in much simpler colors, this polish has it all. Although it attracts more attention than a transparency or a nudeHowever, it does not give the impression that the nails are overloaded and remains refined.
The Chanel Varnish Particular color (505) – a covering and shiny product that respects the delicate nature of the nail.
The Maybelline New York SuperStay 7 Days Nail Polish Street Cred (911) – a professional product with gel technology and impeccable results in a single pass.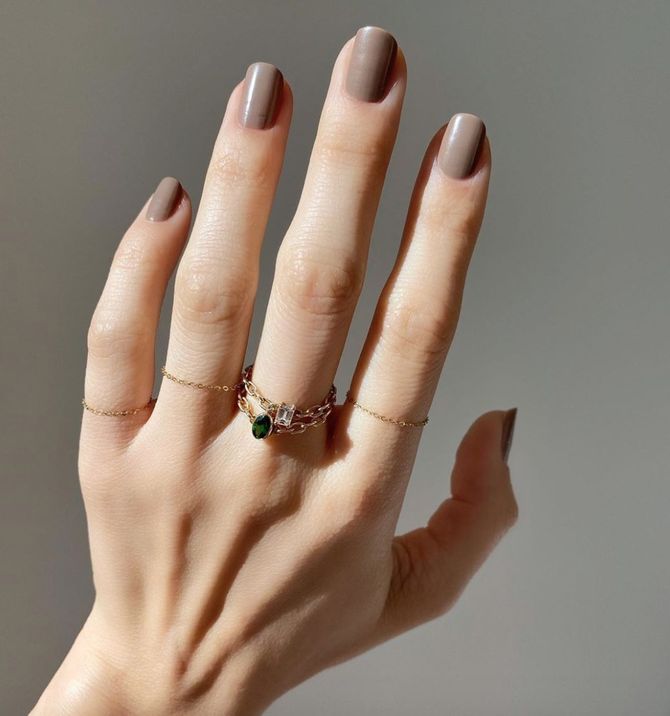 © Pinterest / honeyedboba
So which of these four most elegant colors will you fall for?
Read also: French manicure: these 4 new trends that will spice up your nails!
How to remove semi-permanent varnish (without damaging your nails)?