Dhe gas market does not come to rest. First Ukraine throttled the flow of gas through the transit pipeline, now Russian sanctions against German gas companies are causing new turbulence. A decree published in Moscow on Wednesday evening prohibits transactions with some German subsidiaries of the state-owned company Gazprom. As a result, important gas traders and storage operators are cut off from access to gas. A total of 31 companies are on the sanctions list. The Kassel-based company Wingas is particularly in the spotlight. It is one of the largest suppliers and supplies numerous municipal utilities and industrial companies. Wingas will now cover part of its requirements from other sources and will probably have to pay higher prices for this.
Now the announcements made by Russia to use oil and gas as a weapon have come true, said Federal Minister of Economics Robert Habeck (Greens) on Thursday in Berlin. However, he still sees no reason to implement the next stage in the gas emergency plan. "We will not declare the alert level today," he said. This is only planned if significant quantities of gas do not reach Germany. Habeck described the current magnitude of 10 million cubic meters per day as "compensable."
He held out the prospect of state aid for Gazprom's subsidiaries, which now have to conclude new contracts with other suppliers. "In order for these prices to be paid, financial guarantees are needed. And we will give it." The Ministry of Economics recently placed the companies of Gazprom Germania under the trusteeship of the Federal Network Agency after the company was to be sold to an opaque company construct.
The president of the network agency, Klaus Müller, spoke of a "surgical decree". It is aimed specifically at trading companies and storage operators, but not against the network operators. This allows Russia to continue supplying gas. Gazprom Germania holds shares in the long-distance gas network operator Gascade and two other pipeline companies. A large part of the Russian gas that reaches Germany via the Baltic Sea pipeline Nord Stream 1 also runs through their infrastructure.
This also applies to many municipal utilities
According to its own statements, the Wingas company had a market share of around 20 percent before the Ukraine war, but now it is likely to be a few percentage points less. Immediate supply difficulties for municipal utilities and industrial customers are hardly to be feared, according to the industry. On the one hand, they usually do not rely on a single supplier, on the other hand, the warm summer weather provides relaxation. Gas flows initially remained largely stable on Thursday. It is unclear whether and to what extent the sanctions will lead to a physical shortage of gas.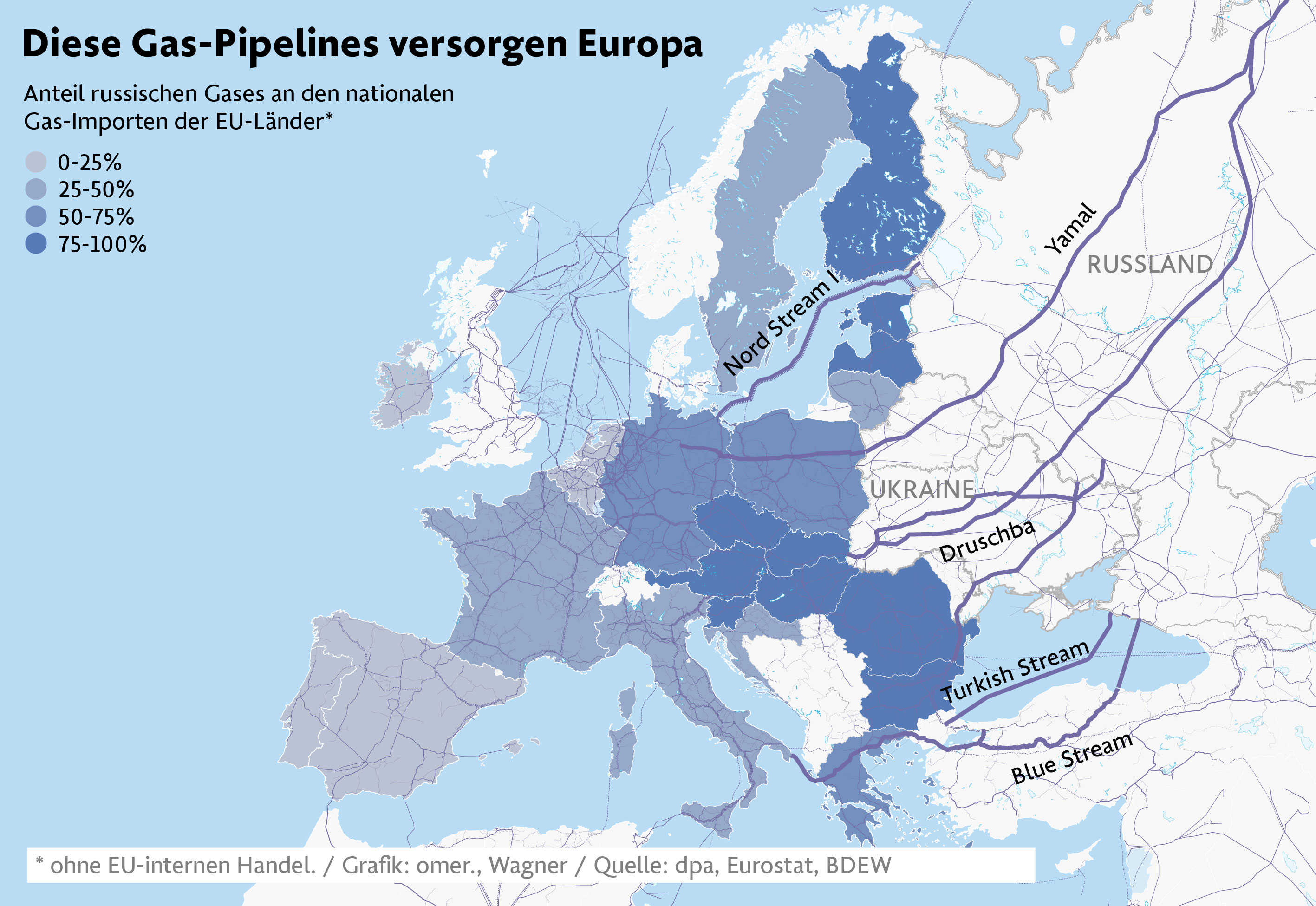 Industry circles said that Gazprom could also offer the quantities previously delivered to Wingas on the spot market or sell them elsewhere – but then probably at higher prices than before. As Habeck reported, wholesale prices rose by 14 percent on Thursday. This is "not nice". Pushing through higher prices, "that can also be the point of the whole operation," he said.
Later in the day, Habeck met with Ukrainian Foreign Minister Dmytro Kuleba. It was also about Ukraine's insistence that Germany stop its energy imports from Russia. "We cannot currently implement a gas embargo," said Habeck. "Unfortunately" the time has not yet come. He had previously said that in order to get through the winter without Russian gas, the ships ordered for liquid gas would have to be available and the storage facilities would have to be full. "That depends on the fact that we will be supplied with Russian gas this summer." The storage facilities are currently 40 percent full on average.
More pressure on gas prices
However, the industry fears that Russia's new approach will make refilling more difficult again. "Against the background of the new Russian sanctions, the question arises as to whether Russian gas deliveries to the EU and Germany will now decrease," says Sebastian Bleschke, Managing Director of the Energy Storage Initiative, the association of gas storage operators in Germany. "If that happens, gas will have to be procured from other sources, which will increase the pressure on the markets and will certainly not leave gas prices unaffected."
According to the new Gas Storage Act, gas storage facilities should be 80 percent full by October 1st, 90 percent by November 1st and 40 percent by February 1st. A ban on storing Russian gas in Germany, which was also discussed on Thursday, is considered impractical in the industry. "By the wholesale market at the latest, it is no longer possible to trace where the gas that individual market players have bought and use for storage comes from," says Bleschke.
It is striking that the storage facilities of Astora, which belongs to Gazprom Germania, remain practically empty. Astora operates the storage facility in Rehden, Lower Saxony, which accounts for around a fifth of Germany's total storage capacity. So far, the memory is only 0.6 percent full. The operators are not responsible for the storage, but rather the trading companies that book storage capacities. It is assumed that Gazprom Export has secured a large part of the capacity rights and is thus impeding storage. Up to now, the possibilities of penetration have been limited. Only Astora is under trusteeship, but not its customers. With the new storage law, however, the network agency can withdraw usage rights if the filling level specifications are not met. Habeck also referred to the planned Energy Security Act, which even provides for the expropriation of energy companies in an emergency.