What does the school of tomorrow look like, how about three children at home in lockdown and what makes courage? Verena Pausder on homeschooling, digitization and breakouts.
BRIGITTE.de: Digital education is one of your heart issues and you are a much sought-after expert in this field. What drives you, why is this topic so important to you?
Verena Pausder: Digital education is important to me because it is neglected in Germany. One actually thinks that it should be our main topic because it is our only raw material and everyone never tires of emphasizing it. And yet the general public is only interested in what concerns their own child or the choice of school or studies or something. But it doesn't manage to become a topic in which we invest a lot of money, a lot of brains or a lot of political attention, and that's why I have the feeling that you can really make a difference.
In Germany, social origin also determines school success. Can digitization in education be an opportunity for schoolchildren to close or at least narrow the educational gap?
That is the promise of digital education and it has to be! It's not about digitally re-staging what we have been doing in schools up to now.
But digital education enables much more individual learning,
so that we can also deal with children with learning difficulties, language weaknesses or backlogs in the individual areas much more individually, which is not at all easy in a class with 30 children and a lack of teachers. Digital education also opens up a wide range of opportunities in the direction of inclusion, e.g. B. to use technology for the visually or hearing impaired. And there are great digital solutions. B. Chances Work e. V. a. They invented Cosinus, a digital math program for children who were left behind in math too early and who can then simply never catch up. Digital education can also work outside of school if there are no teachers or parents around.
Can parents or teachers contribute something to digitization?
I like to bring the picture of the future lesson in the family: You sit down at the table with your children once a week and bring together digital applications, software, hardware, etc. and then you spend an hour together on it. And not that everyone hides in their corner in the digital world. Parents can put more effort into distinguishing between digital consumption and digital creativity. And with digital creativity, e.g. B. Creating an e-book, a stop-motion film, a podcast or a programming program, learning to say: I want to experience more with my children!
And as far as the teachers are concerned: so many other countries work with mentoring or pair learning, for example, and there is more exchange. In our system, as a trainee lawyer, you are closely monitored, appraised and evaluated. And then you are released from school and no one comes around again from whom you can learn something. When it comes to digital education, it makes total sense to get together, ideally across schools, to exchange experiences and help each other.
Shaping the school of tomorrow

With a hackathon in summer 2020, you and others wanted to shape the school of tomorrow. How did that happen?
Last year in May, when we were already in lockdown for two months, we heard from all sides about actually good solutions and how some teachers were training themselves on the subject of digital education. But there was no mouthpiece for politics! It was also about making people's self-efficacy possible. And to collect all the great ideas instead of everyone carrying them around individually. This then resulted in "# wirfürschule" and the educational hackathon. There we worked with over 6000 participants on the school of tomorrow. In the end, we had 216 specific ideas, 15 of which were again awarded as winning ideas and are still being implemented today.
If you could imagine the school of tomorrow according to your wishes, what would it look like?
The learning spaces are much more open and flexible. There is not a classroom for every class and it looks the same everywhere, but there is Learning spaces that inspire creativity and in which you can move around more. Another point: teachers who transform from knowledge mediators to learning guides or coaches. Because they don't spend 100 percent of their time imparting knowledge, but also use digital tools and education. And being able to talk to the children much more. All this is very difficult to do in such rigid curricula and with the clear competencies that we have to go through. As for the nature of the teaching, it should be much more project-based and interdisciplinary become. So, for example, deal with the subject of oceans in specialist classes, write an essay or a poem in German class, stage it digitally or analogously in art class, etc. So it becomes tangible for the children at all what they should learn this for and what it is with has to do with real life.
If you could take some of today's technology back to school, what would it be?
I would like to have all of the books, homework, and worksheets in one tablet! When I see how my children are still dragging themselves, how there is a mess of papers there, things get lost or are printed out and scanned, etc. Then I just think, there is no longer any need! That doesn't mean that you shouldn't do anything more handwritten! But these ten books that they lug back and forth every day on the suspicion that they might be used, in my opinion, that is no longer appropriate.
A crisis as an opportunity

You have three children yourself. How did you and your family fare at the beginning of the corona crisis?
For me personally, it was super exhausting with the children at home and everyday life in the first lockdown. You didn't really know what to do next. And the children first had to get used to the situation that I was suddenly their teacher and that they hardly heard anything from their schools in the first lockdown. I found that incredibly exhausting and that is probably representative of many families.
In the first lockdown you put homeschooling-corona.de online.
With the homeschooling page, I gave way to this powerlessness that was felt at the time, or turned it into something positive. And I actually knew myself how to design lessons digitally and how I can help my children when the teachers don't get in touch so often. While I was looking for all of this, I realized that it would probably help a lot and that it is important to put everything online for free so that many can benefit from it. I put this page online within 4 days at the beginning of the first lockdown and it was accessed hundreds of thousands of times. She obviously hit a nerve.
What are you taking with you from the corona crisis?
I will put a lot more on the gold scales where I go physically and where continue to be digital. As much as digital is now annoying because it is simply too much digital, it is also annoying to drive through half of Germany for an event or dinner. I also take away that no matter what the future looks like and how digital the world becomes,
social interaction and human closeness are what life is all about.
This crisis has simply shown us that even if we make our lives with tools, drones and hyperloops etc. in the future: In the end we want to see, feel, touch, smell and that is what life is all about.
I derive more from the crisis: Man o man Germany, have you slowly been in many areas where it would have been so important that we would be further ahead, such as B. in digital administration and digital education. I hope the crisis has brought about a catalyst that can no longer be turned back.
More bursts of courage, please!

"Courage for the gap"
"You risk something before you judge"
"We have no knowledge problem, we have an implementation problem"
These are quotes from your book "Das Neue Land" …
We only implement things when they are perfect, when we have asked X experts about them and when we have held any kind of summit, instead of simply going pragmatic about the solution and implementation and trying things out. Let's take a Corona app: If it hadn't been for Corona, we would never have developed and released a state app within three months, because we would have put so much more effort into it than we have already done. And that's what I mean by having the courage to take a gap: We won't always have the answer to all questions and the perfect solution at all times – and yet we have to start.
And what does courage mean to you?
Courage means to dare to do something that you don't know whether it will be a success and whether you are the right person for it.
For me, courage is on the one hand not to be hesitated, on the other hand not to be regretted.
Not only is it brave to jump, but it is brave to continue swimming when the water is cold. Often you have things that you dare to do – but then you struggle with it for three years because it didn't work or you regret not having done it differently. And for me courage is also: we'll try it now, if it works, great, then we'll move on. If it doesn't work, we'll do it differently. Courage is an overall mind set.
What was the bravest thing you ever did?
The bravest thing I ever did was found Fox & Sheep in 2012. With two young children and a single parent, I gave up my fixed salary and started it in a highly competitive market, i.e. in the market for children's apps worldwide. A lot of work, but little guarantee that it will work. In retrospect, everything always sounds so logical: then she founded it, then she did this and then it worked too. But that was not at all foreseeable at the time. I had to commute from Hamburg to Munich three days a week because I was still living in Hamburg at the time. I hardly slept because my children were so young and slept poorly at night and I also always had to get up early and go to Berlin.
There is a lot of negative to failure, how do you feel about it?
I think you can go your own way without failure. You don't have to have failed to be successful. It is important to me that if you have failed and especially if you are successful again afterwards and are then asked very often about this success, you do not hide the failure. I am in favor of talking about it openly and learning from it, because in the end the mistakes are only worthwhile if you do it again and better afterwards.
Do you have specific plans for this year?
I want to repeat the hackathon and I want to bring our #stayonboard initiative over the finish line. And I'm considering starting again because I think that's what I am most in heart. And isn't that also the best answer to future issues, just implement it yourself and see how it can work? Politically, I am interested, close to it and am currently thinking about digital education and will see whether I can add value there. Because I still believe that it would be good if we switch back and forth between worlds more. And then of course you have to do it at some point instead of just asking for it.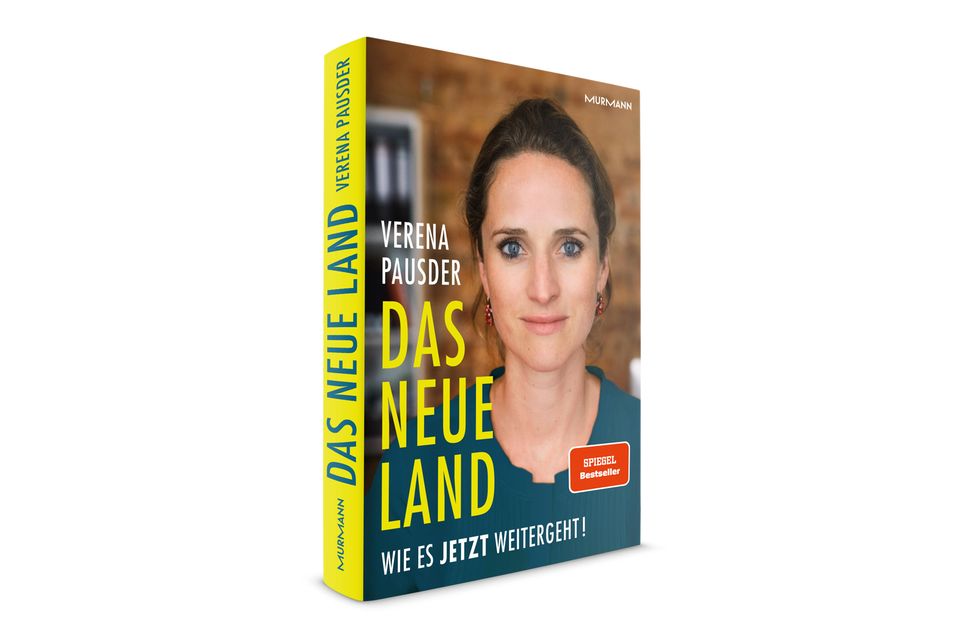 "Das Neue Land" by Verena Pausder, published by Murmann Verlag.
Rethinking schools, promoting digitization and promoting equality: How do we want to live in the future and how do we get there? The New Land is not just a book full of ideas, but an appeal for less perfectionism, but for more courage, more trying things out, more doing.