---
A price increase for the Thermomix from Vorwerk could be on the horizon this year – although the kitchen help is no bargain anyway. Manufacturer Vorwerk does not want to "rule out" a possible increase in price at the moment, but "checks it out".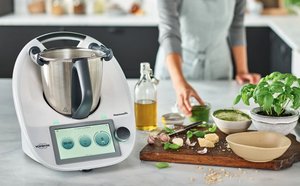 Thermomix: Price increase under discussion
If you want to call a Thermomix TM6 your own, you currently have to put a whole 1,399 euros on the table. That's more than the Bosch Cookit – and compared to other kitchen machines of this type, it's just expensive. Still, it might this year come with the Thermomix to a price increaseas Managing Director Thomas Stoffmehl explains in an interview.
According to Stoffmehl, Vorwerk is currently "checking" whether the current price will also be the future one. If there should be an increase, then it will "not five percent" be. Let's take fabric flour at its word: 4.9 percent of the current purchase price is around 69 euros. In the worst case, buyers would have to pay 1,468 euros.
Just like many other manufacturers, Vorwerk is also struggling with raw material shortages. There is currently a waiting period of up to ten weeks for the Thermomix TM6. The company simply lacks the required microcontrollers for the food processor (source: WirtschaftsWoche).
The Thermomix stays a veritable money printing machine for Vorwerk: The manufacturer now achieves more than half of its sales with the food processor. Another record year is planned for 2022. The turnover of the Vorwerk Group was more than three billion euros in 2021. One sees oneself above all because of direct sales at an advantage. After all, the Thermomix cannot simply be bought in retail stores or ordered from Amazon.
Aldi also offers a Thermomix alternative:
Thermomix boss praises Bosch's Cookit
Driven by the success of the Thermomix, Bosch also has a similar kitchen helper in its range with the Cookit. This is according to the Vorwerk boss "undoubtedly a good device". However, you don't want to worry. According to Stoffmehl, the sales figures for the Cookit are no less than "as a joke".