The armed group has posted hundreds of violent videos on the social network, which have been viewed more than a billion times. Mercenaries also try to recruit users.
It is an alarming report from NewsGuard, published on December 1, 2022, which reveals it: Wagner, the Russian mercenary group known for its violence, is on TikTok. The social network, however, prohibits all representations of violence, and its Russian users cannot officially publish anything since March 2022.
Yet videos showing Wagner at work have bypassed TikTok's moderation systems. NewsGuard, a company that specializes in analyzing online disinformation, has spotted hundreds of videos praising Wagner and calling for violence against Ukrainians. They have more than a billion views in all.
Execution videos viewed over 900,000 times
The videos found by NewsGuard are particularly gruesome. On several of them, one can see what resembles the summary execution of a mercenary accused of having wanted to desert. According to NewsGuard, one man, " her head glued to a brick wall with layers of tape around her neck and forehead explains in the video that he's about to be " judge ". " A soldier then brandishes a mace in the direction of his head, just before the camera turns off ", says the report.
In all, NewsGuard found 14 videos that appear to show the same execution of the former Russian mercenary, one of which was reportedly viewed more than 900,000 times before TikTok took it down. Videos showing the execution would have known " a high engagement rate a few days after being put online, on November 12, 2022 ", according to the company. According to the report, even though some videos of the execution have been deleted by TikTok, some are still believed to be online.
NewsGuard also found 160 videos that " allude to, show or glorify acts of violence perpetrated by the Wagner Group ". On top of all this, company analysts have also uncovered over 500 videos urging " kill the Ukrainians, because they are "Nazis"," according to the report.
Recruitment of young people
Wagner's videos seem, unfortunately, to be extremely popular. " The videos with the three most used hashtags in Russian language related to the Wagner group have been viewed in total more than a billion times ", is it indicated. Moreover, it's not just Russian users who are targeted: Wagner's videos using English hashtags have been viewed more than 60 million times.
The popularity of videos showing Wagner's atrocities is particularly alarming, as NewsGuard spotted Wagner trying to recruit on the platform. Multiple accounts and videos redirected users to sites where Wagner regularly posts recruitment ads, outside of TikTok "says the report.
As of this writing on December 1, not all accounts have yet been deleted by TikTok. Numerama thus found a propaganda video, on which we can see images glorifying violence and soldiers on a background of epic music, inviting us to join Wagner's troops. Numerama was also able to see another account, displaying the insignia of the Wagner group in profile, which redirects to a recruitment site for the group of mercenaries.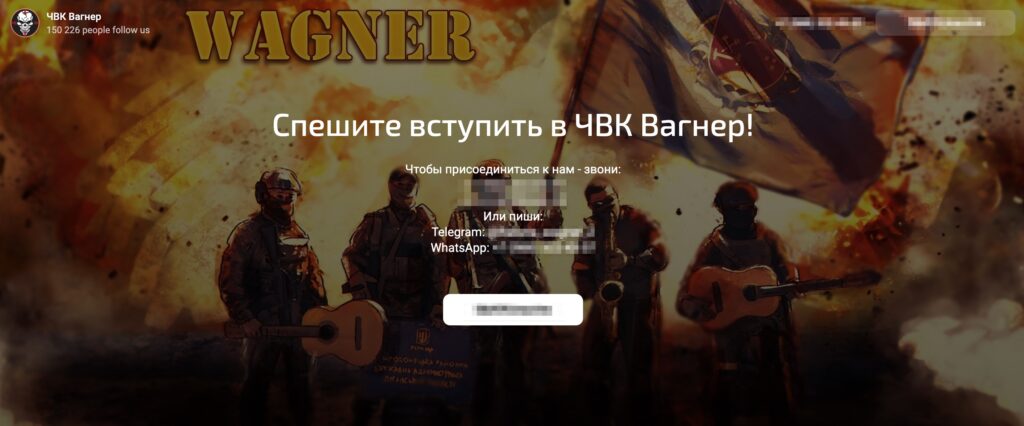 TikTok was notified by NewsGuard, and many videos have since been deleted, the company writes. But as Numerama could see, not all of them have been removed yet.
Above all, it would seem that the pace of publication of propaganda videos is very sustained: according to NewsGuard, " dozens of new videos glorifying the Wagner Group would be posted daily on TikTok. What continue to fuel the fanaticism around the group of mercenaries.