It will not have escaped your notice that Apple presented two relatively unequal new Mac M2s at its last WWDC: the all-new MacBook Air on one side, and the aging 13-inch MacBook Pro on the other… We explain why to wait the MacBook Air M2 is probably the best idea you can have right now.
You probably already know if you've read our review of the MacBook Pro 13 M2, this new model is one too many. Unchanged or almost since 2016, this new iteration has been resisting for many months in Apple's offer. For this, it is content to evolve only on the technical level, first with the addition of an M1 chip at the end of 2020, then with the appearance on its motherboard of the brand new M2 chip this year.
This unique novelty is certainly interesting from the point of view of performance, but it does not weigh enough against a MacBook Air which completely changes its formula. Let's see point by point how the MacBook Air will probably be better than its cousin when it is available in France.
Let's start with the obvious: the design of the MacBook Air, which has been completely redesigned to offer many new features, some of which are directly inherited from the MacBook Pro 14 and 16 (launched at the end of last year).
The new chassis, thinner and more modern
Unlike the MacBook Pro 13 M2, which unfortunately stands out for its aesthetic inertia, the new MacBook Air swaps its old chassis for a new, much refined aluminum casing (11.3 mm against 16.1 mm previously, and 1.24 kg only on the scale). There are also softer and rounded lines, four large round feet, as on the MacBook Pro 14 and 16, and four colors, some of which are new (Silver, Stellar Light, Space Gray and Midnight).
The resized screen… but with a notch
Winner on portability and format (it is thinner and lighter than the MacBook Pro 13 M2), the MacBook Air is also on the display surface. If we also stay here on a very classic Retina LCD IPS panel, the latter gains in brightness: Apple mentions 100 nits more than on the old MacBook Air. It also gains in screen occupancy rate, with a diagonal of 13.6 inches, against 13.3 inches so far. The display surface is therefore slightly larger and the edges are clearly cropped… but we now have to deal with an ugly notch installed on the top of the slab.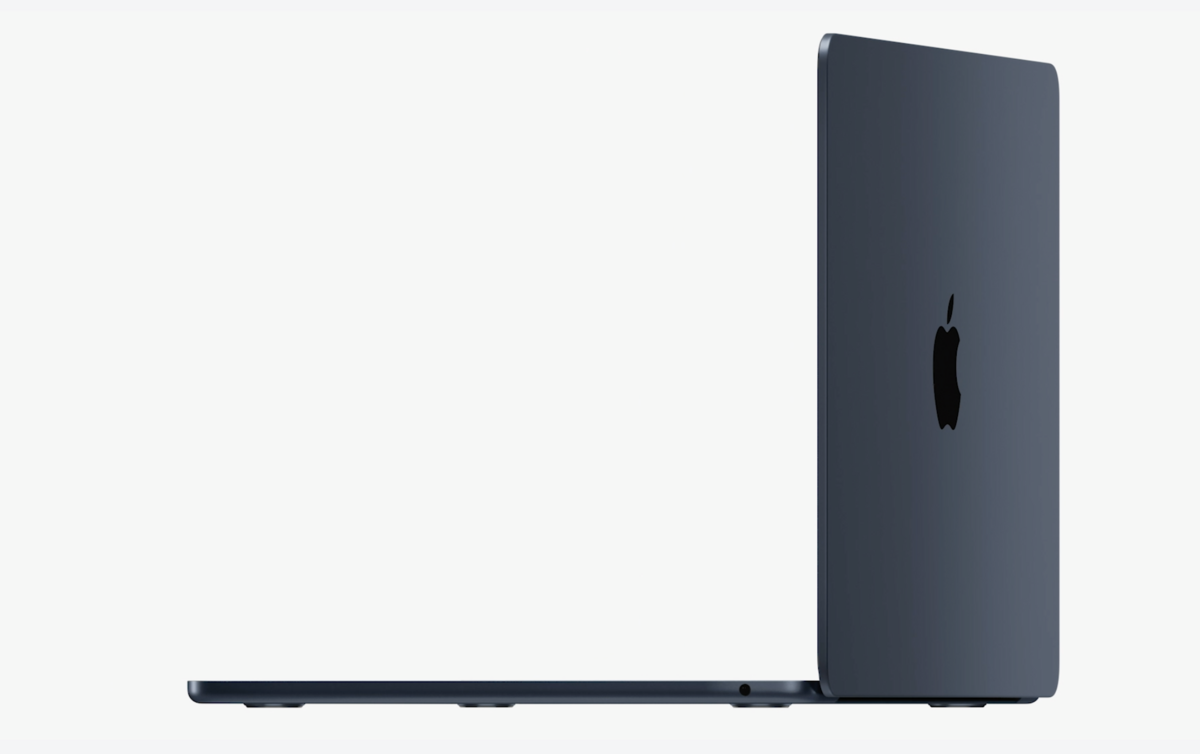 Some significant "bonuses"
Failing to allow facial identification via FaceID (a TouchID fingerprint sensor is still installed in the power key), this notch at least allows the addition of a new Full HD webcam, instead the bad 720p sensor that the MacBook Pro 13 still has. This little asset helps to make the pill go a notch which seems above all to be a way for Apple to get people talking about it.
Beyond this new webcam, the MacBook Air M2 can count on a slightly redesigned connection. There are two USB-C Thunderbolt / USB 4 ports and a 3.5 mm jack, this time supplemented by a magnetic MagSafe port (absent on the MacBook Pro 13). While it is still possible to charge the Mac via one of its USB-C ports, this connection, first reintroduced on the MacBook Pro 14 and 16, allows both faster charging (via a 67 W charger offered as an option), but also a more "secure" connection. The MagSafe plug is designed to unclip easily and thus avoid any regrettable event if you trip over the charger cable.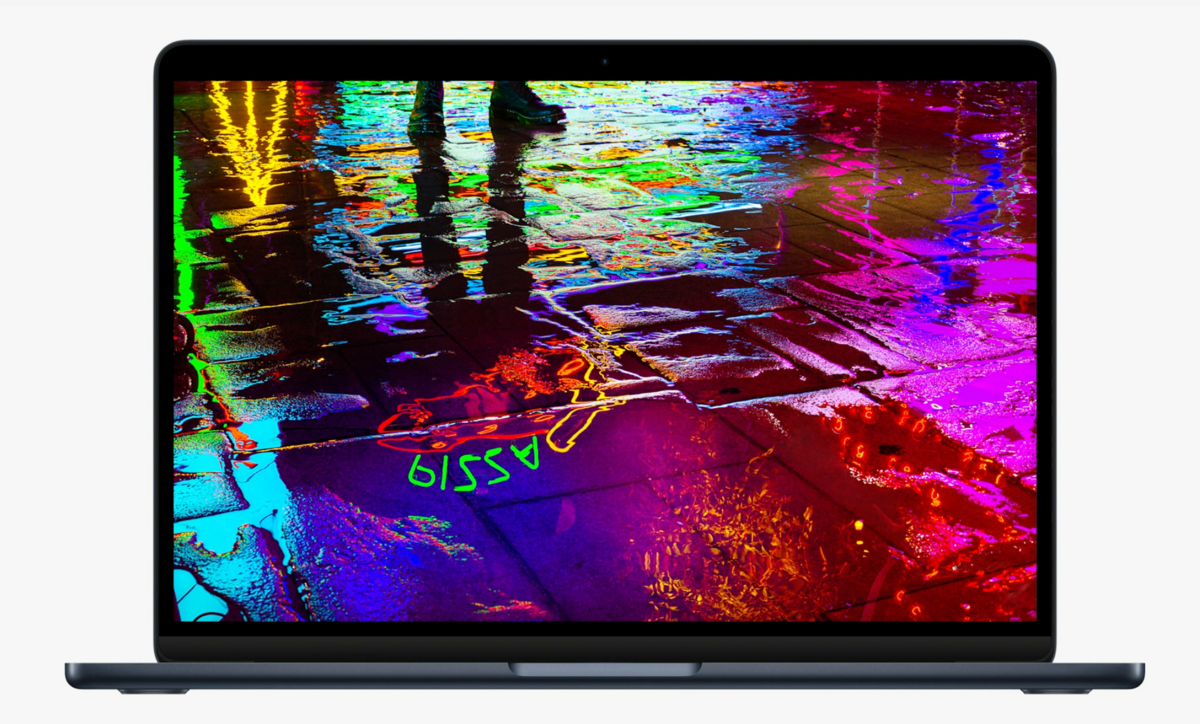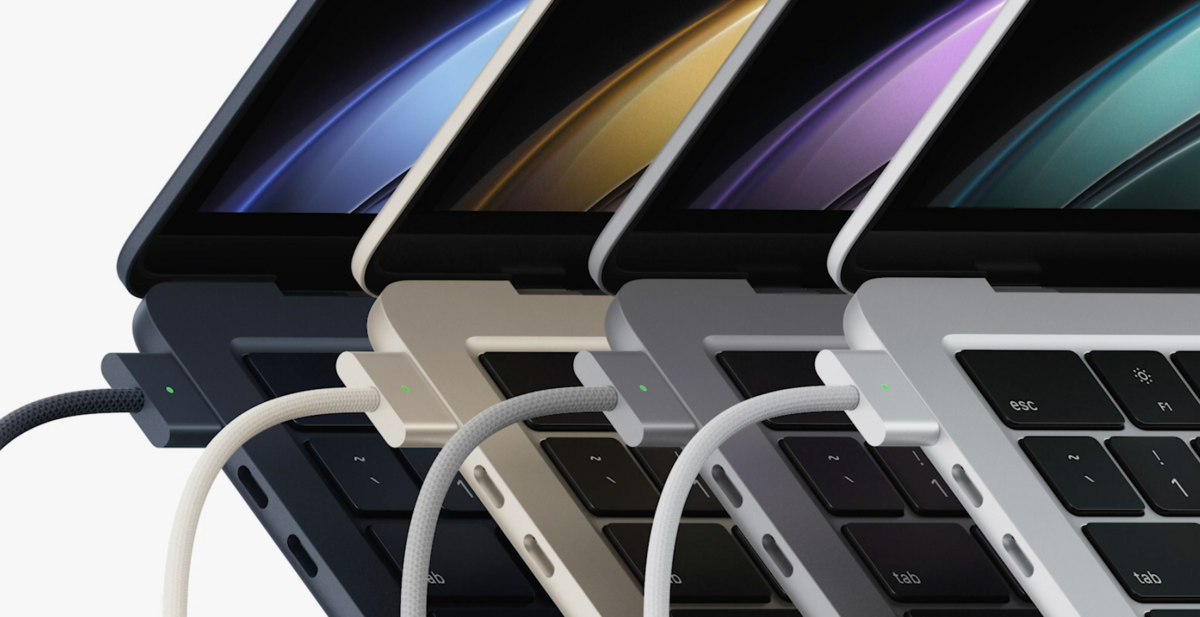 Fortunately, the MacBook Pro retains a few advantages to deceive its adversary. It remains to be seen whether, for you, these advantages are sufficient to justify the price difference imposed by Apple between these two new products.
The advantages of the MacBook Pro 13 M2
First advantage to highlight for the MacBook Pro 13: the presence of a complete M2 chip, installed by default, regardless of the configuration chosen. The most affordable MacBook Pro 13 is thus equipped with an M2 chip with 8 CPU cores and 10 GPU cores, unlike the most affordable MacBook Air M2 which is content, for its part, with only 8 GPU cores by default. In other words, the MacBook Pro 13 retains a slight advantage over the MacBook Air in terms of graphics performance… especially since it can also count on an active dissipation system. Rarely active, the latter will however come in reinforcement when significant and prolonged loads are imposed on the ARM processor designed by Apple.
We don't know if it still exists, but Touch Bar aficionados can finally rejoice, since it's still in the game on the MacBook Pro 13. Despite its relative usefulness by default, this band The touch screen located above the keyboard could possibly be practical if you take the time to configure it properly… even if it means going through third-party solutions, Apple having invested little in the software functionalities of its Touch Bar.
Available since June 24, from 1,599 euros in France, the MacBook Pro suffers from a price placement 100 euros more expensive than the MacBook Air M2 entry price. The latter indeed starts at 1,499 euros. As mentioned, it is then necessary to be satisfied with a slightly castrated M2 chip on the GPU level (two graphics cores less). We can correct this discrepancy thanks to the options offered by Apple, but for 120 euros more. The price of the two MacBooks is then identical, to within 20 euros.
It should be noted, however, that the MacBook Air is not yet available in France… and that Apple has still not split a precise marketing date for this new product. The MacBook Air M2 should nevertheless arrive on the market in July… and in our opinion, it deserves these few weeks of waiting.
Apple

Computer science

laptop