With its S7 MaxV Ultra, Roborock delivers us without doubt the most advanced robot vacuum cleaner, even one of the most advanced devices on the market today. And we explain why.
In less than ten years, Roborock has established itself as one of the undisputed leaders in the robot vacuum market. The recipe for its success? Extremely powerful, efficient devices, which are based on a plethora of technological innovations. It was at the beginning of the year, during CES, that the manufacturer unveiled the flagship of its catalog: the S7 MaxV Ultra. A device that materializes 8 years of research and innovation in the service of the maintenance of our interiors and which is likely to change the situation.
Why ? Well, quite simply because the manufacturer has not skimped on the technical data sheet: powerful suction, precise and efficient mapping system, advanced cleaning functions, as well as some completely new small features. A robot vacuum like we have rarely seen, and which is undoubtedly one of the most advanced to date. A concentrate of technology which is now available at Boulanger for the tidy sum of 1,499 euros.
Because it is able to memorize and adapt to the configuration of your interior
With the S5, then the "classic" S7, Roborock had already emphasized the vacuum cleaner's ability to recognize its environment. With the S7 MaxV Ultra, the manufacturer has moved up a gear, providing its device with a veritable arsenal of sensors and cameras, as well as the appropriate software to best clean the surfaces under its care. In addition to Lidar and a reactive system based on artificial intelligence, it now has two RGB cameras that allow it to understand its immediate environment more precisely.
The Roborock S7 MaxV Ultra is thus able to precisely identify the obstacles that stand in its way to avoid any untimely blocking. He is also able to identify the room in which he is based on the furniture to adjust his suction, or the surfaces on which he passes in order to adapt his cleaning. Carpet or rug? The mop raises itself to avoid soaking everything, resting on its brushes to clean the material in depth.
If these sensors allow the vacuum cleaner to get a precise idea of ​​its environment, misfires are still possible. This is where the Roborock app comes in, to let you browse the 3D map made by the device and fix any hand lapses. You can easily add a piece of furniture or any other element in the blind spot of the S7 MaxV Ultra.
Because no dirt can resist the Roborock S7 MaxV Ultra
Having a smart vacuum cleaner is all well and good, but it still has to wash and clean properly. And on this point, the Roborock S7 MaxV Ultra does not disappoint. To begin with, Roborock has improved the suction power which goes here to 5100 Pa, where the S7 Plus or the S6 MaxV peaked at 2500 Pa, for example. A far from negligible increase, which guarantees the recovery of almost all dirt on the ground.
But this is not the only advantage of this vacuum cleaner which also benefits from an entirely rubber brush resistant to the pile of hairs (the enemy of any vacuum cleaner), and mounted on a floating mechanism which allows it to manage without any problem uneven floors.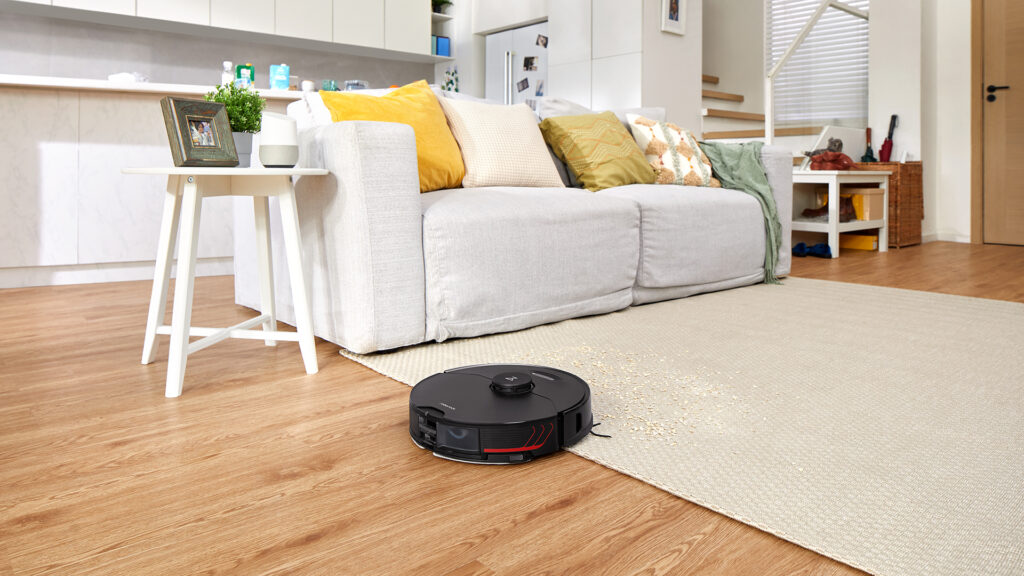 Last string to the bow of this extremely complete device: its mop. Able to raise itself up to spare carpets, it will make short work of most tasks, thanks to two features. First, its sonic vibration mechanism that is capable of scrubbing floors up to 3,000 times per minute. Then, thanks to the constant pressure applied to it and which allows it to stay as close as possible to the ground even in the middle of cleaning.
Because he is more independent than the average
To complete its S7 MaxV Ultra and allow it to offer a high-end experience, Roborock has granted it a very complete charging station which allows it (almost) to do without you on a day-to-day basis. In a fairly classic way, it makes it possible to recover and store the waste collected by the dust container, as well as the dirty water. This station also allows you to recharge the vacuum cleaner so that it can continue its rounds without any problem.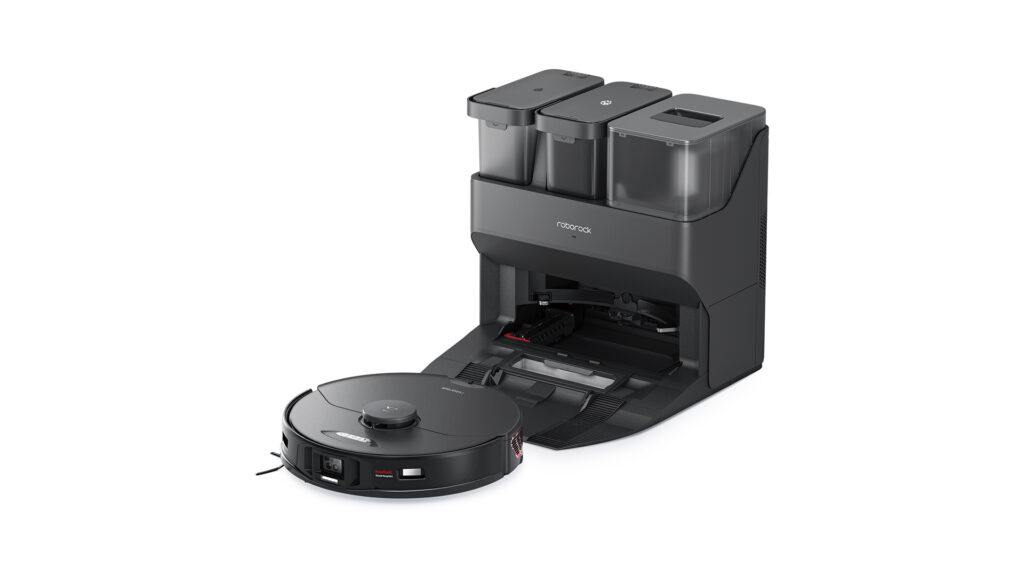 However, these are not its only advantages, since the docking station also makes it possible to fill the tank dedicated to the mop, so that the device can cover an area of ​​up to 300 m2. Better, once docked, the S7 MaxV Ultra can be cleaned from top to bottom, mop included. What save you a tedious maintenance, and save you time on a daily basis.
Because it has new features for a robot vacuum cleaner
The novelties implemented by Roborock within this S7 MaxV Ultra do not stop at simple improvements in performance and autonomy. This vacuum cleaner also has some functions never seen before on this type of device, the main one being the possibility of communicating through it. Thanks to its brand new camera, a microphone/speaker combo, and the Roborock application, you can launch video calls on the fly at any time.
A way, for example, to signify to your pet that it is time to stop slaughtering furniture and plants or to catch your offspring in the act of carrying out some misdeed while your back is turned. The opportunity also to make some schoolboy jokes if you ever feel like it.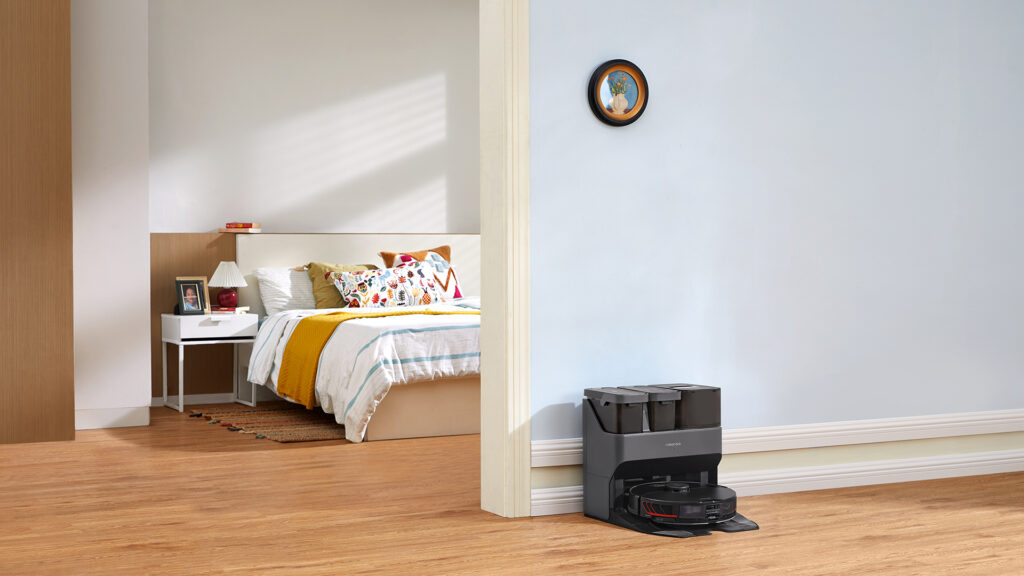 Finally, know that Roborock has gone all out on data privacy to protect you. The cameras installed on the S7 MaxV Ultra do not record any images, either locally or in remote storage. It has also obtained the "secure home automation product" certification by TÜV Rheinland and is in full compliance with ETSI EN 303 645 cybersecurity standards.
Discover the Roborock S7 MaxV Ultra at Boulanger
A true concentrate of technology, the S7 MaxV Ultra is the flagship of Roborock's robot vacuum cleaner fleet. Revealed at the last CES, it is now available in our green regions at Boulanger. However, excellence comes at a cost, since you will have to pay almost 1499 euros to acquire what is undoubtedly the best robot vacuum cleaner to date.
Some links in this article are affiliate. We'll explaine everything here.

This is content created by freelance writers within the Humanoid xp entity. Numerama's editorial team did not participate in its creation. We are committed to our readers to ensure that this content is interesting, qualitative and corresponds to their interests.