Bitter failure when it was released on Wii in 2009, MadWorld is an atypical proposal that has become relatively cult over the years, but for which no successor has appeared since. If it's not Max Anarchy (title Arnachy Reign for the West), whose kinship is very real, even if, basically, the two apps have little in common. At least unrelated to the qualities of the license that interests us. However, with its graphic universe borrowing from comics, whether manga or comics, the game does not leave anyone indifferent.
More than an aesthetic slap, the software also has a game design, certainly imperfect, but terribly fun and original. And this, still today. While for Atsushi Inaba, co-founder of PlatinumGames, working on the game remains one of his best experiences, the director of MadWorld, Shigenori Nishikawa, meanwhile, mentioned his desire to see a second opus. As a fan of the work of this team of former Capcom, it was time for me to look back on this experience. Whether it's for a remake that will correct the errors of the Wii version or a sequel, MadWorld should make the chainsaw roar again. Note that we devoted a previous column to Vanquish, another Platinum title.
The Big Fat Kill
Mad… World… Welcome to MadWorld! No Max Rockatansky here, but an equally charismatic Jack Cayman. A nag at the crossroads of Ash from Evil Dead, by Marv SinCity and all that American culture is capable of producing in terms of badass heroes. PlatinumGames invites us to shed blood and unleash the most twisted killing ideas possible, in the middle of a city that acts as a macabre playground intended to entertain a hemoglobin-loving audience. But before entering the arena, let's go back a bit to the origins of this delirium that stains. This project is rooted in the pages of game design documents owned by Tokuro Fujiwara.
If this name means nothing to you, he is one of the great masters of Japanese video games. He is none other than the creator of Ghosts'n Goblins, produced the series mega man and Megaman X, as well as the mythical Aladdin from 1993, finalfight or resident Evil first of the name. He can also be considered the mentor of Shinji Mikami. Although he did not work directly on the PlatinumGames game, he was the one who came up with the basic concept, probably when he was working for Capcom. As a reminder, the majority of Platinum members come from the Japanese giant, literally looted of its talents. It is Atsushi Inaba who will set up the project MadWorld, based on Fujiwara's ideas.
He will be supported by Shigenori Nishikawa in charge of the production. The man is credited on many Capcom titles too and he is a close collaborator of Shinji Mikami. Difficult to know the concrete contributions to the initial concept, nevertheless it is to Inaba that we owe the westernization of the software. The idea stems from the desire to produce a fun and violent game, reserved for an adult audience on the Wii. Console clearly not in this niche. What's more, because of the aggressiveness of the title, he was aware that a release on the archipelago could be compromised, so it was necessary to target the American public as a priority. A choice that can be justified by the gentleman's previous experiences. Indeed, he is known for his work with his former studio, Clover Studio. Viewtiful Joe, Okami and God Hand, are ambitious games with original concepts, but which have been commercial disasters.
A Foolish Wish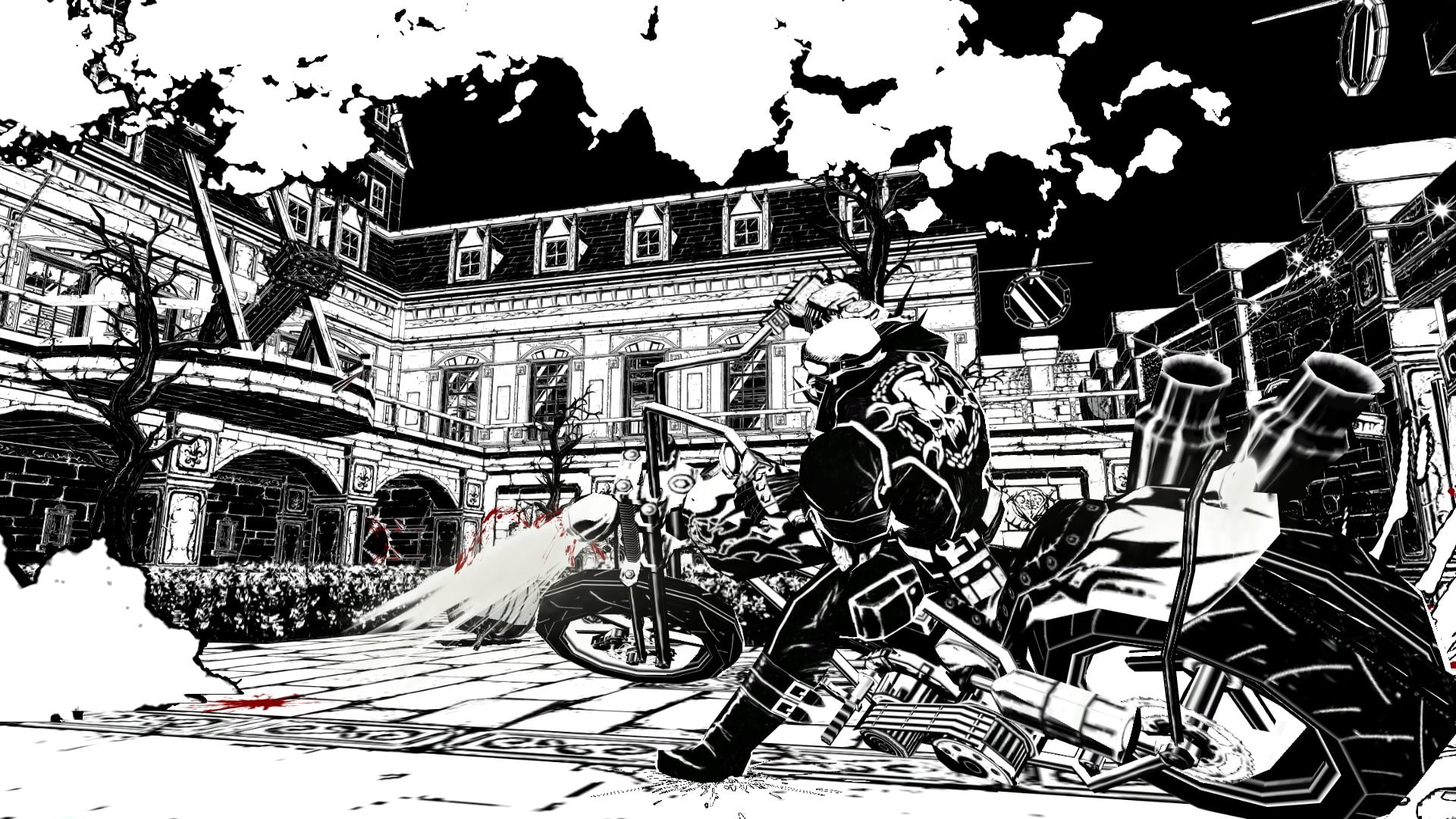 To be sure to put the odds on their side, the producer does not hesitate to feed on American culture, whether films or video games, but also music. What will be found in the soundtrack focused on American rap, when it does not turn into rock. MadWorld will resume the excess of a SinCity and certain manga, but also the creativity inherent in B series films, often very focused on a certain idea of ​​violence. Deadman Wonderland, New York 1997 and obviously SinCity by Frank Miller, are much more obvious, but the influences are numerous. Inaba also wanted two specific things that he imposed on the screenwriter. The creation of a universe in which violence would be coherent, and, for the end of the game, to bring a morality which would not advocate these impulses of death.
Despite the excessive hemoglobin, the universe and the aesthetics make it easier to take a step back, while accentuating the ambient absurdity. The narrative context making us evolve in a television show is not without reinforcing this feeling. It is interesting to see that in addition to the works mentioned above, whose contexts have similarities, Carpenter's film also comes up a lot during the adventure. The starting point of MadWorld also refers to Manhunting from Rockstar, which Inaba confessed to having played. Indeed, there is this same principle of a city in which violence is trivialized, not to mention the reality TV dimension. The approaches are clearly different, in game design as well as in the privileged point of view, nevertheless these are two games that deal with hyperviolence and a certain deviation from reality TV in the broad sense.
If realism is not rigorous in the work of PlatinumGames, we salute the visuals and their details. We are far from a simple graphic leg for aesthetic purposes. Despite the omnipresence of black and white, it is very readable, enough to discover varied levels and convincing level design. One can easily detect traces of Inaba's previous work with Clover Studio once again. An aesthetic borrowed from graphic art, as for Okami and Viewtiful Joe, or the disproportionate and over the top violence of god hand. Moreover, this aesthetic success stems from the use of a custom engine for the occasion and various ingenuities. Until blood spatters modeled via a collision system, among other things.
The Hard Goodbye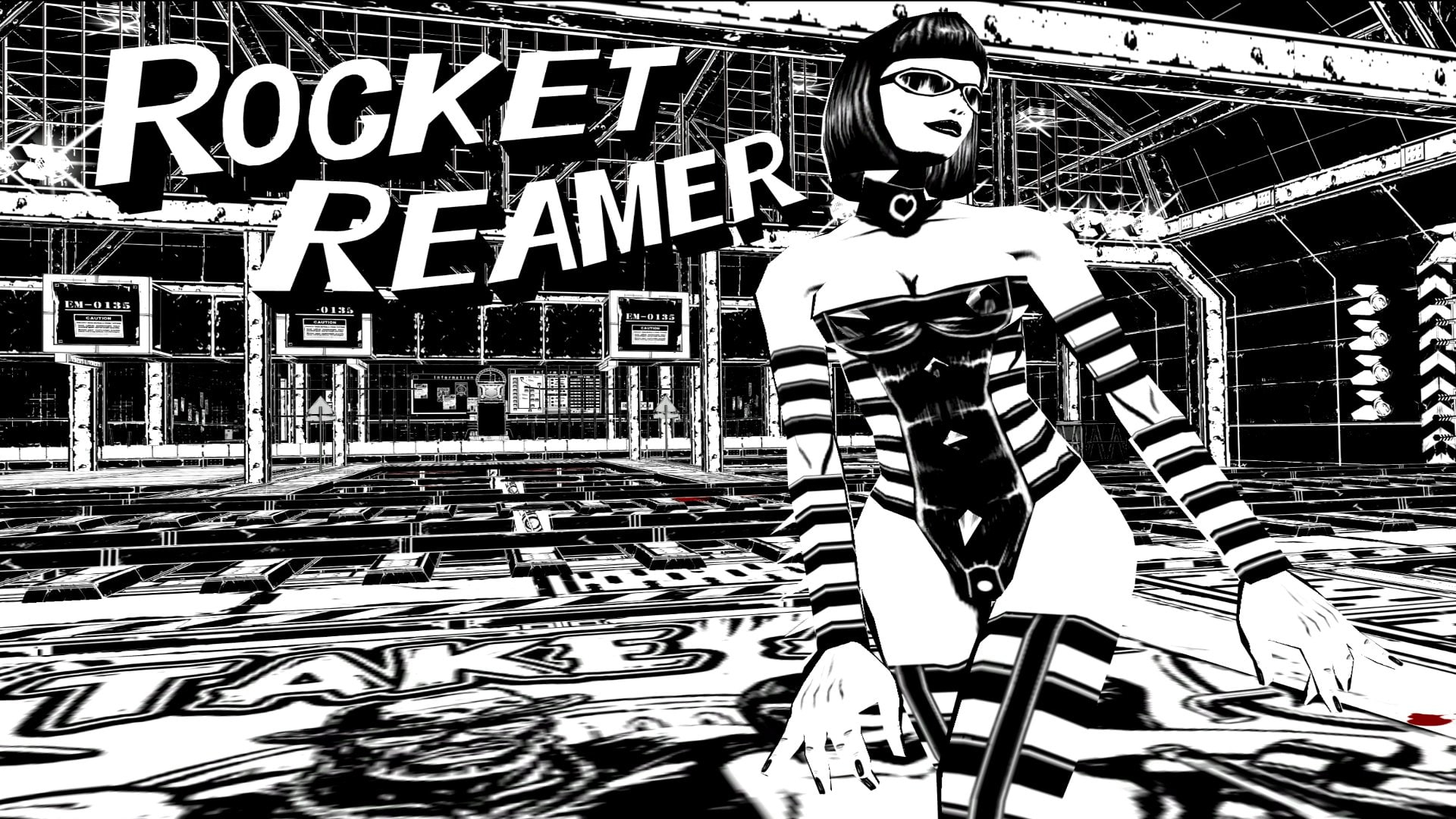 Although guided by the philosophy of Platinum members, namely a game design totally focused on gameplay and gaming pleasure, MadWorld is aimed at an audience that is still less seasoned than usual. The developers have opted for a simple handling and a lesser challenge. The enemies being pure cannon fodder, except the bosses. This is why the software does not aim for great depth of gameplay and does not have a plethora of combos. The originality comes from the use of decorative elements, objects as various traps. The principle is to defeat waves of opponents in districts of the city, which are in fact the arenas of combat. You need to get enough points to face the area boss.
In addition, stages unlock weapons or events during an event. It is enough just to knock out the enemies by multiplying the interactions with the decorations, the more the kill is creative, the more the score increases. Sticking a pole in a guy, jamming him in a tire then sending him under a train or walls adorned with spikes, playing baseball with enemies and a studded bat, shredding all this beautiful people with a chainsaw, etc. There are quite a few possibilities for action, each one more barren than the next. It's also viable to melee or throw enemies to get finish move animations, but there are also a few weapons to unearth that give you specific attacks.
Behind all this mess hides a little depth and some subtleties of combos to find by oneself. We're still in a Platinum game after all. And what about the machineries hidden in the levels and which can offer completely crazy exterminations. And of course, everything will be regularly punctuated by dubious mini-games, but very funny in practice, when it's not the Baron Noir's running gag that wins us a smile. A great anything that manages to adopt a certain coherence in its universe. I found myself getting caught up in this story, which ultimately holds up and has compelling characters.
Why would we want MadWorld to return?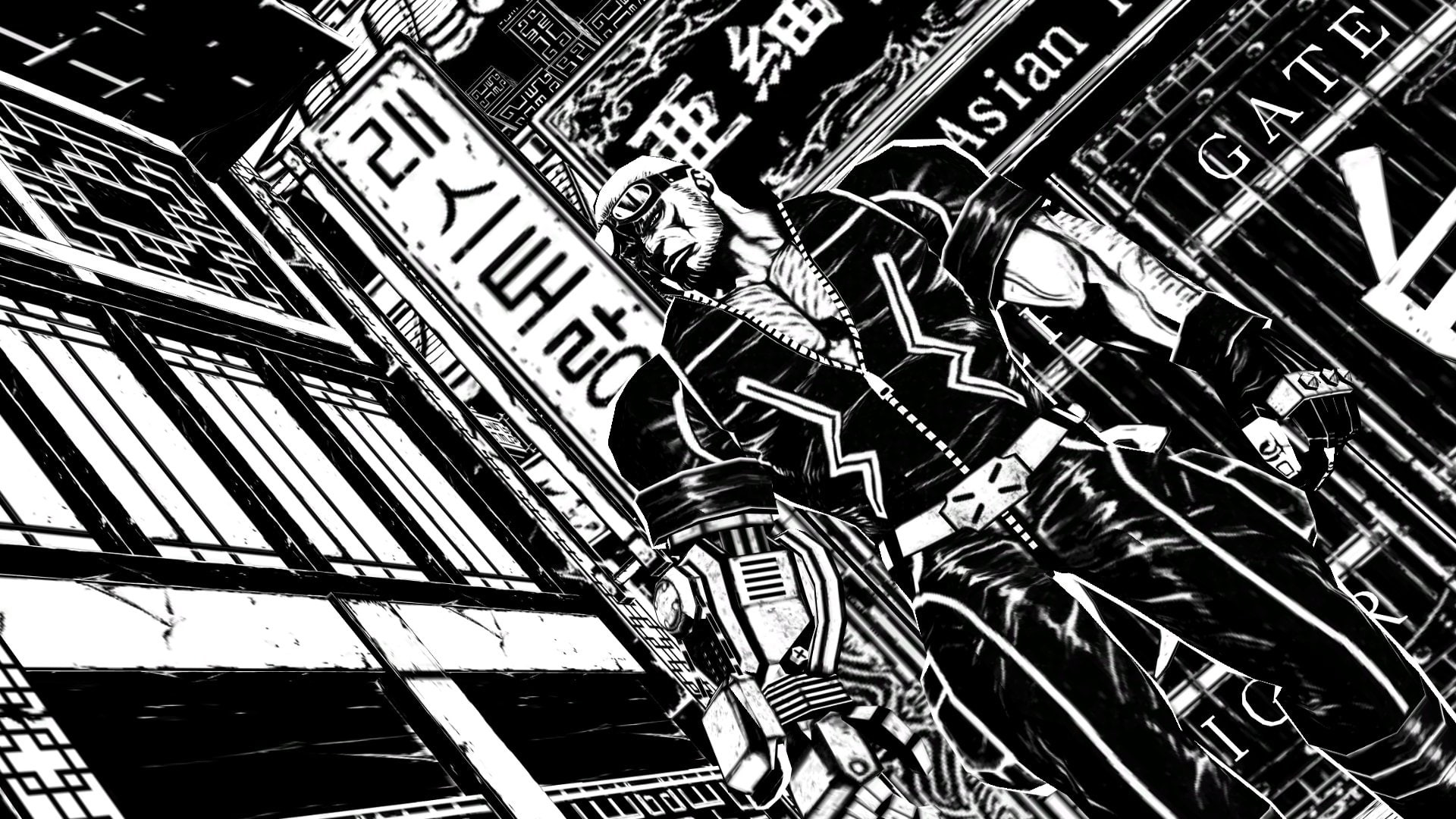 If there were to be a sequel, or a remake of MadWorld, I expect the developers to go even further in the possibilities of action, with levels that may be a bit more ambitious in the level design. Extend the playing surface while imposing verticality. What the Wii opus does a little it is true. But not enough for my taste. The title has everything it takes to be a real mortuary sandbox and I want to feel like in a Dead Rising. Become an artist of violence and the clubbing of men. Because as Jack says so well, we are not here to save people, but to kill them. Then, it must be admitted that the Nintendo console in no way transcended the software, on the contrary even.
Between the catastrophic camera that is impossible to control manually, and the imprecise and unrewarding nunchuk movements, you have to hang on to get involved in MadWorld and have the impression of taming our hero. Logical corrections that will give more interest to the replayability and to the following runs. Being able to redo the mini-games remains a nice idea, more than the unconvincing versus. What's more, a re-release on current consoles would provide the necessary weapons to lay a comfortable experience free of these defects. You must see the following Platinum games, Bayonetta and Vanquish, proof that the studio is capable of great control over its gameplay.
So if Inaba and Nishikawa lay a new part of the environmental Beat'em all that is MadWorld, one can only imagine something wildly jubilant. The Wii remains an obvious factor in the failure of the soft, but I dare to think that today it would come out better. regaining the readability it deserves. Because there is an entire universe that seems to be waiting for us beyond the show of violence. It also goes through the narration which, without being incredible, has the merit of bringing some effective twists and of having, as I said, a deeper and worked world than it seems. A compendium of various ideas stolen from everywhere and which allows Inaba and his screenwriter to concoct a coherent world in what he offers. Especially when the staging is thought out like here, a lot of shots or cutscenes do not leave you indifferent.
Personally, like a Devil May Cry 5, I always find it nicer to have a simple, effective narrative context to accompany me and help me immerse myself. Especially in a game like this. Whether MadWorld works just as well and isn't just a stupidly violent work where you link levels, it's good because there's a universe behind it. I would add that the incursion of QTE also brings a little something pleasant and that I would like to find some again. In kinematics as for boss fights, often very cool, and which lacks only a few things to reach the epic of a god of war. You have to see the fanatics that you face. In short, everything is already more or less there, only a few adjustments and a little more scope are missing.