YOU

In "You" season 4, the eat-the-rich killer is up to mischief. At the end of Part 1 it is even revealed who is behind it. But maybe Joe is the real killer? This fan theory is amazingly coherent.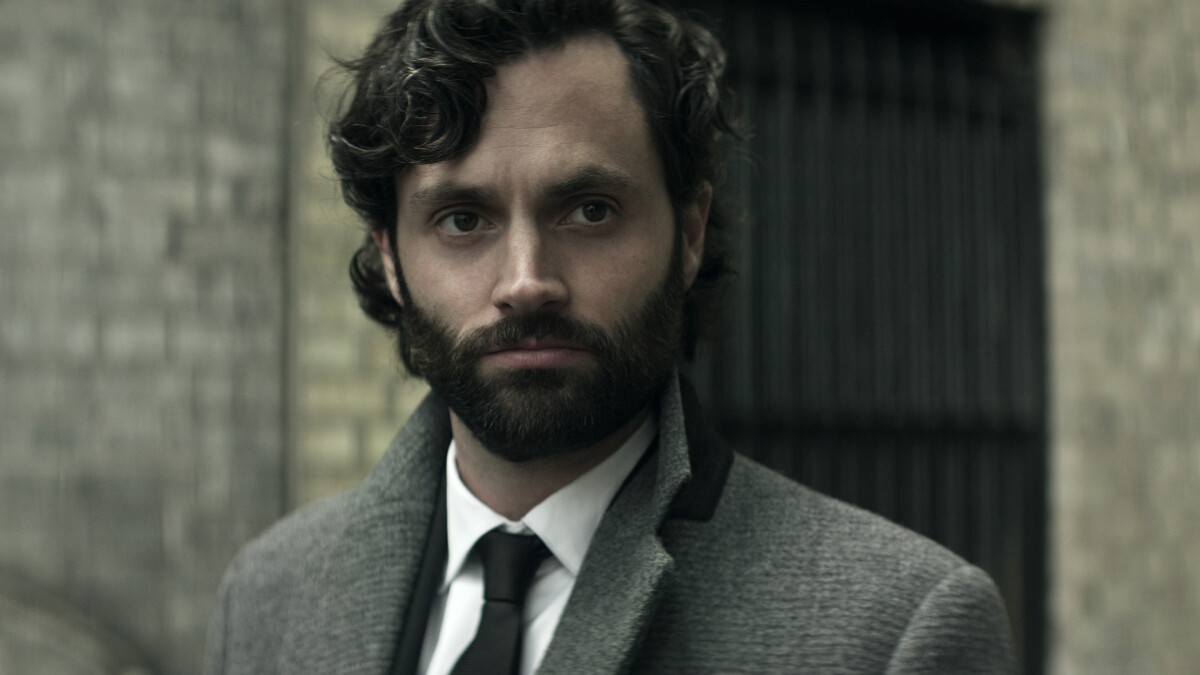 In Part 1 of "You" Season 4, it will be revealed who the killer is that is haunting London's high society.
Joe seems innocent. But a fan theory reveals that he might be behind the eat-the-rich killer after all.
We explain to you how that can be.
"You" season 4 brings a fresh twist to the story of stalker/serial killer Joe Goldberg. Looking to put his past behind him, Joe starts a new life in London as Jonathan Moore.
As a university professor, he suddenly finds himself in the orbit of London high society – until a murder occurs that, for once, is not committed by Joe. At least, that's what the Netflix series wants us to believe. The "Eat-the-Rich-Killer", as he is dubbed by the British press, kills one rich man after another and wants to pin the murders on Joe.
In the manner of an exciting whodunit thriller, Joe tries to find out who the real serial killer is from among all the suspects and even finds the culprit by the end of part 1. Behind the murders is bestselling author Rhys Montrose, played by "Outlander" villain Ed Speelers. But a crazy fan theory is now questioning this resolution.
Isn't Joe the real killer?

According to fan theory, the truth is that Joe is still the show's killer. In all scenes involving Rhys Montrose, only Joe speaks to the author alone. So some fans believe Rhys is a product of Joe's imagination. While the real Rhys exists and continues to be a best-selling author and running for mayor, the interactions between Joe and Rhys take place only in Joe's imagination.
Joe likely identifies strongly with Montrose as he read his memoirs and they both had similar bad childhoods. In his quest to break free from murder, Joe projects his propensity for violence onto a fictionalized version of the author.
Fittingly, Joe is also not conscious of any of the previous three murders. He is drunk and drunk on absinthe during Malcolm's murder, falls asleep on a public bench during Simon's murder, and passes out briefly after being thrown out the window by Roald during Gemma's murder.
The eat-the-rich killer contacts Joe by conveniently texting him via an app that makes the messages disappear after reading them. That way no one but Joe can know he's being blackmailed. Which doesn't happen either, because according to this theory, Joe looks for a scapegoat for the murders and drives himself into the arms of his latest stalking victim Kate.
After all, Joe is only concerned with being close to a woman, and he will stop at nothing for that. In order to continue following his old patterns, his personality seems to have split and the atrocities must now be performed by a fake rhys for him, so that he no longer has to be plagued by a guilty conscience himself.
Also, the fact that we see Joe's actually dead ex-wife again in the trailer of part 2 Love, suggests that Joe suffers from hallucinations. Mostly because we see them in Joe's old glass bunker, where he preferred to lock up and murder his prisoners.
The fact that Joe continues to be the villain of "You" would also suit the series better. Part 2 of Season 4 will show Joe's fight against his evil side. On March 9, 2023 we will finally see the remaining episodes of the new season on Netflix.
| | |
| --- | --- |
| rate you | |
| genre | drama, crime |
| first airing | 09.09.2018 |
| First broadcast in Germany | 09.09.2018 |
| home page | netflix.com |
| More sources | |
| networks | Netflix, Lifetime Television |
| production | Warner Bros. Television, Berlanti Productions, Alloy Entertainment, A+E Studios |
| squadrons | |
Don't miss anything with the NETWORK-Newsletter
Every Friday: The most informative and entertaining summary from the world of technology!
This page was created using data from Amazon, Netflix, MagentaTV, Sky Online, iTunes, The Movie Database, Fanart.tv, Warner Home Entertainment, Sony Home Entertainment or their respective production studios and/or publishers. In case of errors or problems please use the contact form.