STAR WARS: AHSOKA

In "Star Wars: Ahsoka" Anakin Skywalker has one last lesson for his former student. He elegantly packages these as a funny Obi-Wan Easter egg.
We all remember the sentence that sealed Anakin's defeat against Obi-Wan: "It's over Anakin, I have the High Ground"
There is an allusion to this in the fifth "Ahsoka" episode when Ahsoka is sure that Anakin can no longer teach her anything.
Anakin then knocks the ground out from under her feet and has the "high ground" for a short time.
The fifth episode of "Ahsoka" took us into the "Star Wars" era of the animated series "Star Wars: The Clone Wars". In the world between worlds, Anakin Skywalker (Hayden Christensen) returns to train Ahsoka Tano (Rosario Dawson/Ariana Greenblatt). One lesson seems like a reference to Obi-Wan (Ewan McGregor) and Anakin's relationship!
Before Anakin takes Ahsoka on a little journey through time, the two duel in the world between worlds. Ahsoka overpowers her old master and is sure: "It seems like you can't teach me anything anymore!" But Anakin still has an ace up his sleeve and pulls the rug out from under her feet.
Ahsoka: Anakin finally has the legendary "High Ground"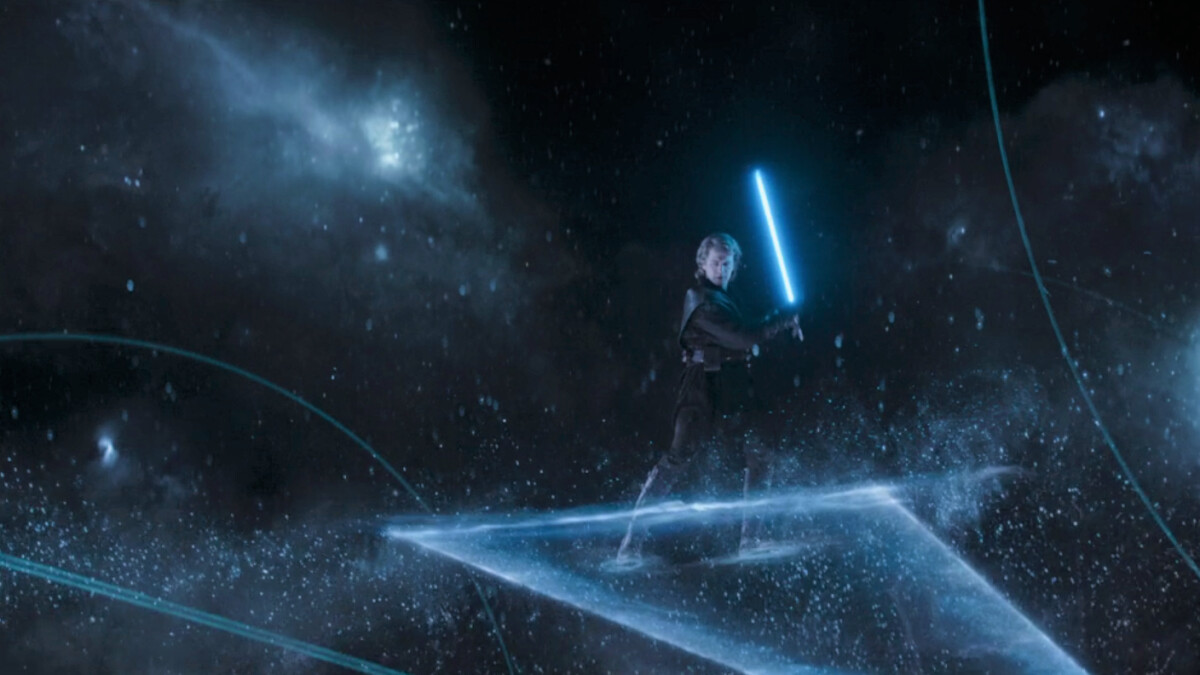 "I haven't taught you everything yet," Anakin replies confidently and hits the ground. The surface Ahsoka was standing on collapses and she falls (into her past). For a brief moment the camera stays on Anakin, a camera shot from a worm's eye view, i.e. from below.
The image design shows: Anakin is superior, we have to look up to him, he is above Ahsoka – and above us. He has the "High Ground"! It's unthinkable that director and series creator Dave Filoni wasn't secretly laughing up his sleeves, because it's a clear reference to Anakin and Obi-Wan's duel in "Star Wars: Episode III – Revenge of the Sith."
There the two fight and Obi-Wan wins because he is "significantly above" Anakin. In English he puts it like this: "It's over Anakin, I have the High Ground." This exclamation became an Internet meme and is now legendary among "Star Wars" fans.
It's that cursed High Ground that causes Anakin to lose to Obi-Wan, and so it's all the funnier that Anakin now has the High Ground in his duel with Ahsoka, teaching not only her a lesson, but also, in a sense, Obi -Wan has internalized his last lesson.
There was already a small allusion to the High Ground when Darth Vader returned in "Obi-Wan Kenobi", when Vader destroyed the ground with the help of the Force in a duel with Obi-Wan and briefly stood above Obi-Wan. Anakin/Vader learned from his mistakes.
The next episode awaits us on September 20, 2023 on Disney+ in the stream. It is unlikely that we will see Anakin again in the series. But maybe there will be a return in one of the other "Star Wars" new releases!
| | |
| --- | --- |
| Star Wars: Ahsoka review | |
| genre | Drama, Action & Adventure, Sci-Fi & Fantasy |
| First broadcast | August 22, 2023 |
| First broadcast in Germany | August 23, 2023 |
| Homepage | disneyplus.com |
| Other sources | |
| network | Disney Play |
| production | Lucasfilm |
| Squadrons | |
Don't miss anything with this NETWORK WORLDNewsletter
Every Friday: The most informative and entertaining summary from the world of technology!
This page was created with data from Amazon, Netflix, MagentaTV, Sky Online, iTunes, The Movie Database, Fanart.tv, Warner Home Entertainment, Sony Home Entertainment or the respective production studios and/or publishers. If you have any errors or problems, please use the contact form.