Of the graphics cards RDNA3 cheaper and intended for professionals to try to tackle NVIDIA on all terrains.
For once, we're going to talk about graphics cards that you won't buy. Not because they are too expensive, but because you are not the target audience at all.
The Radeon PROs are getting stronger
Indeed, the Wxxx range from AMD is intended for the professional world and, after the W7800 and W7900 that the American company launched in April, it is now a question of the W7500 and W7600… because among the pros too, a card with more than 800 dollars, well that's it take a dump Dear.
It is therefore not a new architecture, the two cards made official today simply continue the downscaling of the RDNA3 which had affected the less fortunate players in May with the release of the Radeon RX 7600, the smallest of the models. games currently marketed.
Moreover, the two new cards are designed around the same GPU as this RX 7600, the Navi 33. The structure of the latter is monolithic with a 6 nm engraving signed TSMC for a size of approximately 440 mm².
Full name Radeon PRO W7600, the most powerful of the new features 2,048 stream processors and 64 AI accelerators. There is also talk of 32 RT accelerators and, to continue with the numbers, 128 texturing units, 64 ROPs. The GPU is associated with 8 GB of GDDR6 18 Gbps with a 128-bit memory bus, therefore a bandwidth of 288 GB/s.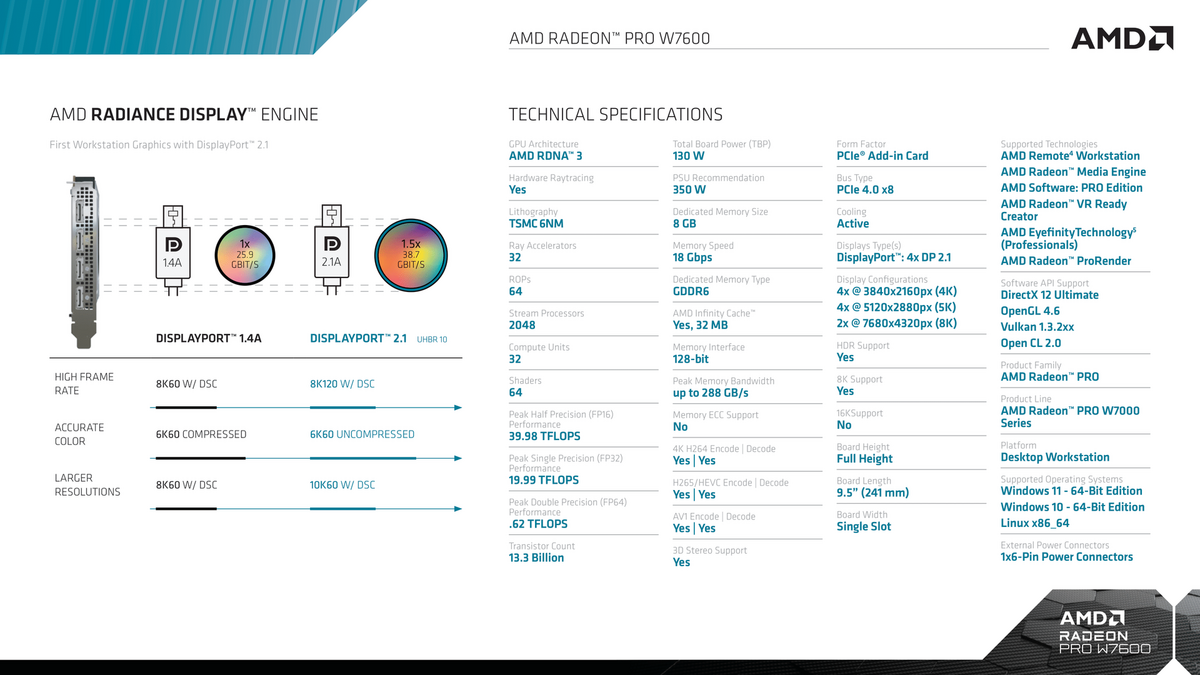 The beast's TDP is announced by AMD at 130 watts, justifying the presence of a single 6-pin power socket. AMD announces a power of 39.98 TFLOPs in FP16 and 19.99 TFLOPs in FP32. Obviously much more than the little sister Radeon PRO W7500 which is limited to 24.38 and 12.19 TFLOPs, respectively in FP16 and FP32.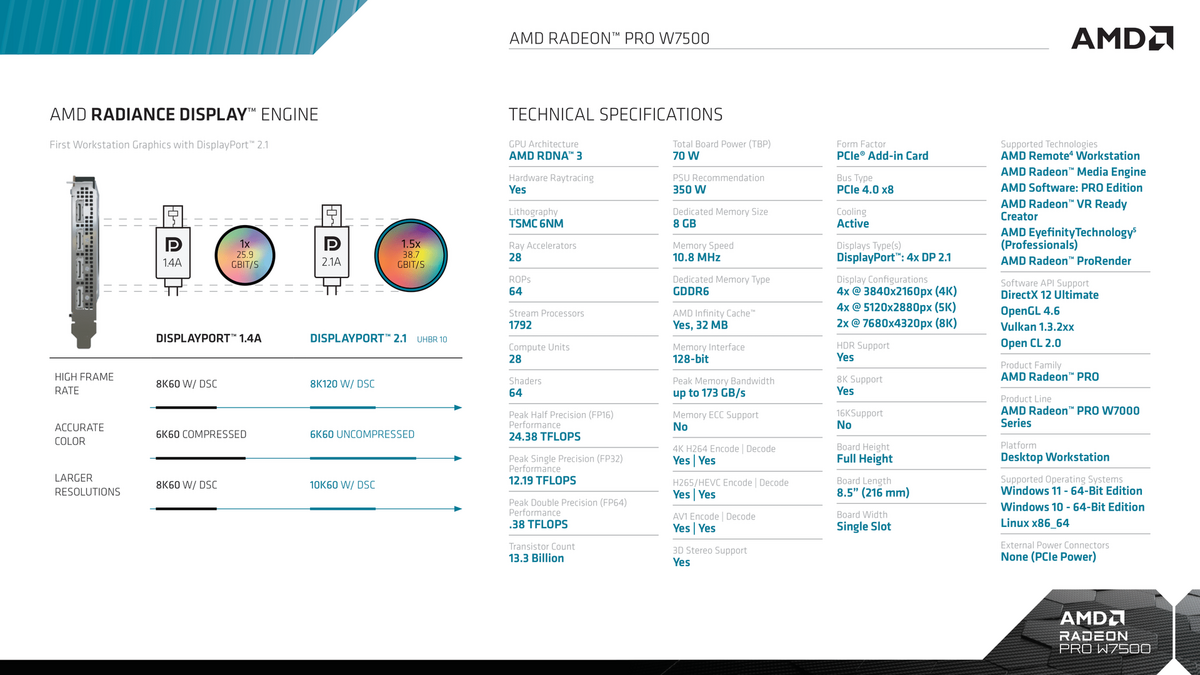 The Navi 33 is here again a little less complete with 1,792 stream processors, 56 AI accelerators, 28 RT accelerators, 112 texturing units and the same 64 ROPs. We also keep the 8 GB of GDDR6, but we go to 11 Gbp with a 128-bit interface for a bandwidth of 173 GB/s. The TDP is way down to 70 watts.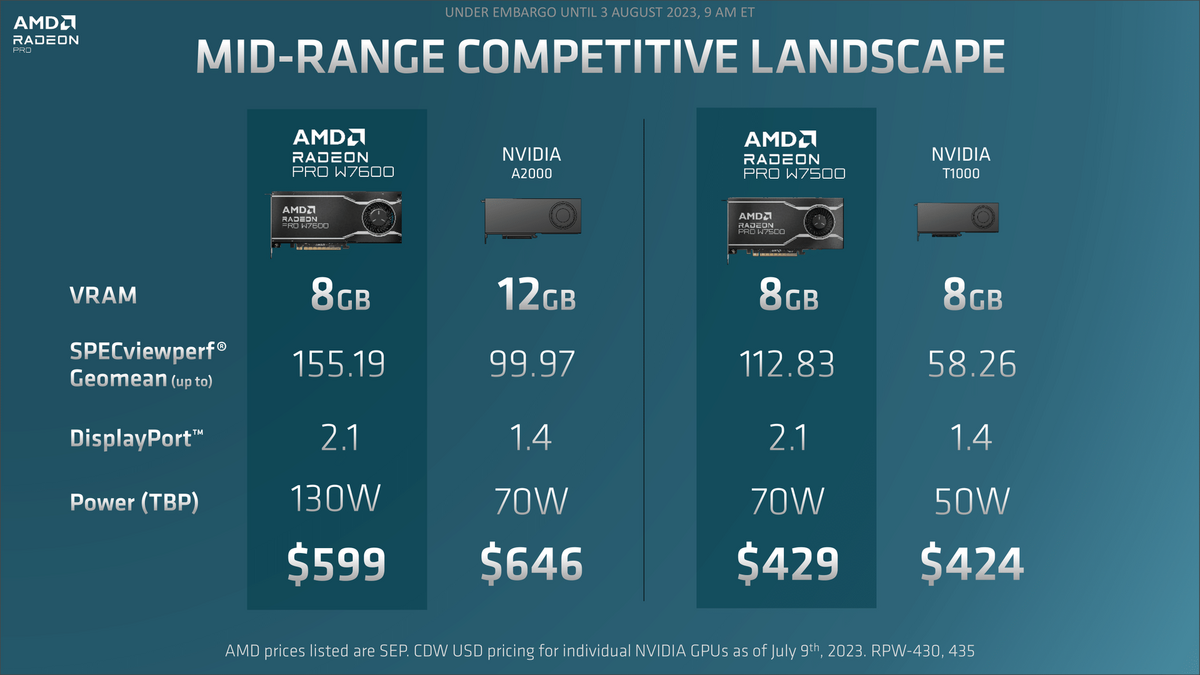 Of course, the Radiance display engine is on both with the presence of DisplayPort 2.1 and hardware support for the AV1 codec. Finally, AMD emphasizes its graphics drivers for which the certification obviously concerns multiple pro applications (3DS Max, AutoCAD, Catia, Solidworks, etc.).
Both cards are now available at prices that AMD only expresses in dollars: 599 dollars for the Radeon PRO W7600 and 429 dollars for the Radeon PRO W7500.
Source: AMD press release
AMD

Graphic card

Computer science

PC components