Who said you had to go to computer school or pay thousands of euros to set up your own website? With Jimdo, anyone can create their own website or online store in minutes, without typing a single line of code. This is what this very easy-to-use service offers.
Whether it is to exhibit your photos or open an online store to sell your own creations, it is no longer necessary to spend hours in front of WordPress tutorials to know how to set up your own website yourself.
Today there are solutions like Jimdo that allow you to put a site online in less than half an hour. All the creation part of the site is done via a simple, intuitive interface and fully translated into French. It is even possible to try this interface and set up a first website without having to take out your credit card. With the free version of Jimdo, it is very easy to create a website or an online store.
Want to go further? You can then subscribe to one of the paid offers, according to your needs. For a website, the packs start at 9 euros per month. The "best-selling" Grow pack, offered at 15 euros per month, includes for example:
a personalized domain name;
SEO optimization;
visit statistics;
a response from Jimdo support in less than 4 hours.
Regarding the e-shop, three paid packs are available. The most affordable pack, called Basic and displayed at 15 euros per month, offers the possibility of:
set up a complete e-shop with a simple payment system;
use a custom domain name;
have no commission to pay to Jimdo.
How to create your website with Jimdo?
Jimdo provides freelancers with practical and intuitive tools to grow their business online. With Jimdo and in just a few clicks, it is possible to create a professional website and a personalized logo, to start selling online and to gain visibility. Everything is done to unleash the potential of self-entrepreneurs to ensure their online success.
Registration, to begin with, is done by email, Facebook or Google and only takes a few seconds. Once this formality is over, Jimdo takes you in hand with a series of questions: do you want to set up a website or a shop? For one person or for a team? Do you want a modern, sober or colorful theme? After a few steps, Jimdo will offer you a beautiful and functional skeleton website that meets your needs. If you like this model, all you have to do is customize it.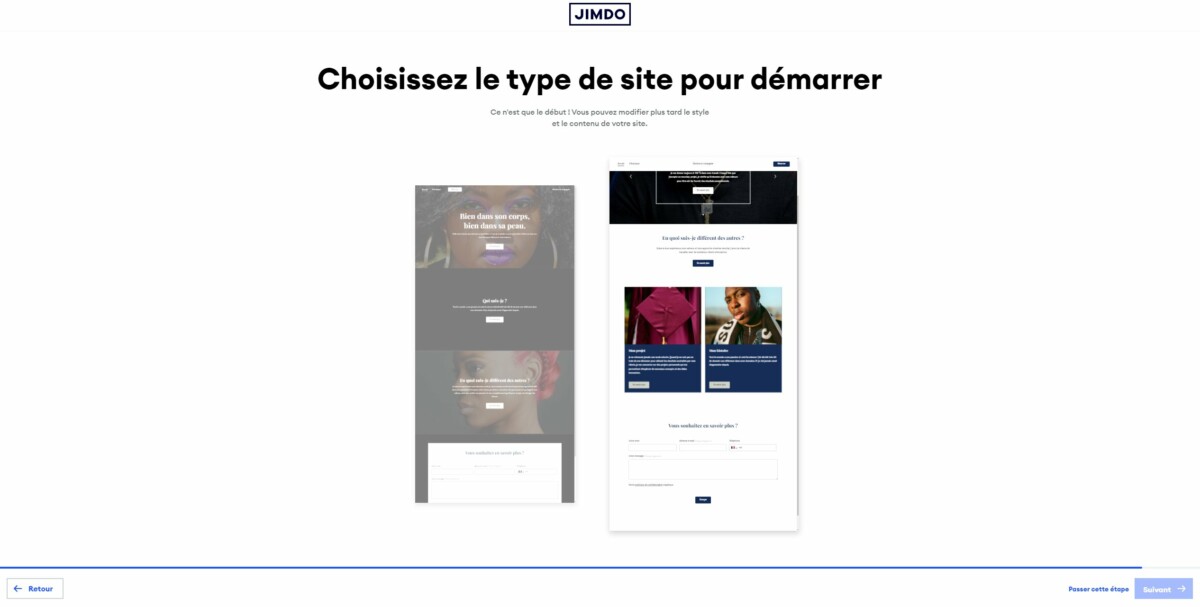 And this is where Jimdo's interface comes into its own. In the initial questionnaire, we indicated that we wanted to open a shop to sell watches, in a modern and refined style. The first draft is rather convincing. In a few clicks, it is possible to change all the images of this draft website, to add text, titles, links and even to quickly enter a first product in the shop. Dimensions, prices, delivery costs, stocks, everything is customizable.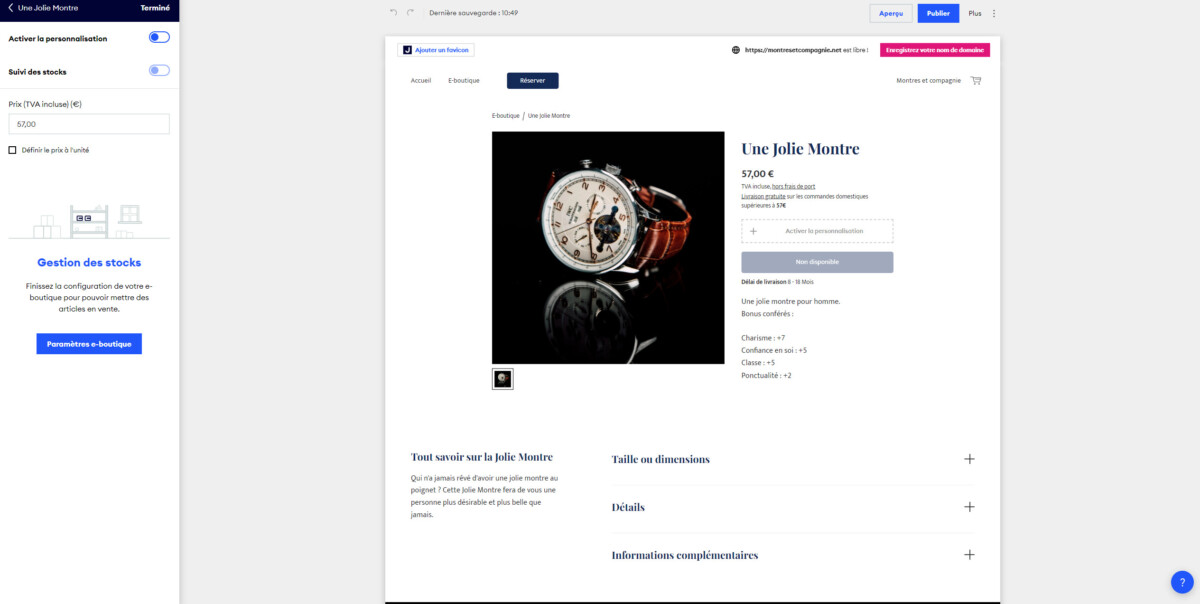 In less than half an hour, it is possible to create a beautiful web page to showcase its products via engaging buttons, customize the prices of its products and attach a PayPal or Stripe account to its store. If you're curious and explore the few menus in the creation interface, you'll have no problem creating something brilliant quickly.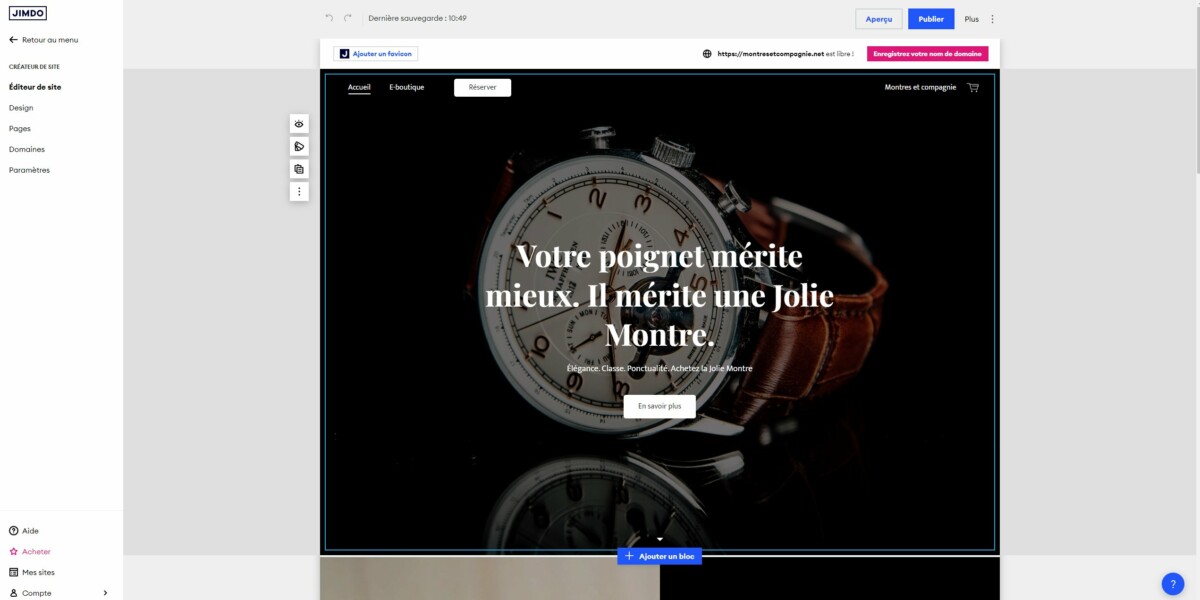 To this ease of handling, we must also add that Jimdo's interface is a model of readability. Just pass your mouse over an icon in the menu to find out what it does thanks to a text in French. Adding an additional block, page or item to the store only takes a few minutes.
Tools to manage your community and follow your audience
Once its site has been created and formatted, Jimdo offers many tools in its interface to monitor its activity and attract visitors. In a few clicks, it is possible to know your audience and the source of the audience with Google Analytics. Jimdo also provides a service to support automatic referencing on search engines. This way, you can save yourself the tedious SEO work and focus on the essentials: your site or your online store.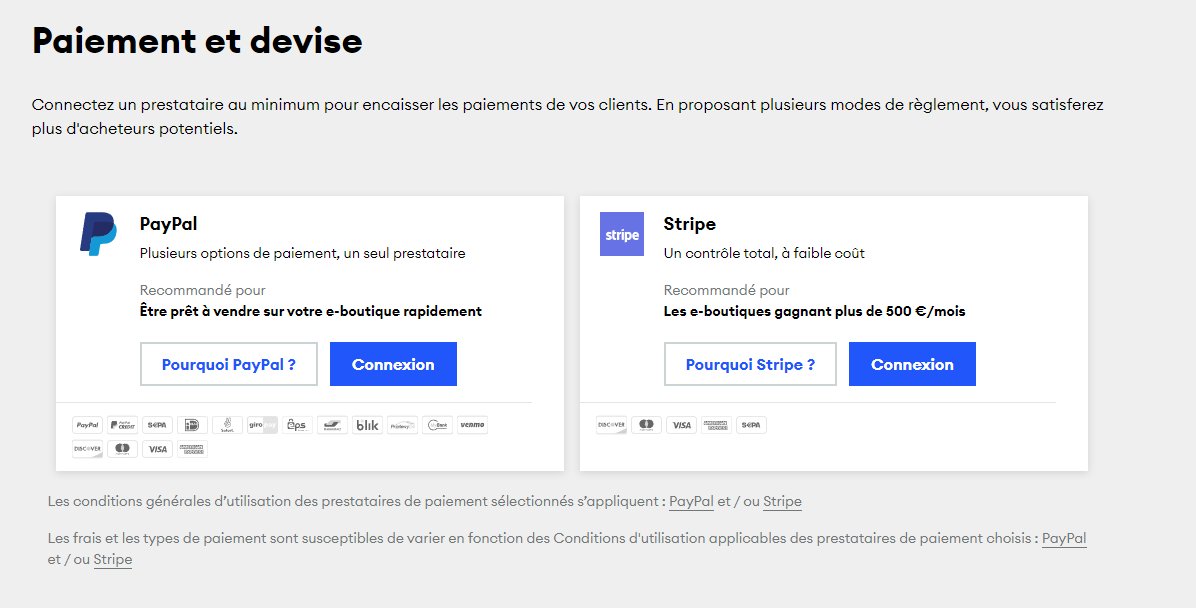 Community tools make it possible to collect e-mail addresses to launch newsletter campaigns or to send messages to prospects on WhatsApp. Jimdo not only offers to create an attractive showcase site, but also gives you all the tools to ensure its success.
Create a Jimdo site for free and upgrade anytime
To create a website with Jimdo, nothing could be simpler, just register at this address. Without entering your credit cardyou can set up your first website in a few hours.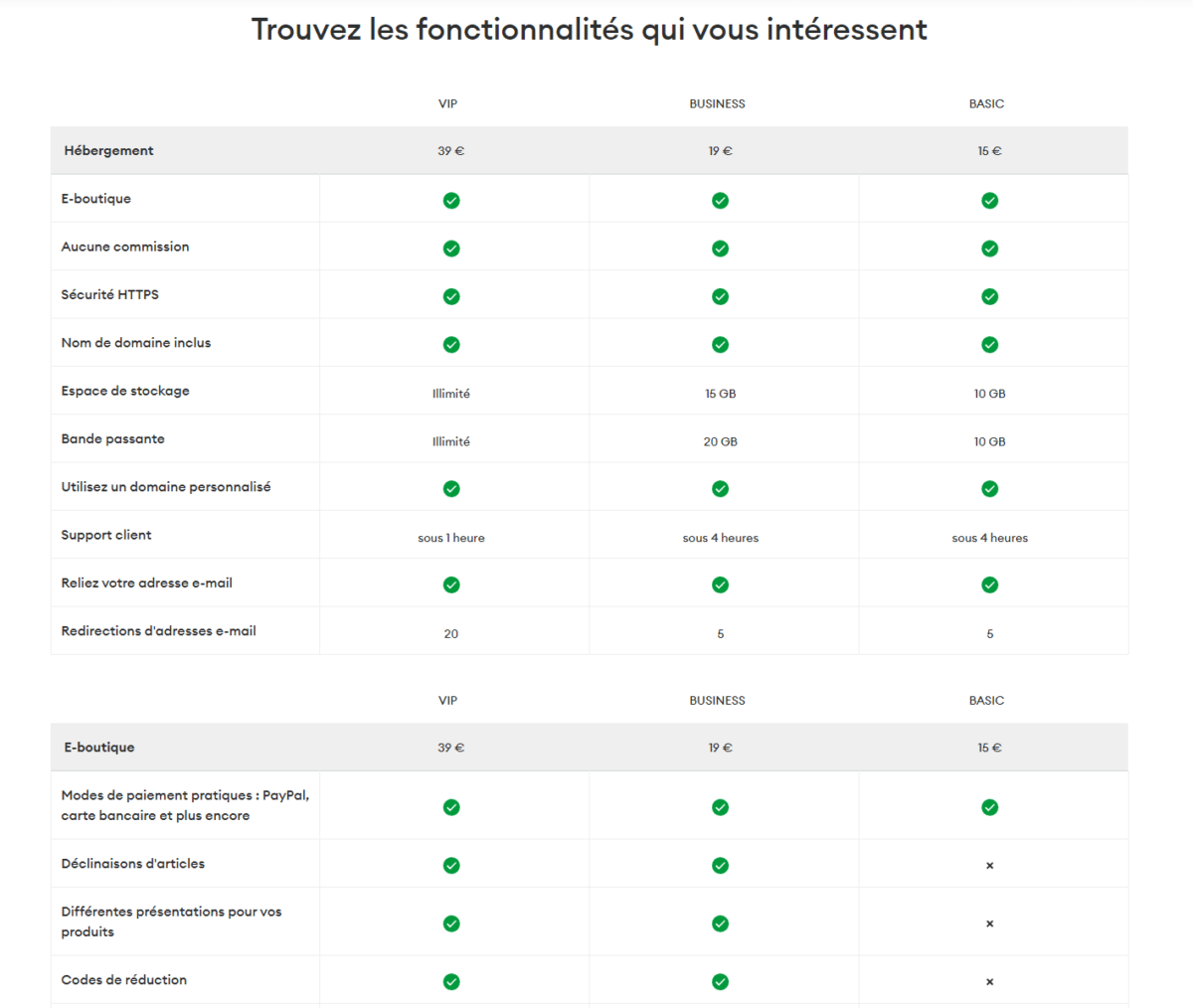 And if you want to go further, you can unlock many additional features by going through one of the five paid site packs or some three paid packs for e-shop offered by Jimdo. They all allow you to benefit from a personalized domain name and the automatic referencing tool.