Between questionable security, sluggish performance, and intrusive ads, free VPNs don't get good press for good reason. Here are the reasons why we recommend avoiding them.
The digital security market for individuals has taken off in recent years, particularly with the massive and easy arrival of VPN services. You necessarily know these little programs to secure your internet connection, or rather your online privacy. This market now weighs more than 30 million dollars and could exceed 70 billion within 5 years. Inevitably, with such a massive cake, competition is fierce and many brands have emerged to grab market share.
If NordVPN, Cyberghost or Surfshark are now well established on the side of 100% paid services, other brands offer their services partially (in the form of freemium) or totally free. But what at first glance may seem like a godsend can also hide major inconveniences, or even compromise your security. Here's a roundup of reasons not to be tempted by free VPNs.
Very limited bandwidth and performance
If we dwell specifically on what makes the difference from one VPN service to another, the issue of performance is strongly highlighted. From this point of view, it cannot be said that free VPNs can afford to make efforts.
The first thing to bear in mind is that a free VPN generally severely limits the data allocated to a user, leaving only a few hundred, or even sometimes tens of MB of bandwidth over a fixed period of time. In most cases, this is primarily a way to try out the service before going to checkout. So don't expect to be able to surf unlimited with a free service.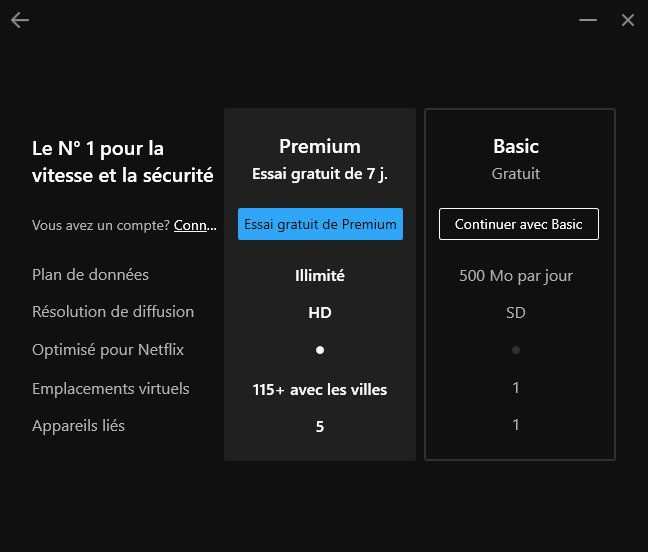 The other area where free VPNs cut even more is connection speed. The servers to which users can connect are often restricted or inefficient. Often, some VPNs do not even display this information and the user ends up with a very inefficient connection, even though his fiber line is basic.
But the limits don't stop at performance, the effectiveness of a VPN service is determined by its global coverage and the number of servers it can reach. On this point, free VPNs severely limit the number of countries in which it is possible to connect as well as available servers, often located in the country of origin of the service. Also, don't expect to be able to connect to servers located in authoritarian countries like China or Iran.
Finally, if you use a VPN in order to have access to foreign catalogs of Netflix, Prime Video or others, it is probably not with a free VPN that you will be able to benefit from it. The latter using inefficient protocols on geographical restrictions, they are easily detectable by platforms that block access to their videos. Note all the same that this aspect remains very random and it may happen that it works from time to time, but it is in no way a guarantee.
Insignificant, even dangerous level of security
This is the critical subject of a VPN: security and above all privacy assurance. Inevitably, a free service will often make cuts in this area, even if it means making you totally vulnerable, a shame when you know that a VPN is precisely used to protect your privacy. Even though VPNs offering paid versions claim to offer the same security features as their paid versions, this guarantee is slim and difficult to verify. By using these services, you run the risk of seeing your private information (country of origin, address, etc.) captured by the very people who were supposed to protect it.
A good way to check for integrity and potential privacy breaches is to go through an independent DNS leak tester like DNS leak test. If your IP is visible after the test is complete, you can be sure that your VPN is not protecting your privacy.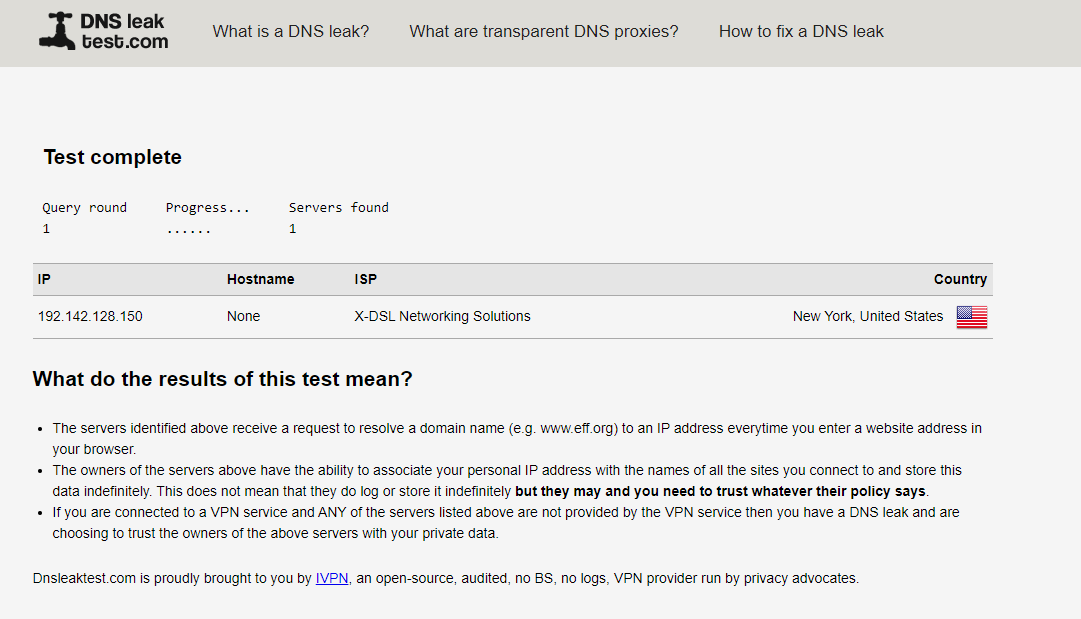 The other downside concerns the security protocols used, which are often much less effective and dated. Exit Wireguard, IKEv2 (for mobiles) or the other very efficient proprietary protocols of NordVPN or ExpressVPN. We often end up with very old protocols such as PPTP, L2TP, IPSEC or even the aging OpenVPN.
Finally, and perhaps the most critical: some obscure programs posing as VPNs may even be Trojans hiding malware that can infect your device in addition to compromising your data. For example, they can capture your keystrokes to save your passwords, send you ransomware or even use the power of your device to mine cryptocurrency.
Absence of Kill Switch, yet essential
We had already demonstrated the essentiality of the Kill Switch mode on a VPN service. This guarantees your confidentiality even if your connection is compromised. Unsurprisingly, free VPNs don't offer this basic option or other features that are often very useful.
Along the same lines, it is legitimate to trust a VPN or not based on its customer service. You won't be surprised to learn that VPNs obviously don't offer any. No way to make a complaint or any request in the event of a problem.
Ads, ads everywhere!
Inevitably, if users do not pay a monthly subscription, free VPNs must find other ways to finance themselves on their backs. To compensate for the shortfall of a paid subscription, these programs or applications will very often find themselves covered with intrusive ads and very often targeted thanks to the personal data that they may have stolen and sold to third parties.
Most often, these ads are found from non-branded VPN apps from the Play Store or App Store.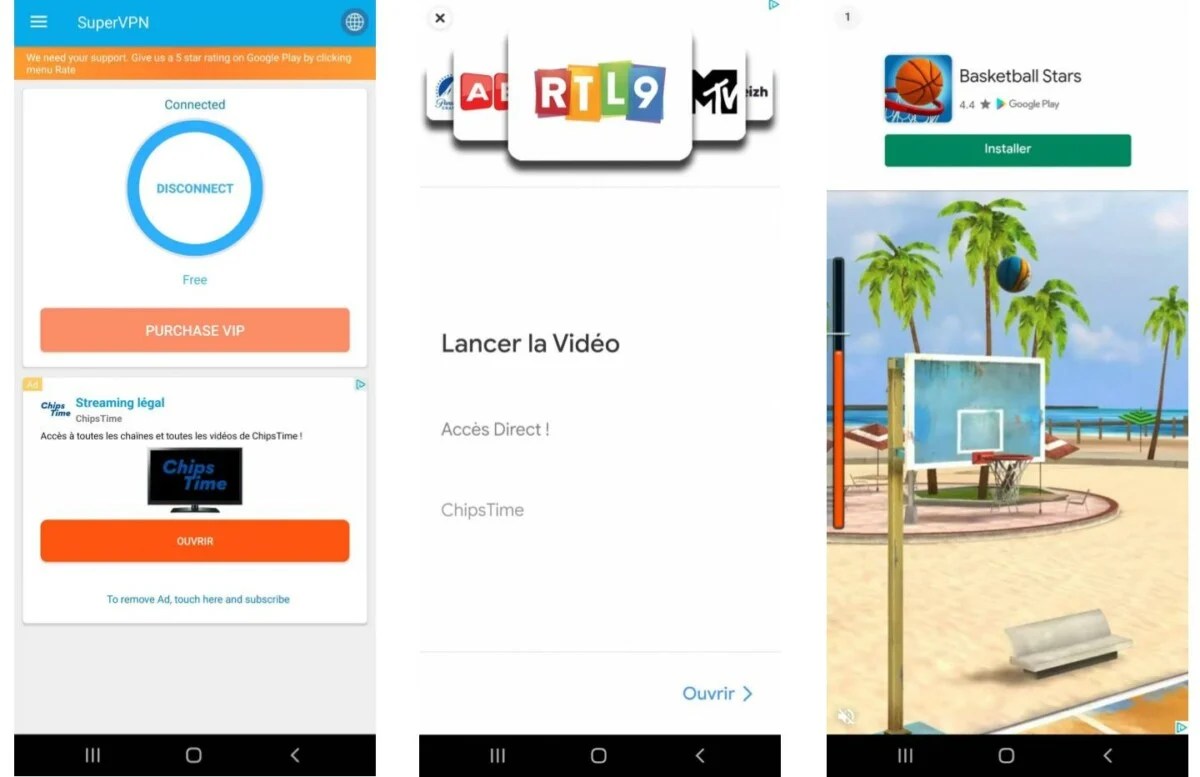 "Free" alternatives
It is not uncommon for some VPNs to offer a free, but limited version of their services. In the case of big brands, no real worries apart from speed and connection time limitations. In this case, we advise you to take a look at our VPN comparator which includes some services with a free offer, as is the case for ProtonVPN for example.
The other good alternative is to take advantage of VPN trial periods. These are around 30 to 45 days. All you have to do is ask for a refund before the end of this trial period to get your money back.
---
To follow us, we invite you to download our Android and iOS application. You can read our articles, files, and watch our latest YouTube videos.