Tesla announces that it has broken two records. The first is that of car production and deliveries, during the previous quarter. The second is the number of Model Ys produced in Berlin in a week. According to an internal document relayed by Reuters, all this will allow Elon Musk's firm to overtake Audi from 2023 while getting closer to its German rival BMW.
At the end of each quarter, Tesla announces production and delivery figures for the past three months. The American company has become accustomed to beating its records every quarter. And this is still the case, since the firm of Elon Musk announces in a press release to have produced 365,000 electric cars, and to have delivered 343,000. Two figures to compare to those of the last quarter when Tesla had produced 258,580 vehicles for 254,695 "only" deliveries due to COVID in China
Many undelivered cars: a first for Tesla
Tesla did better than the first quarter of 2022, which was the strongest period for the company in terms of production and delivery with 310,048 and 305,407 units produced and delivered respectively. Surprising fact: the company had, as of September 30, 2022, 22,000 vehicles in transit, when the two figures (production and delivery) are usually almost identical. Since the start of 2022, 933,628 Model S, Model 3, Model X and Model Y have therefore been produced.
Tesla thus announces that the ramp-up of all of its factories around the world (United States, Germany and China) makes just-in-time logistics more complicated. For Tesla, it is increasingly difficult to secure transport capacity at reasonable prices during these logistically busy weeks". The company specifies that all of these 22,000 cars have already been sold and that they will be delivered to customers as soon as they arrive at their destination.
New record in Berlin
Remember, in fact, that Tesla deliveries are mainly made by boat, departing from China or the United States. At the moment, the Gigafactory in Berlin (which is under the spotlight because of the recent fire) only produces Model Y Performance. It should soon launch the production of the Propulsion and Long Autonomy versions. And precisely, the Berlin factory also broke a record by having brought out 2,000 electric cars from its production lines in one week, as we can see on Twitter. Enough to target more than 100,000 electric cars per year produced in Germany.
What to overtake Audi and approach BMW
By the end of the year, Tesla wants to produce more than 5,000 Model Ys at its Berlin Gigafactory. Eventually, nearly 10,000 electric cars could roll off the production lines per week, and as many batteries. And precisely, the Berlin plant should help Tesla meet its 2023 objective: to exceed the number of vehicles produced by its local competitor, Audi (1.69 million deliveries in 2021), while getting closer to BMW (2. 21 million deliveries last year).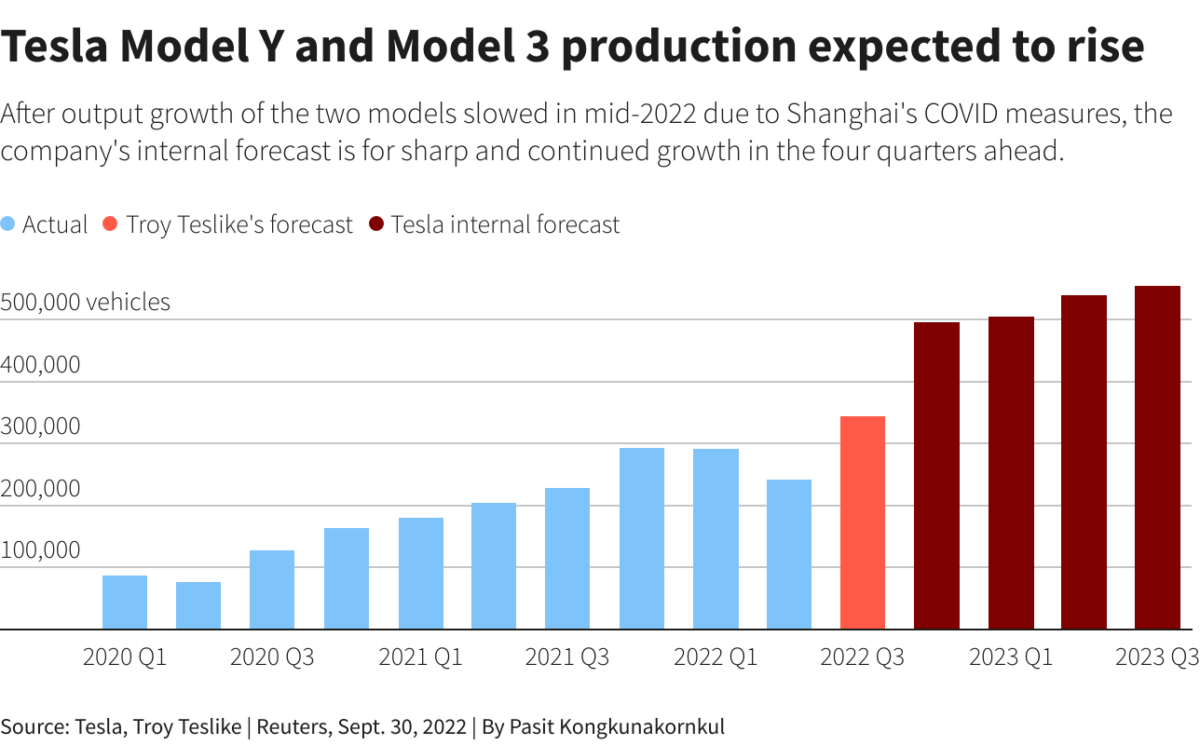 Reuters allegedly managed to obtain an internal document belonging to Tesla. The production target for the Model 3 and Model Y would be 495,000 units for the fourth quarter of 2022. A huge increase compared to the current quarter, with 50% growth expected over the year 2023. Enough to allow Tesla to approach 1.5 million units produced in 2022 and exceed 2 million in 2023.
Tesla's challenge will now be to successfully maintain its production rate and increase the pace, while the semiconductor crisis is not yet completely over, COVID is still in the game and the war in Ukraine has created an energy crisis, especially in Europe. Tesla must also manage to maintain demand, but this is, on the face of it, not yet a problem at the moment. See you next quarter!
---
To follow us, we invite you to download our Android and iOS application. You can read our articles, files, and watch our latest YouTube videos.