The world of FPS is now, and has been for quite a while now, dominated by big names in the genre like call of duty where the Battlefieldand it is high time for that to change. The Finals, free-to-play shooter developed by Embark Studiosnew studios composed of regulars of the genre, has every intention of changing the situation.
The Finals, what is it?
Created by Embark Studios, founded four years ago by Patrick Soderlund, who was part of the management team of DICEto whom Battlefield owes it, The Finals is a free-to-play shooter with a highly destructible environment.
The first trailer shows the "dynamic arenas" of the game, in which almost everything can be destroyed: "if you can see it, you can probably destroy it".
The recently launched The Finals Steam page adds that all arenas in the game "can be modified, used or reduced to rubble"and clarifies that a variety of build-based game modes will be assumed.
"Whether it's sneaking up on enemy squads with a katana in hand or ripping an entire building out from under them with explosives, The Finals lets you decide," the page reads. "With different skills across builds and a wide array of weapons and gadgets, you'll have all the tools to make your playstyle your own!".
How to play The Finals
A handful of players (PC only, for now) will be able to get their hands on The Finals very soon, and some are probably already in the middle of the game, sincea closed alpha has already started yesterday (September 29), to which you can subscribe. The testing phase will of course include "a lot of experimental mechanics and systems", since the game is in active development.
"We can't wait to see the kind of explosive action you're going to unleash. We're going to learn so much, and you're going to destroy everything in sight. Of course, that could include our servers, so that's probably a good idea to remind you superstars that the game is in very early development […]."
You can register for the alpha phase now on The Finals Steam page. The alpha phase will end on October 3.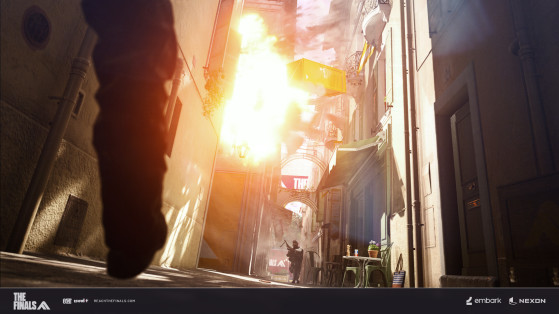 As a free-to-play title, The Finals will have a system of battle pass. The characters will be a priori customizable, both in terms of their appearance and their skills and performance. Finally, The Finals features a base game mode that supports four teams of three players each.