It's one of the hanging moments in Lady Chatterley's Lover: a naked running scene between the two main characters in the rain in the woods. And it was improvised!
Available on Netflix, Lady Chatterley's Lover is an adaptation of DH Lawrence's novel that caused a scandal in the 1920s. The passionate and sulphurous romance between Constance, Lady Chatterley, a young married woman, whose husband has become paralyzed and sexually impotent, and a game warden named Oliver Mellos shocked society at the time.
The novel marked its time and the following since it has been adapted many times on the big and small screen. Today, it is on Netflix that a new iteration, signed Laure de Clermont-Tonnerre (Mrs. America, American Crime Story, Nevada), finds its way.
As in the book, the film contains several sex scenes between the two lovers, played by Emma Corrin, who achieved success thanks to her incarnation of Lady Diana in season 4 of The Crown, and Jack O'Connell (Skins, Invincible).
The nude scene in the rain was improvised
While the majority of the sex scenes were choreographed with the collaboration of intimacy coordinator Ita O'Birne, there is one standout sequence that was freely shaped by the two lead actors. This is the scene where the two lovebirds are having fun, running and hugging in the rain in the woods.
Director Laure de Clermont-Tonnerre explained to AlloCiné that she had given directives to the two actors but that she wanted to leave them the field free on this scene to express the love of their characters and a certain expression of liberation:
"Emma works with Polly Bennett, a movement coach, with whom she has already worked on Diana in The Crown. She helped Emma to physically find the character of Connie and she helped Emma and Jack a lot with working on the dance, on this freedom, a little transcendental, where there is really no longer any filter.
But I left a lot of room for improvisation. I didn't want to lock that scene. I didn't want to force things or rehearse too much. What is beautiful is to be in the moment, to be precisely in the non-choreography. This sequence was not choreographed at all. There were times indicated but I left them very free."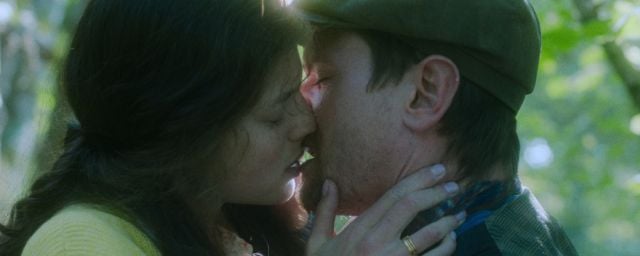 To capture this natural moment, "this erostime in the rain", Laure de Clermont-Tonnerre filmed long wide shots and made very long takes to let Emma and Jack relax and let go:
"We followed them like that with the camera and then in fact, they completely improvised together. It was a kind of invisible dialogue between their bodies. There was such a wait and an anticipation to do this scene there. And the day when it really happened, there is a kind of liberating energy, it was contagious. At that moment, we all wanted to be with them.
It was very contagious in the joy and in the freedom, to see people who were so corseted, who are so imprisoned in their position, in their status, in their class finally take off their chains. and that's very strong, it's very beautiful. They were scared but they were very happy to have this experience."
Lady Chatterley's Lover is available on Netflix.