OBI WAN KENOBI

Will Obi-Wan Kenobi give new meaning to some key lines from Star Wars: Episode IV and rewrite the events? The stars unpack!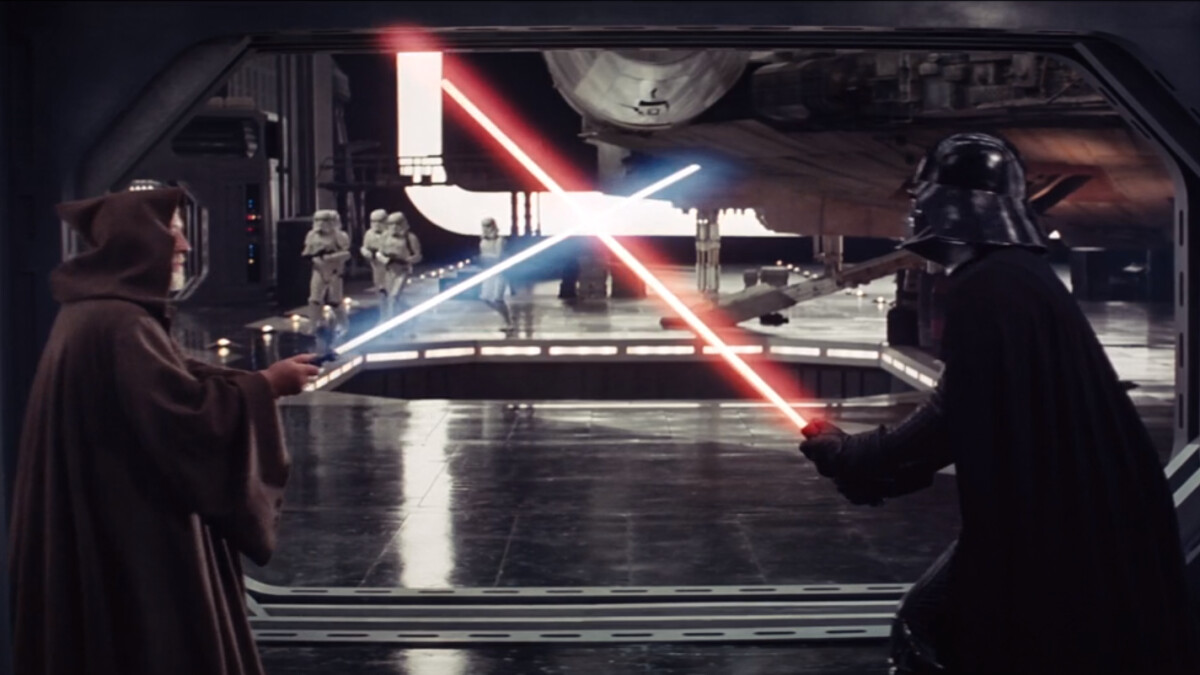 In "Obi-Wan kenobi" Obi-Wan and Darth Vader meet again.
Fans fear a new meeting will overwrite the events of Star Wars: Episode 3 and Star Wars: Episode 4.
Ewan McGregor and Hayden Christensen give the all-clear and have complete confidence in director Deborah Chow.
In "Obi-Wan Kenobi" Obi-Wan (Ewan McGregor) and Darth Vader (Hayden Christensen) meet again. At least that's what Lucasfilm President Kathleen Kennedy promised: The Rematch of the Century! But would a new encounter between the former student-master duo rewrite the events?
at Don't miss any more "Star Wars" series and films! from 8.99 euros*
Advertisement
In "Star Wars: Episode IV – A New Hope" (1977) a shuttle lands aboard the Death Star. Darth Vader (David Prowse / James Earl Jones) demands that every corner of the ship be searched, he senses a presence he has "not seen in a long time…".
Fans know, of course, that he's referring to the presence of his former master, Obi-Wan Kenobi (Alec Guinness), whose presence he hasn't felt for a long time and soon runs into: "I've been expecting you, Obi-Wan , finally we meet again. The circle closes. When I left you, I was your student, now I am the master."
In "Star Wars: Episode III – Revenge of the Sith" their last meeting is said to have been shown: the fatal duel on the lava planet Mustafar. At least that's what fans assumed. Now Ewan McGregor and Hayden Christensen were asked in an interview with the US magazine Entertainment Weekly whether the series will refute this assumption.
When asked if the Disney+ series' final meeting of Obi-Wan and Anakin/Darth Vader would no longer be the fateful encounter on Mustafar, Christensen replies with a grin, "Maybe?" McGregor also answers: "Maybe."
Luckily, the Hollywood star continues: "It's fun. It's very clever how things work out. It's like we're writing for the writers and Deborah [Chow] working backwards and forwards at the same time."
McGregor is referring to the process of creating a series that takes place between two important stories in the "Star Wars" chronology. It's very important to keep all the info in mind so as not to contradict any of the stories, but director Deborah Chow should do a great job of doing that.
McGregor can't stop raving about it. He has been praising Chow's work for some time. She herself also comments on the question of how much importance was attached to the fact that "Obi-Wan Kenobi" fits seamlessly into the "Star Wars" chronology.
"We thought about that a lot. It's an honor for me, George's legacy [Lucas] continue to expand, bring these characters to life and tell a new story with them. So I wanted to be very respectful of what's already there and not change anything that George had in mind."
So we can rest assured! And to go back to the scene from "Star Wars: Episode IV" described at the beginning: would a new meeting between episodes 3 and 4 rewrite the events and take away the emotional impact of the duel on Mustafar?
No! Vader merely claims that he hasn't felt Obi-Wan's presence in a long time. After all, another 10 years pass between "Obi-Wan Kenobi" and "Star Wars 4", still a long time. Only the statement that Vader was still the student last time is a little problematic.
However, one can interpret it in such a way that Kenobi is probably still superior to his former student in "Obi-Wan Kenobi" and will therefore still come out of the duel as the master. Especially since Vader says in Episode 4, "When I left you."
We remember: On Mustafar it was the other way around, Obi-Wan left Anakin. So a new meeting where Vader leaves Kenobi would actually make quite a bit of sense. Our tip: Kenobi is superior to Vader, so Vader has to flee. That would underscore both of Vader's statements from Episode 4.
The new "Star Wars" series starts on May 27, 2022 in the Disney+ New Releases program. In addition to "Obi-Wan Kenobi", other films and series from the galaxy far, far away await us in 2022 and 2023. We list you all "Star Wars" new releases.
| | |
| --- | --- |
| Rate Obi-Wan Kenobi | |
| first airing | 04/23/2021 |
| First broadcast in Germany | 04/23/2021 |
| More sources | |
Don't miss anything with the NETWORK-Newsletter
Every Friday: The most informative and entertaining summary from the world of technology!
This page was created using data from Amazon, Netflix, MagentaTV, Sky Online, iTunes, The Movie Database, Fanart.tv, Warner Home Entertainment, Sony Home Entertainment or their respective production studios and/or publishers. In case of errors or problems please use the contact form.