With the WF-C500, Sony offers high-performance headphones for less than €100. And that's all there is to it, ultimately.
In the market for wireless headphones, Sony is one of the best students. Its WF-1000XM4s are highly recommendable, but maybe you don't have several hundred dollars to invest in a pair of headphones — fancy as they are. This is why Sony also offers, in its catalog, the WF-C500, less ambitious, but whose price remains stuck in two digits.
It is necessary to make a cross on certain features, such as active noise reduction. Fortunately, the WF-C500 have other very interesting arguments, likely to tip the scales in their favor, for those who would not like to ruin themselves.
Simple and cute
The WF-C500 headphones look like… headphones under $100. Meaning, they are devoid of any frills or distinctive elements that would make them look more premium. Round and compact, the WF-C500 go straight to the point, and Sony has barely allowed itself to affix its logo. There are also no touch zones like on most competitors, the two earpieces each relying on a physical button allowing various commands (we will come back to this).
In terms of pure and hard design, the WF-C500s are a bit reminiscent of a very simplified version of the WF-1000XM4s – which are at the very top of the basket in the wireless headphones segment. However, they lose a bit of plumpness, a big plus for comfort. Note that the headphones are available in black, white, but also in more pop colors (a rather flashy green, as well as a very trendy coral).
Of course, the WF-C500s come in a charging case, which betrays the more entry-level side of the product. The firm made a strange choice on this point, with a translucent cover that hints at the look of the headphones when they are quietly stored. It's a bit confusing, especially since the plastic does not display an exemplary quality. Note also that the case, with controlled dimensions, opposes a fairly sustained resistance to opening.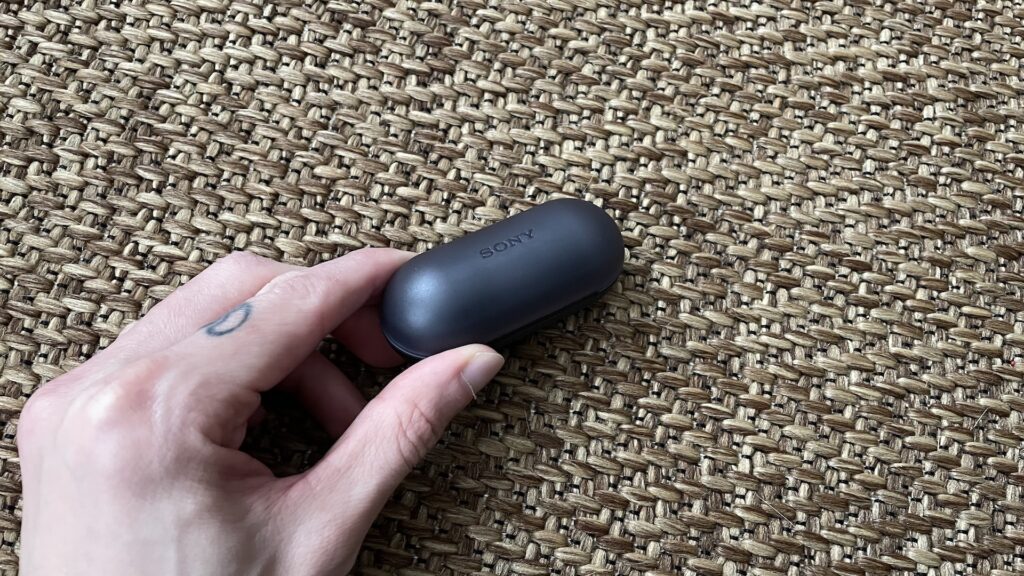 Physical buttons rather than touch zones
The WF-C500s are configured in no time at all, especially for Android users (thanks to Google Fast Pair). We will otherwise quickly launch the Bluetooth settings of our device to associate the headphones, past a simplistic manipulation (hold both buttons for 5 seconds). It may also be relevant to download the Sony Headphones Connect application to have access to some additional features (example: updates). However, it offers fewer possibilities in the case of the WF-C500, deprived of certain key arguments (such as active noise reduction).
It is also surprising to note that the application does not allow you to modify the commands linked to each earphone. They are defined as follows:
Left click: volume up;
Long press left: decrease volume;
Right-click: pause/start playback;
Two right clicks: skip to next song;
Three clicks on the right: return to the previous song;
Long press on the right: launch the voice assistant.
Efficient, knowing that we will never have to ask ourselves the question of the sensitivity of the touch zone, since these are physical buttons.
Lightness and comfort
In terms of comfort, the WF-C500s are simply irreproachable, except perhaps for those who hate in-ear headphones. Their very low weight, coupled with the rounded design, allows you to feel no discomfort, while the support is really excellent. We can easily recommend them for sport, especially since they are IPX4 (which ensures resistance to perspiration).
The headphones come with three pairs of tips, corresponding to the usual sizes (S, M and L).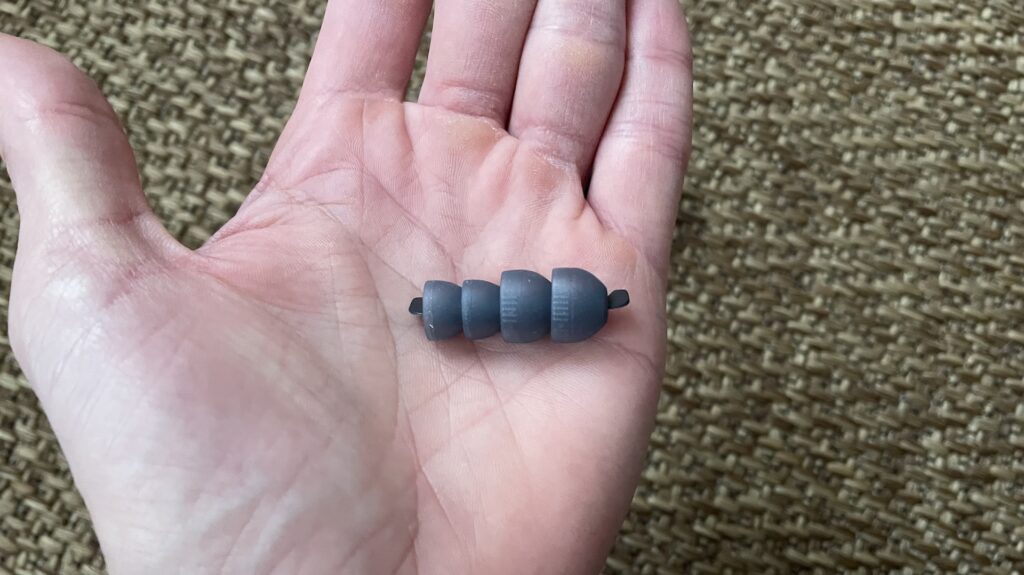 Quality sound for this price
There is sometimes everything to fear from headphones sold under the 100 € mark. It's human: we tell ourselves that the less we pay, the lower the quality will be. The WF-C500 come to debunk this a priori with a lot of enthusiasm, since they offer a listening quality far superior to what we hoped for. We immediately perceive the Sony label, which has a certain know-how in the field of acoustics. And the manufacturer did not fall into the trap of showing off: on the piece Industry Baby of Lil Nas X, the bass never comes to attack the ear.
So yes, it's a little flatter, and certainly less detailed than some more expensive headphones. On the track Are You Dead Yet of Children of Bodom, very heavy in guitar riffs, it is sometimes difficult to correctly detach the instruments. On the other hand, the voices are always placed with a nice emphasis, a sign that Sony is aiming for a more neutral rendering, likely to appeal to the greatest number. As a bonus, the passive noise reduction, guaranteed thanks to the intra design, is doing well.
The application allows you to play with a few parameters, in particular via an equalizer that we found less relevant. The basic signature is so fair that you don't want to change it. In this way, the DSEE technology, supposed to improve the quality of compressed streams, is anecdotal.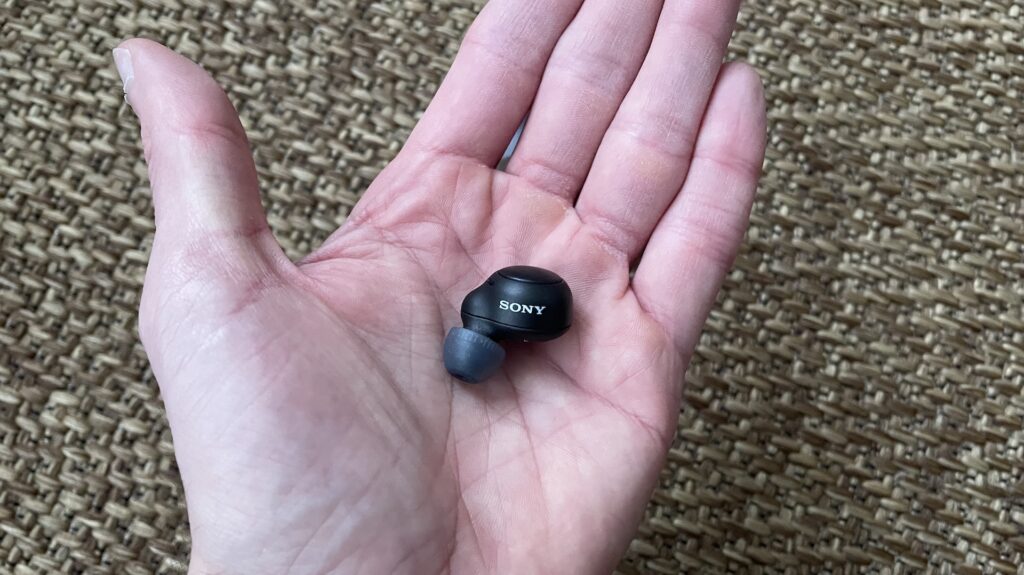 10 hours, on a single charge
Sony announces a total autonomy of 10 hours for the WF-C500 – an autonomy that they manage to achieve without too many problems, since they are less advanced than some competitors (the active noise reduction consumes a lot). The case, to be recharged via a USB-C port, makes it possible to double this time of use.
The verdict
We liked
Compact and lightweight design

Quality sound

Gift price
We liked less
Functionality necessarily limited

Minimal customization

Recessed housing
For under $100, Sony's WF-C500 headphones have a lot to offer. They tick the essential boxes, such as the simple and comfortable design, and, above all, the exemplary listening quality. Above all, they allow you to acquire a high-performance audio accessory, without breaking the bank.
Of course, you shouldn't ask too much of the WF-C500 either, necessarily limited on popular features (such as personalization of the experience or even active noise reduction). But that would be a case for headphones that seek above all to be affordable, without sacrificing what is important.