STREET FIGHTER 6

Street Fighter 6 is said to achieve particularly high sales figures. Ahead of release, Capcom has set a goal to further surpass the previous title in the series.
Capcom President Talks Street Fighter 6 Sales Goals
The publisher plans to sell 10 million copies of the game.
Street Fighter 6 could thus compete with Tekken 7.
Capcom is hoping for new record sales of Street Fighter 6, but it is not known when this will be achieved.
Haruhiro Tsujimoto, the company's president, is said to have told Famitsu that 10 million copies of the game will be sold, according to PC Gamer.
Higher than these sales figures

Released in 2016, its predecessor Street Fighter 5 has sold seven million copies over a seven-year period. The rival game Tekken 7 has already sold 10 million copies as of January 2022, five years after its release.
How quickly and whether Street Fighter 6 achieves this goal will be seen after the release on June 2nd for PS5, Xbox Series X/S, PS4 and PC.
How big is your gaming knowledge?
Which famous film director worked on the Medal of Honor game?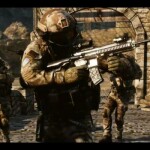 Capcom has already released another teaser for the upcoming game. We tell you what the new Street Fighter 6 character Marisa is all about.
Don't miss anything with the NETWORK-Newsletter
Every Friday: The most informative and entertaining summary from the world of technology!