In the new iX 2/2022, the conference room will receive a much-needed upgrade: Instead of the classic projector and laptop you bring along, completely different equipment is required for hybrid meetings. Video bars are suitable for on-site participants, while the right software also correctly integrates users in the home office. the iX-Authors Martin Gerhard Loschwitz and Dieter Michel took a close look at what companies need to pay attention to.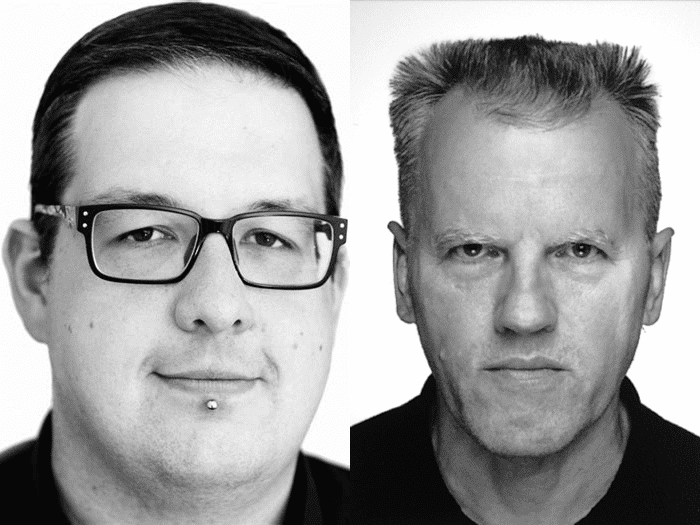 Martin Gerhard Loschwitz (left) is a freelance journalist and regularly works on topics such as OpenStack, Kubernetes and Ceph. Dieter Michel (right) works as a freelance IT journalist and is editor-in-chief of the specialist magazines Prosound as well as media technology and system integration.
Martin, in the FebruaryiX you took a close look at 13 conference providers. That sounds like a highly competitive market. Which providers can stand out from the crowd?
While the market is fiercely competitive, the truth is that few vendors truly innovate. A lot is "more of the same": video conferences that are somehow made suitable for hybrid meetings with more or less helpful tricks. Real innovation can be found above all with the big providers: Google, Microsoft, Cisco – here AI is used to some extent, which actually makes hybrid meetings more pleasant.
Classic video calls no longer pose major obstacles for software. What new challenges arise in hybrid situations in which there are several participants on both sides?
A very big challenge in practice is to present the person in the meeting who is currently contributing something in a meaningful way to all other people. The conference situation of the on-site people is also changing: Here you sit more in a semicircle around a large screen that shows the other participants. However, this inevitably means that whenever someone from the on-site group speaks, the individual participants only see him quietly and without a visual highlight. Automatic optimization of the microphones can help here as well as cameras with changeable focus – if the software can do that.
If you don't mind the effort, you can drive safely and cheaply with Jitsi and BigBlueButton. What is the difference between the two open source packages?
BigBlueButton is aimed more at teaching scenarios: schools, universities and the like. Jitsi sees itself as general-purpose video telephony, the hybrid capabilities of which administrators have to laboriously create and improve themselves. Classic school features such as the classroom view or meeting tools, which are also helpful in a teaching situation, are missing.
Thank you Martin Dieter, you looked at all-in-one video bars, which have become the quasi-standard for conference rooms with Corona. When are such devices useful and where are their limits?
All-in-one video bars are, so to speak, the prêt-à-porter of video conferencing technology. They are typically designed for certain ranges of room sizes and number of participants. If space and user count match well with these concept scenarios, they can work well and be up and running quickly. With array microphones, automatic framing and automatic camera adjustment to the person who is speaking, modern systems try to adapt to the respective situation. If the room does not go well with the planned scenarios, the effort for a good video conference increases – for example with unsuitable room acoustics.
In contrast to small appliances, video bars are not tied to a software provider. Are they still quick and easy to use?
They are then actually just as quick and easy to use as the video conferencing platform you have chosen. Ultimately, the video bars "only" replace the integrated video and sound hardware of a notebook, for example, which of course still has to be set up for the selected video conference platform.
In addition to the completely switched off camera, poor intelligibility is one of the biggest annoyances when making video calls. How can users quickly achieve better sound quality?
Typically, poor speech intelligibility in video conferences stems from unsuitable room acoustics and/or artefacts in the audio transmission over the network. The latter often comes from insufficient transmission capacity, which the video conferencing software tries to compensate for with excessive compression. Unsuitable room acoustics impair speech intelligibility due to unwanted and excessive reflections on the room's boundary surfaces. A quick remedy is to move to an acoustically more dampened environment, in the home office that would be from the kitchen to the bedroom.
Dieter, thank you too. Readers can now find the comparison of the 13 video conference providers and the article about video bars in Heise Magazine and soon in heise+. An overview of all topics of the new issue can be found in the table of contents of iX 2/2022. The complete February issue can be bought in the heise shop as a PDF or as a printed issue.
The interview was originally for the iX-Newsletter led. It is published monthly on the publication date of each new issue and offers exciting background information on the most important topics in the magazine. Registration is free.

(fo)