While convertibles have clearly not been popular for a few years, the MG Cyberster could well revive customer interest with its electric version.
The two-seater convertibles have almost all disappeared from the catalogs of car manufacturers, with the exception of the Mazda MX-5 which still resists. The MG Cyberster also borrows a little from the spirit of the MX-5, bigger and certainly more expensive. It is in any case much less extravagant than the concept from which it is derived, and that is good news.
A few days before its formalization, the leak of the documents relating to its request for authorization for placing on the Chinese market means that the model is ready to enter the race. The Chinese media were the first to relay the information on April 11. The technical data is still incomplete, but the first information is rather interesting for this new model.
3 versions: rear-wheel drive or all-wheel drive
MG has submitted three versions of the Cyberster to the Chinese authorities. The manufacturer therefore presented two versions equipped with an electric motor in the rear position and an all-wheel drive version:
231 kW in propulsion;
250 kW in propulsion;
400 kW (combined) in all-wheel drive with a 150 kW front motor and the 250 kW rear motor.
MG indicates a maximum speed of 193 km/h for the rear-wheel-drive versions and 200 km/h for the most powerful version. The empty mass of the model is given between 1,850 and 1,985 kg, the total weight exceeds 2 tons.
The platform must be identical to that already inaugurated by the MG4 which has a rather interesting chassis. For the size of the battery, this information is currently still unknown. Rumors have emitted the possibility that the model integrates a large battery of at least 75 kWh to offer up to 800 km of autonomy. The reality will probably be different for autonomy. The MG 4 is however planned in a long range version with a 77 kWh battery, it is still possible to imagine that this roadster could integrate it.
In any case, an electric roadster, with more than 310 hp in rear-wheel drive and a not badly worked chassis, could give a very nice vehicle to drive with your hair in the wind.
A version with a wiser design
After a rather daring, even extravagant concept, this version of the MG Cyberster has settled down well. That's not necessarily a bad thing to tackle the roadster market. The enduring success of the MX-5 is the perfect example. MG has still kept a slightly more muscular rear, taking up a light signature that seems borrowed from a supercar. Let's hope that the price does not follow this trend.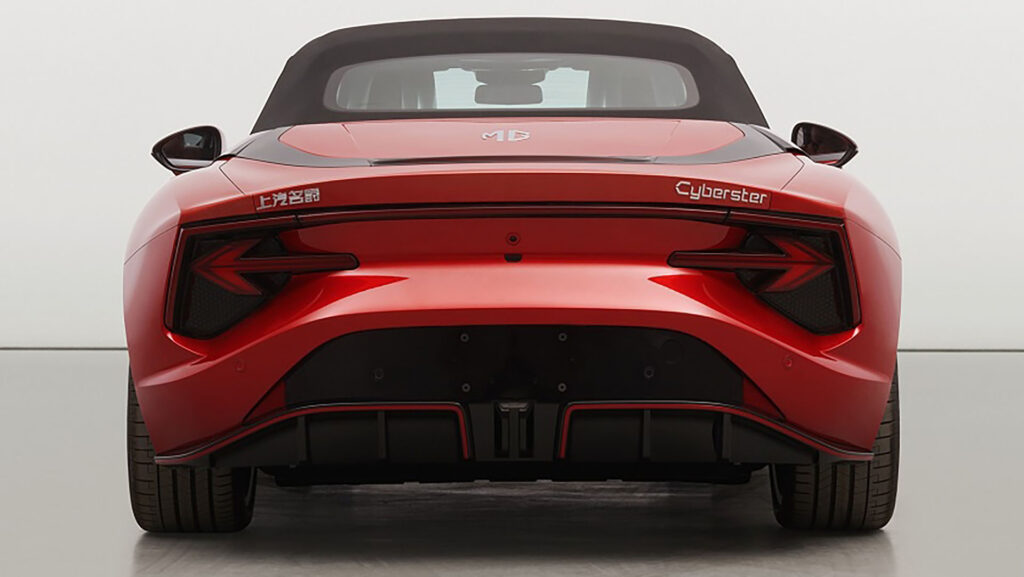 For its dimensions, the MG Cyberster did not seek to be as compact as Mazda's small Japanese roadster. It is much larger with 4.53 m long, 1.91 m wide and only 1.33 high. It thus offers a long hood, a long wheelbase of 2.69 m for the comfort of the two occupants on board, and probably a trunk that will allow you to go on a weekend for two.
Attention is now turned to MG to know the price positioning of this future model. Of course, do not expect a price as explosive as for the MG4, roadsters and other convertibles are always more expensive than sedan models. MG might want to make its roadster a first top-of-the-range model in its catalog to start expanding its customer base upwards. We therefore fear to discover a price a little too high for what could be a first electric roadster for the pleasure of the automobile.
To understand the electric automobile sector, you need the right keys. Subscribe to Watt Else, Numerama's free newsletter, guaranteed 100% without jargon.
The data transmitted through this form is intended for PressTiC Numerama, in its capacity as data controller. These data are processed with your consent for the purpose of sending you by e-mail news and information relating to the editorial content published on this site. You can oppose these e-mails at any time by clicking on the unsubscribe links present in each of them. For more information, you can consult our entire personal data processing policy.
You have a right of access, rectification, erasure, limitation, portability and opposition for legitimate reasons to personal data concerning you. To exercise one of these rights, please make your request via our dedicated rights exercise request form.
---
Subscribe to Numerama on Google News to not miss any news!