THE LORD OF THE RINGS: THE RINGS OF POWER

Not only "The Rings of Power" fans love the bromance between Durin IV and Elrond, Durin actor Owain Arthur also feels very connected to the elf. But he hates his long dwarf nose.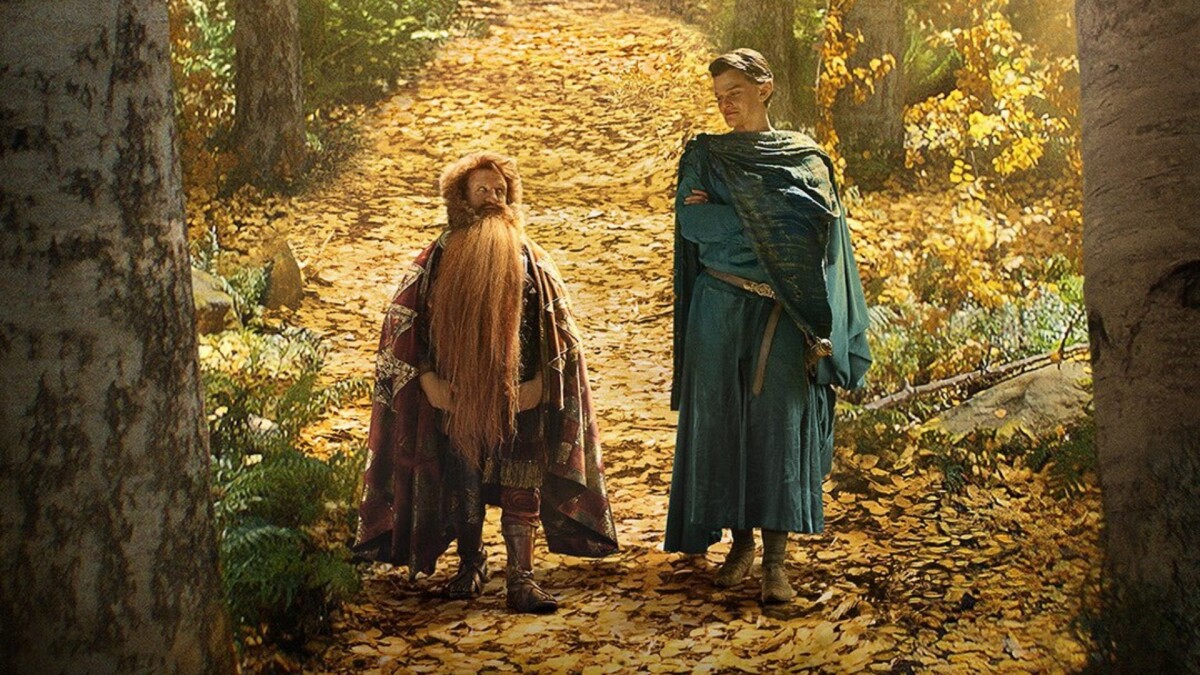 Where there is shadow, there is also light – this also applies in "The Lord of the Rings: The Rings of Power".
As Sauron grows in power, we also witness the kindness of the Harfeet and the friendship between Durin and Elrond.
Durin actor Owain Arthur speaks in an interview about his relationship with Elrond, Disa and his dwarf nose.
The Lord of the Rings – The Rings of Power: Watch Now❯
NETZWELT may receive a commission from the retailer for links on this site. More info.
Many The Lord of the Rings fans hope each week that The Rings of Power delivers epic battles and the return of Sauron. At the same time it is a heartwarming friendship that is currently particularly exciting for audiences: the "Bromance" of Elrond and Durin IV.
With elves and dwarves being notorious enemies, it's all the more rewarding to see this unlikely duo side by side. That's no coincidence, as Durin actor Owain revealed to Arthur Entertainment Weekly.
You know what? It's really weird. The line between Elrond and Rob is strangely fluid. We are very close. We worked well together and we worked hard to create this deep relationship between Durin and Elrond. And I love him more than anything. I would do anything for him. We call each other regularly, even though we've been apart for so long. But I consider him one of my very best friends.

Owain Arthur on his relationship with Robert Aramayo
Although it's not that easy to shoot the scenes together, since Arthur and Aramayo often stand far apart from each other for the required height difference or Aramayo looks down on Arthur from a ladder, as a viewer you hardly notice it.
Arthur also only had warm words for his series wife Disa.
What I like is that Durin and Disa are solid. There is nothing to shake about them. They are a "power couple" if you will. The "Power Couple" of Middle-earth! But she is always there for him and he is always there for her and they know each other well. I think Disa knows Durin better than Durin knows Durin. It's a mom knows best situation and I don't think Durin takes that for granted.

Owain Arthur on Sophia Nomvete
However, Arthur does not have a very good relationship with his Durin mask, although he speaks of a love-hate relationship here. The bushy beard and above all the large and long dwarf nose help him slip into the role of the dwarf prince, but there are also downsides.
I loved [Durins] nose, but I hated his nose. Especially when it came to drinking smoothies because the nose hangs really far down. Many times I'd have a coffee right on the tip of my nose right before the shoot and the prosthesis guy would say, "Oh my god, you did it again. You've got pink foam on the tip of your nose."

Owain Arthur on trouble with his fake nose
Overall, Owain Arthur's reports from the Rings of Power filming sound very positive, but given the Episode 7 Balrog lurking beneath Khazad-dum, Durin IV and the other dwarves are in for a rough patch.
Unfortunately, after the season finale on October 14, a long wait begins, because although the filming of season 2 is already underway, the new episodes will not end up in Amazon Prime Video's news program until 2024 – then hopefully with some nice Durin Elrond scenes again !
| | |
| --- | --- |
| The Lord of the Rings: Evaluating the Rings of Power | |
| genre | Drama, Action & Adventure, Sci-Fi & Fantasy |
| first airing | 09/02/2022 |
| First broadcast in Germany | 09/02/2022 |
| home page | amazon.com |
| More sources | |
| network | Amazon |
| production | Amazon Studios, New Line Cinema, HarperCollins Publishers, Tolkien Enterprises |
| squadrons | |
Don't miss anything with the NETWORK-Newsletter
Every Friday: The most informative and entertaining summary from the world of technology!
This page was created using data from Amazon, Netflix, MagentaTV, Sky Online, iTunes, The Movie Database, Fanart.tv, Warner Home Entertainment, Sony Home Entertainment or their respective production studios and/or publishers. In case of errors or problems please use the contact form.