While the Delcourts are going through hell in "Tomorrow belongs to us" because of Andréa, Aurélien Foubert, his interpreter, tells us more about the motivations and secrets of the babysitter. And on the set of this plot with Ingrid Chauvin.
AlloCiné: What did you like about the character of Andréa Delmont when you passed the tests for this role in Tomorrow belongs to us?
Aurelien Foubert : From the beginning, I was made to understand that he was a character with a certain depth, that there were a lot of things to play. Andréa is both endearing, touching, because of her story with her family. And at the same time, he has this scary side because we don't know what he is capable of and what he has in mind. The character seemed quite complex to me and in the end it is very interesting to play.
Did you know from the start what trajectory Andréa was going to have, or was he simply presented as the new Delcourt babysitter?
If I remember correctly, I still knew the outline of what was going to happen. Afterwards, obviously, in Tomorrow belongs to us there are things that are added. But I had a good overall vision of the character.
What was the hardest thing for you to play? Is it the side too nice to be honest that we suspected in Andrea from the start?
In fact, you have to trust the scenes and the situations. Even if he seems nice, indeed, when he enters Chloe's room several times or when he imposes himself because he wants to help, the situations make it not normal. You have to try to play those situations by trying to be nice and adding a little weirdness to it, and I think that works pretty well on screen.
This is your first experience as an actor on a series, you had done theater before and played in short films. It must be both quite stressful and super educational to start on a big machine like Tomorrow belongs to us, right?
In the beginning, once I knew I had the part, it went very quickly, I was told that I was starting a week later, so I didn't have time to stress so much. But it took me a bit by surprise just before the first scene. There was a little increase in stress, obviously, but that was quickly evacuated because things are going quite quickly, people on the set know what they have to do. We are supported by a whole team.
And the other actors, notably Ingrid Chauvin and Alexandre Brasseur, were great listeners. They knew it was my first experience, they did everything to make me feel comfortable. We quickly moved from stress to something else, so it was.
You mainly toured with Ingrid Chauvin. How was the collaboration? Did she give you any advice?
Finally, the best advice is to listen when you're around someone like Ingrid. She knows what she's doing, so you just have to watch her and play with her.
For placement tips, in relation to the camera, I wasn't used to it, so she helped me too. And we had very interesting discussions together. I learned a lot of things from him.
The filming pace of a daily soap opera like Tomorrow belongs to us is quite intense, it goes very quickly. Was it confusing at first?
Not so much, no. When I started, I didn't come very often, to shoot one or two scenes here and there. It accelerated more towards November-December, with the episodes that are being broadcast at the moment and in which my character is much more present. So I had time to put myself in the bath quietly. I had acclimatized myself by the time of turning this big arch.
How did the filming go with the actresses who play Celeste? Filming with young children is never very easy…
It's the only element on a shoot that you can't control. When a baby arrives on a set, you have to wait for her to be in the right mood to shoot. At the same time, it brings life back, because when she cries, we wait, we discuss, we reassure her.
And sometimes, what we see in the series, it's more me who reassures the little one who was there, and not the character of Celeste. Because she was frightened by all these big machines and many people. So it brings back concrete and "real life".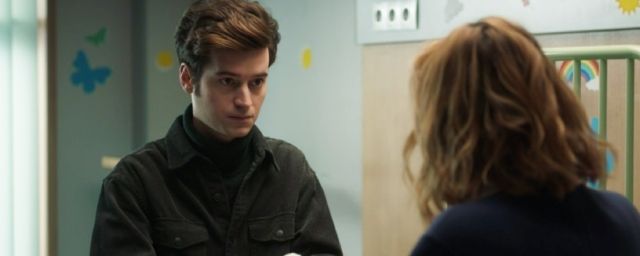 As soon as we saw Andréa looking at a photo of Chloé and Judith during the holiday season, we suspected that he harbored a kind of obsession for this family. We learn this week that her mother looked a lot like Chloe. Is that what completely explains this obsession or are there still other revelations to come?
This is one of the main reasons that lead him to identify with this family and to see Chloe as a surrogate mother, that's for sure. But there are obviously other parameters that come into play and that we will discover very quickly in the next episodes. And these parameters are not necessarily derived from its past, but rather from its present in this case.
What can you say about how the plot will evolve in the sequel to Tomorrow belongs to us? We will discover that Andrea is perhaps not so ill-intentioned after all?
Ill-intentioned, no. In any case, he doesn't seem to be. But he's got some inappropriate behavior, and a lot of characters are going to start realizing that and are going to run into him. He will find himself in a delicate situation, that's for sure. But Andrea is not fundamentally bad. He wasn't really trying to hurt Celeste.
The Delcourts are going through hell right now. In parallel with the problems with Andréa, Flore files a report for abuse. Are we to think that all of this is linked, that Flore is in cahoots with the person responsible for what happens to them, or is it just a coincidence?
It's complicated, because we're at the beginning of the ark, so I can't say much. But what I can say is that, unwittingly, Andréa throws something crazy around the Delcourts who will find themselves caught up in lots of different stories that are not necessarily linked. It's kind of the starting point of all that.
Among the various fan theories on this plot, some initially thought that Maxime and Andréa had been switched at birth. So we are not tending towards that in the end?
Yeah, I saw that on social media, a lot of people thought that. But, no, that won't be the end of the story (laughs).
A priori you are in the series the time of this ark. Is it a bit frustrating? Would you like to come back?
It's not sure that I'm only here for this ark, I'll let you find out (laughs). But things are always bound to evolve in a series like this anyway, we don't know at all what can happen.
And if it was just for an ark, I think I had a character that had a lot to defend. I could have been less well served, doing a single day on Tomorrow belongs to us. So I consider myself lucky to have had so much time. If it has to stop there, it will remain a great experience.