"Hunted," starring Kaitlyn Dever, is a thrilling sci-fi horror film that promises to become a favorite among fans of both genres.
What would you do if your house was invaded by aliens? That's the question Hunted poses when an alien race arrives in a small American town, leaving Brynn Adams, an isolated young woman, to fend for herself in the midst of a terrible invasion.
The film stars Kaitlyn Dever as Brynn, a young woman with agoraphobic tendencies who lives alone in the countryside and rarely ventures into town. When she does, she's not exactly the most popular resident in town.
Also, when visitors from another world with unknown intentions – but which we guess are not really benevolent – ​​arrive, the film really builds on the original title "No One Will Save You": no one will come to save her and Brynn will have to fend for herself.
Hunted pays homage to several sci-fi and horror classics, with clear visual references to films like Independence Day, Signs and even The Village.
Comparisons to John Krasinski's Quiet Place wouldn't be unfounded either, as the film features virtually no dialogue and terrifying alien creatures seemingly bent on ending the human race.
However, Hunted carves its own path and stands out thanks to some good twists and turns and Kaitlyn Dever's exceptional performance.
A film that glues us to the screen
Written and directed by Brian Duffield, Hunted is a nice addition to the sci-fi horror genre. The film keeps us in a state of tension from the first moments of the film until its unexpected and disturbing conclusion.
While the personal aspect of Brynn's story leaves something to be desired, with a somewhat facile emotional shortcut used to pack a punch in a very short time, the action and scares are both inventive and intense.
Duffield skilfully plays on the rhythm to leave the viewer with only a few moments of respite between the combat sequences and the tense scenes that make the anxiety surge.
It's the kind of movie you can't look away from, and don't want to look away from, as Dever faces increasingly terrifying alien creatures with unclear motivations, but whose mere presence is everything quite disturbing.
The carefully crafted details of Hunted allow it to stand out from other films of the same genre. Music and sound design play an important role. Alongside the music which is a character in its own right, the sound design of the film plays the horror game well.
The alien creatures have a rather disconcerting guttural tone. In the dead of night, that sound induces the kind of fear that makes you feel like you're holding your breath along with Brynn.
As for the creature design, it is intelligently executed, with a play on aliens, a classic representation of the "little green man" style, popularized by reports of UFO sightings and abductions in the 1960s.
These aliens, however, incorporate disturbing elements in the way their bodies move and in certain characteristics, which vary slightly from one creature to another.
With a clever blend of practical effects and CGI, as well as a retro, small-town aesthetic, the film feels disconnected from time despite being set in 2022. are very well done and anchor the film, while the CGI elements bring a mystical touch to the thriller.
The only downside to Hunted is its streaming release. Its stifling atmosphere would be well suited to the big screen, with a room full of gasping spectators and scares that would have them gripping their seats with a sense of horror.
The film leverages its modest budget with atmospheric aerial shots and impressive action scenes to give it a scale worthy of a theatrical release.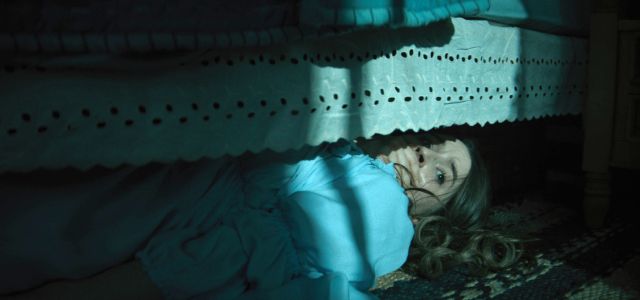 Kaitlyn Dever's incredible performance
At just 26 years old, Kaitlyn Dever already has quite the career with notable performances in Unbelievable, Dopesick and more. With Hunted, she delivers one of her best performances to date, her character fighting for her life and only uttering a single line of dialogue!
While the human side of Brynn's story could have been fleshed out more in a longer film, it's not necessarily necessary because Dever says everything we need to know with her face.
From hope to heartbreak, exclusion and terror, she skillfully moves from one emotion to another to deliver a nuanced performance, both sympathetic and extremely precise.
Hunted is a mix of big concepts and classic genre tropes that wouldn't work without Dever's compelling and captivating performance. By constantly delivering compositions different from her previous roles, she proves that she is a "final girl" like no other.
She seems to appropriate Duffield's intelligent and anxiety-provoking script to enrich it with her complex performance. Together, they form a powerful duo, delivering a sci-fi thriller that gives you chills and promises to become one of the favorite films of fans of the genre.