Lots of sun, turquoise blue sea, great beaches, wild nature … Cyprus is perfect for a vacation with children. BRIGITTE author Katja Bosse then had to use a few tricks to make the island's highlights palatable to her daughters.
by Katja Bosse
"This will be the best vacation of my life!" calls the child

It is a perfect moment! I sit on this warm rock, dangle my feet in the crystal clear blue and hold my face in the Cypriot sun.
Suddenly two snorkels circle my rock. The plastic breathing tubes protrude from the shallow water like shark fins. Then it splatters. With a big bub, first Amalie's forelock comes out, then the rainbow-colored swimsuit of my nine-year-old daughter. She gasps for air, tosses her long hair back and opens her eyes wide behind her diving goggles. "Man, mom! Now I've lost my crush!"
Disappointed, she slaps her left hand on the surface of the water, while in her right she holds an open bottle that is supposed to serve as a fishing tackle. Another injection, Tonie appears. My twelve-year-old also spits salt water, then she pulls her diving goggles onto her forehead with a smacking sound. She holds her plastic bottle up to the light eagerly: "No fish again! It just doesn't work!"
Two days earlier we were just leaving our luggage in the hotel lobby when the girls were storming outside. You have discovered the impressive pool landscape – and can hardly believe your luck. "This will be the best vacation of my life!", Cheers one, while the other begins to beg: "Can we please, please come in now?"
I want to see more than just the pool

The good thing about my children's deep love for pools is that they slide, romp and jump through the pool until their fingers are wrinkled – and I can read in peace. Pools are the ultimate good-mood guarantee for our holidays and more important than any travel cancellation insurance: If the children are satisfied, the parents can relax. That's why we invested in swimming courses early on. The bad thing about their pool love is that they just don't want to go out there anymore – and prefer to do nothing but splash around.
I, on the other hand, have big plans for Cyprus: I want to discover the beautiful beaches and pristine wilderness and see at least one of the spectacular sunsets over the sea for which this island is famous. And Paphos, the capital in antiquity, as evidenced by various excavations, remains of palaces and royal tombs. While I am relaxing on the sun lounger and listening to the girls' cackling with half an ear, I devise a plan to make the excursions I plan for the next few days tasty for them …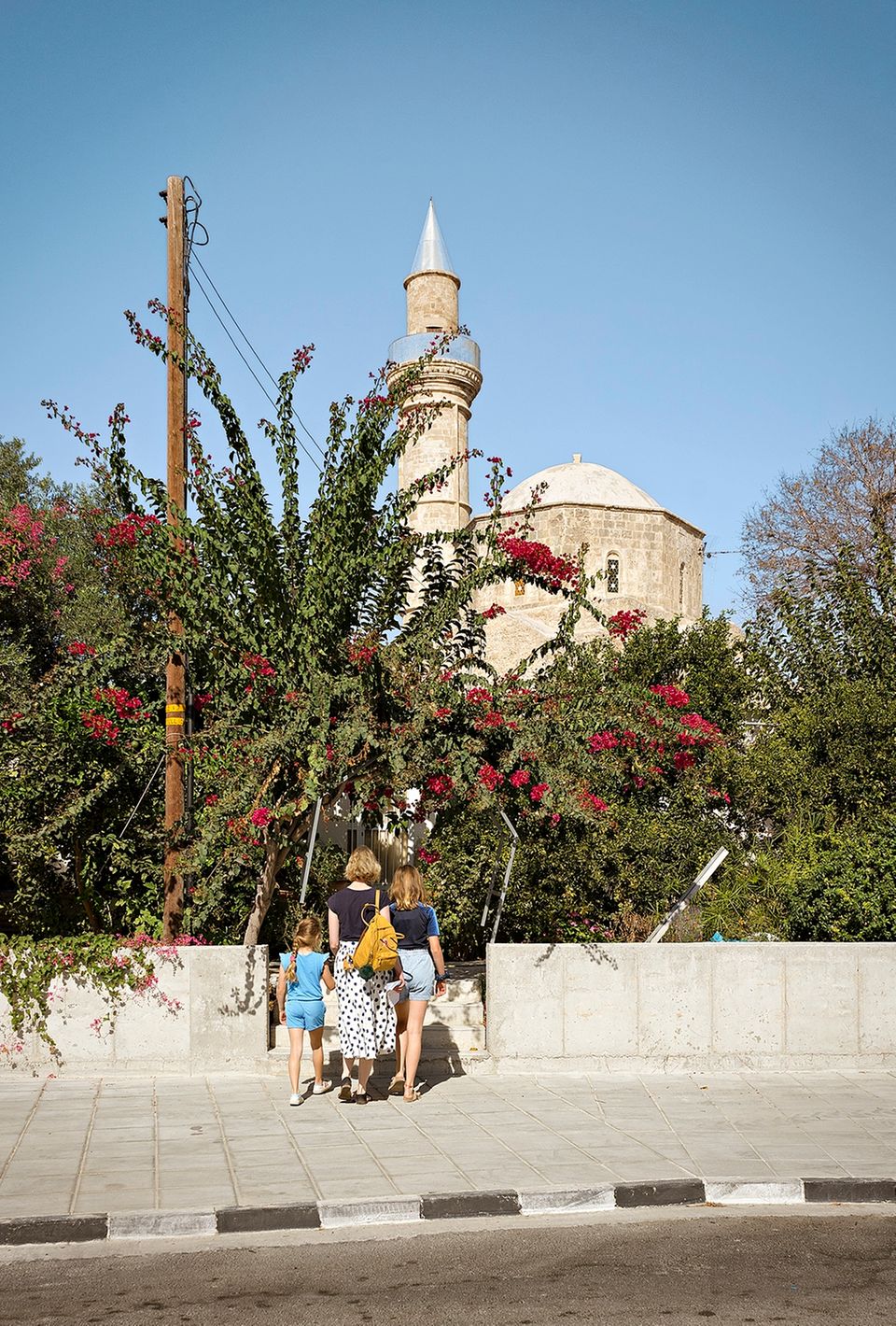 The first opportunity arises when Tonie and Amalie discover their diving goggles and snorkels. "Don't you want to go looking for fish instead of just looking at the tiles from the pool?" I ask with an innocent expression. "But only if I can take a fish into the hotel as a pet!", My elder tries to act. "Yeah! It can live in our water bottle and we will feed it with crumbs," agrees her sister enthusiastically. Faster than expected, both of them grab a bottle each as a substitute for fishing and slip into their beach slippers. Running with us!
It's all a question of strategy

Our destination is Coral Bay, a double bay surrounded by picturesque, cave-lined limestone cliffs. At the first we get off – and land with our feet in the white beach sand. Umbrellas and loungers could be rented here. But we just quickly spread our towel and jump straight into the turquoise blue water.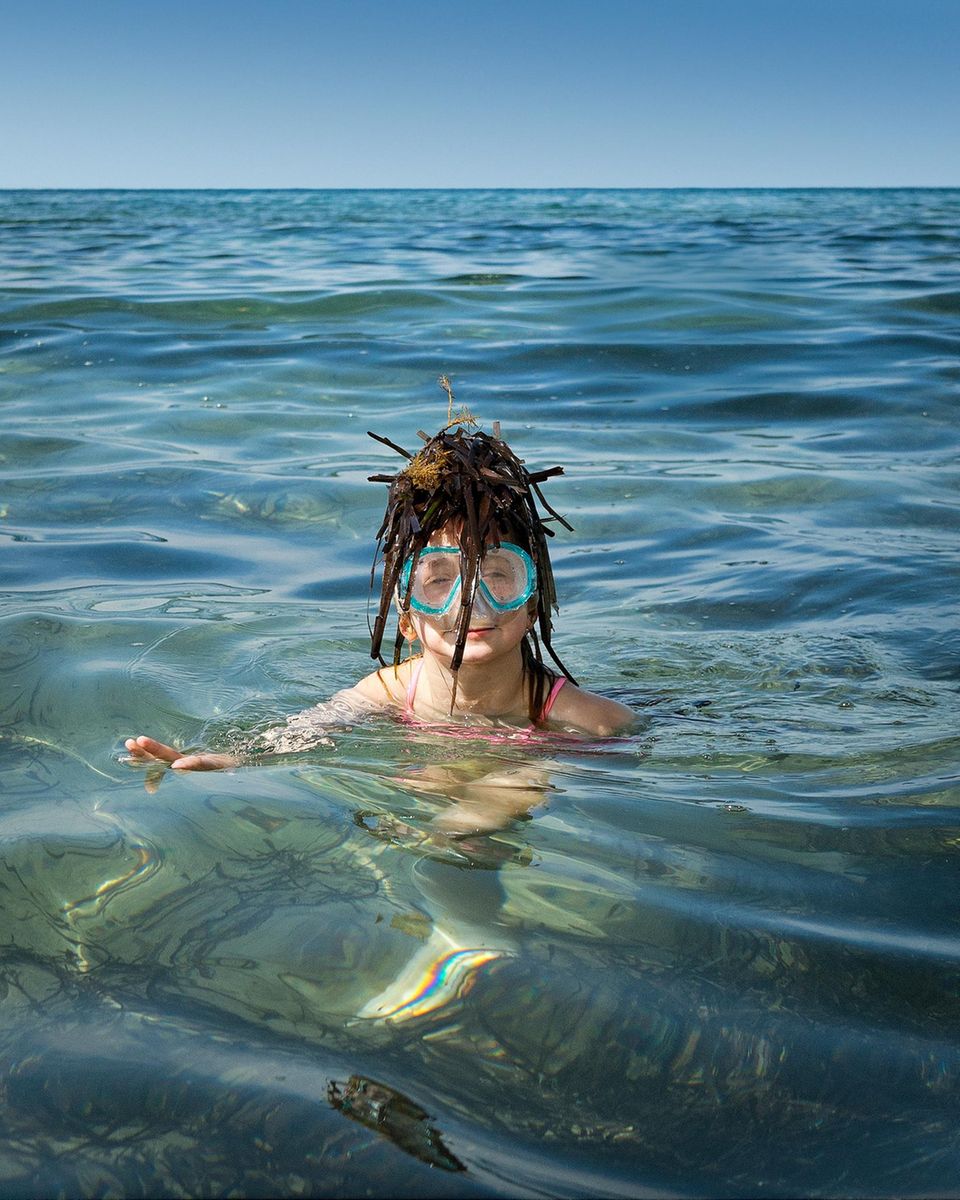 Many colorful schools of fish later we walk (with empty catching bottles and hungry stomachs) on to the second bay. In the beach bar, which is obviously also popular with the locals, there is a daily changing menu that the local fishermen pull from the sea – as well as fries and sundaes for the kids. We eat our fill, watch a hare hop across the beach – and then slump back to the bus.
The next day will be a strategic pool day to keep the girls happy. They have met their peers and are having fun with water polo and children's cocktails. They don't have enough until the late afternoon, and we move to the small hotel beach to play cards in one of the white beach beds. When we were having an ice cream on the Paphos harbor promenade in the evening, I literally bag our next day at the sea: Tonie discovered a waterproof cell phone case between cheap jewelry and postcards at one of the stands. "I've always wanted one like this!" Enthuses my big one. "I can use it to shoot videos for TikTok underwater!" Under normal circumstances, I would now persuade her not to waste grandma and grandpa's vacation pay all at once. In addition, for a scrap bag with a zip fastener, which in the best of cases does not hold tight until the end of the holiday and in the worst case not at all. But as it is, the cover comes in very handy: "I agree," I reply. "Then you can inaugurate them tomorrow on our trip to the Blue Lagoon!"
Safari and sweet fruits

"What is a lagoon?" Asks Amalie the next day when we are on our way with the jeep towards the Akamas Peninsula. I explain to her that from Latchi, the destination of our tour, we will take a boat to the same bay, and that the water there is particularly blue and beautiful for swimming. "Is the water there shallow or deep?" – "I only go in when it's deep!" – "I only do it when it's flat!" While the sisters are discussing, I enjoy the view from the car window: along the coast north of Paphos there are orchards as far as the eye can see. From mangoes to grapefruits and dragon fruits to prickly pears, pomelos and pomegranates, everything grows here.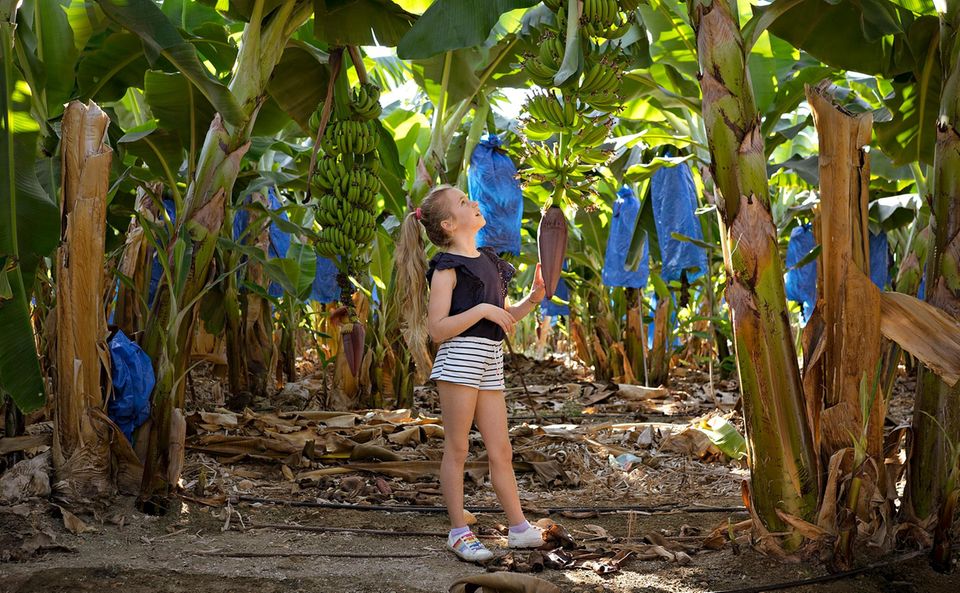 Tonie and Amalie are also amazed at the variety of exotic fruits – from the Hamburg area the two northern lights only know apple, cherry and pear trees. We stop at a plantation with baby bananas of the "Dwarf Cavendish" variety (super sweet, the kids like it!), Then the peninsula is already in front of us. Countless rare plants thrive in this nature reserve, as well as butterflies, seals and foxes. In order not to disturb the animals, there are no paved roads through the area. Fortunately, Polys, our safari guide, is very knowledgeable. He was born on the edge of the peninsula and steers us safely over bumpy slopes and steep coastal roads. When we have to pass a particularly rocky slope, Amalie audibly draws in air. "You know," says Polys and winks at her: "I'm also sometimes scared when I look down there. But then I just close my eyes!" Amalie looks over at me, startled, then the penny falls and she starts to laugh.
On a hike through the river bed of the Avakas Gorge, we met a pack of mountain goats, much to Tonie's delight. And Amalie is also satisfied: She has stolen his hiking stick from Polys and happily jumps from one stone to the next, past carob trees, gorse and juniper bushes.
Mussels, snails, turtles

Then the jeep continues to Lara Beach, where the loggerhead turtles, which are threatened with extinction, lay their eggs in the sand during the summer months. Every September the babies hatch and crawl into the sea. Now we don't see any more turtles, but we see broken egg shells. You could almost mistake them for mussels.
Tonie later fishes mussels and snails from the seabed of the Blue Lagoon – as planned with the mobile phone camera running. With the bag around her neck and her thumb on the touchscreen, she jumps off the deck of the excursion boat. I shiver briefly as to whether my "Made in China" mistrust will be confirmed and whether the rest of the holiday will be crying because the smartphone is in the bucket, but then the dripping wet child appears again – with a dry phone: "That's all on it, mom! Hey, I'll get so many likes! "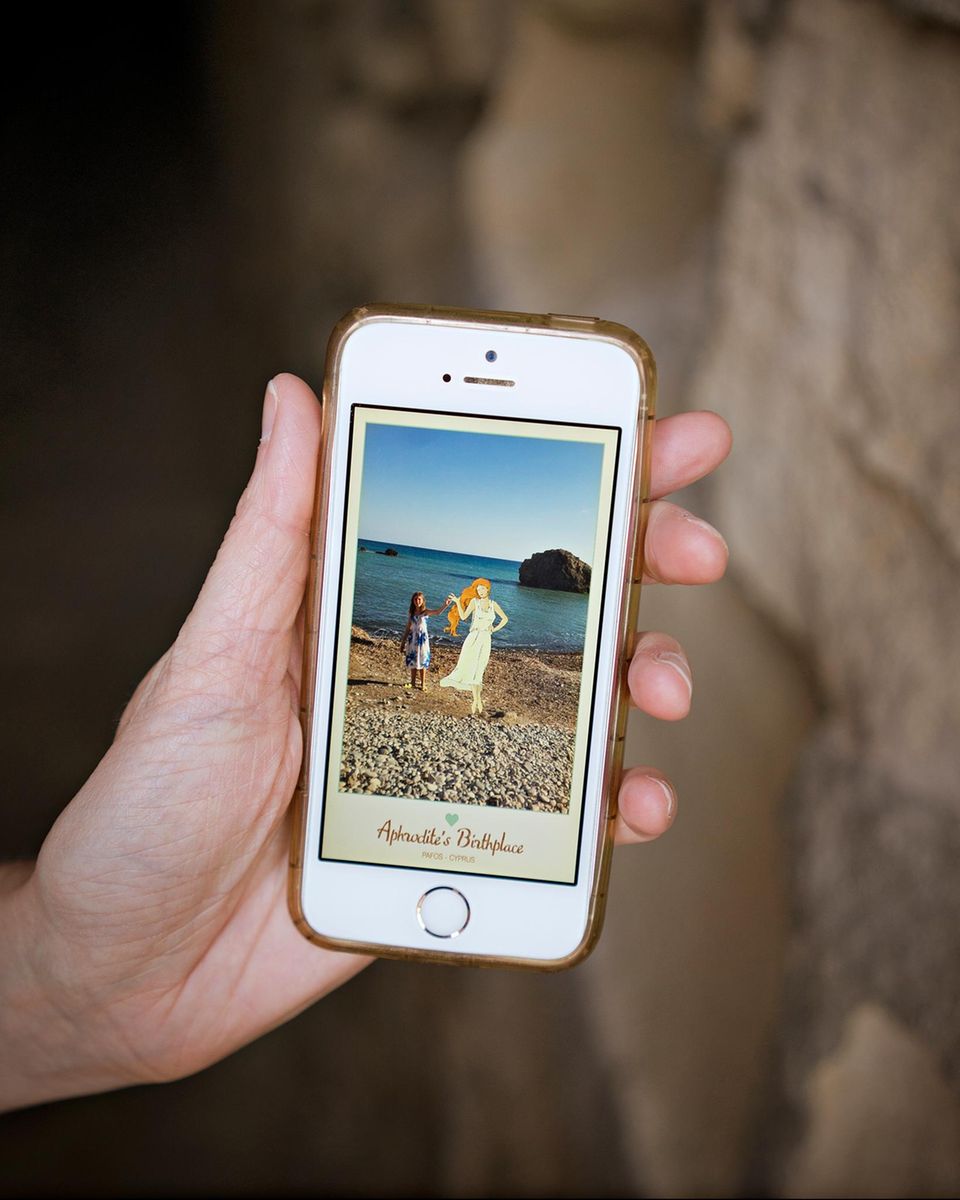 Last attraction for children: Aphrodite Beach

I also give the "I like" checkmark for our last excursion, which two days later only takes us to the port city of Limassol and on the way back to Aphrodite Beach, my last children's lure. The goddess of love is said to have risen out of the sea on the stately rock that juts out of the water here near Koúklia. And whoever swims around it three times, I read to the girls, will be blessed with eternal youth. "Then it's too late for you, unfortunately," says Tonie dryly and grins cheekily at me. She has already gone through the legends of the gods in history class. In addition, many in their class are enthusiastic about the book series about "Percy Jackson", who surfs through Greek mythology as a modern hero. So why shouldn't the beautiful Aphrodite, along with lovers, also be good for entertaining my daughters here and now?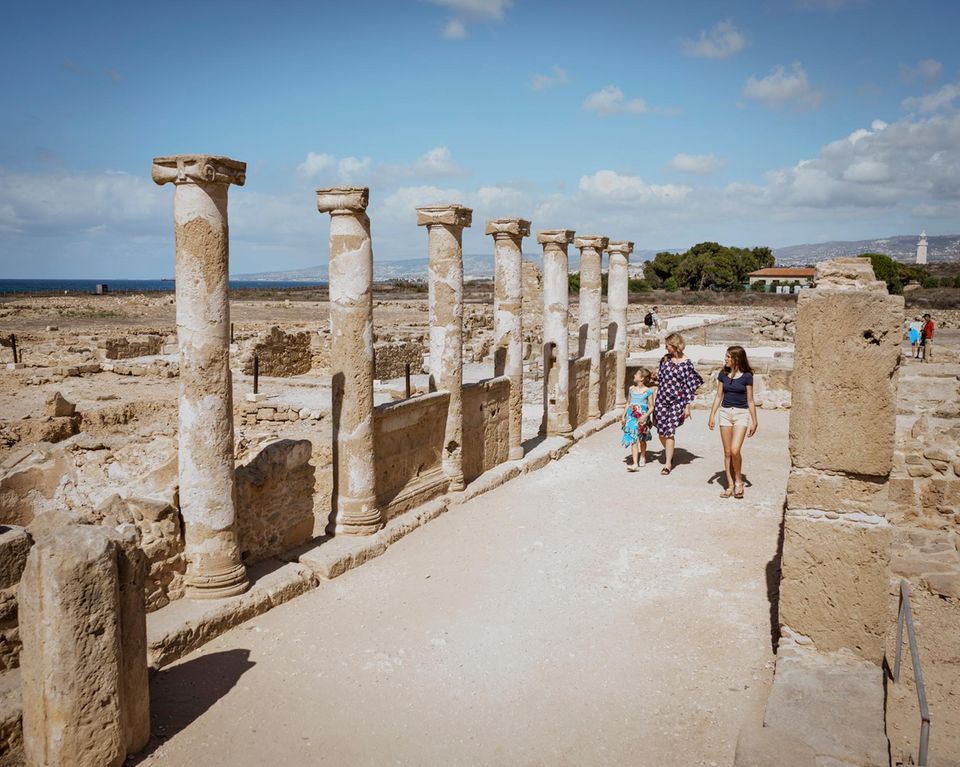 A bit of kitsch has to be there

The divine beach is pretty bumpy, however. Amalie grumbles while we stumble more badly than right towards the water in our slippers. It also shows that the sea here in the south is much more turbulent than in the western bays. Swimming far out to the rock doesn't seem particularly useful to me, despite youth promises. Fortunately, I manage to improvise: while the girls slip into their bikinis, I inflate our air mattresses. Tonie plunges into the water with it and rides the waves with joy. Amalie has a lot of fun too: With her arms drawn up, she lies down in the sand like sardines and lets the spray wash over her over and over again and whirl her around wildly.
When it finally begins to get dark, my moment comes. A couple of lovers, a bride and groom and two bathing mermaids with fish tails join us on the beach. They lay hearts out of stones, get wine glasses out of their pockets or turn on their cameras. I quickly rub the children dry and pack our things together. Then the time has come: together we will witness a wonderfully kitschy sunset. I languish for a moment, then suddenly it's dark. In the light of the cellphone flashlight we make our way back to the parking lot.
"What was the best?" I ask the next day at the farewell breakfast and can hardly decide for myself with all the beautiful pictures in front of my inner eye. The girls, on the other hand, don't think for a second: "The pool!", They call and jump up from the table. "One more time, right?" And then they're gone.
Katja's travel tips for Cyprus

Package tour

The tour operator FTI has around 200 accommodations of all categories under contract in Cyprus. One week package holiday for two adults and two children in the apartment / half board can be booked including flight from 1399 euros (www.fti.de).
Stay

Hotel Elysium. The five-star hotel with historical charm is located 20 minutes from Paphos Airport directly by the sea, has its own beach and a large pool area, as well as five restaurants, a spa with indoor pool, tennis courts, a kids club with a playground and a babysitter -Service. DR / B from 144 euros. There are also inexpensive family packages available from FTI (www.fti.de), e.g. B. 7 nights from 1899 euros for four people in a family room / HB (Paphos, Queen Verenikis Street, Tel. 26 84 44 44, www.elysium-hotel.com).
Latchi Family Resort. Located on a green hill, family hotel with sea views, ten minutes' drive from Akamas Nature Reserve. DR / F from 54 euros (Latchi, Akamantos Avenue, Tel. 26 96 20 40, www.latchifamilyresort.com).
Kefalos Beach Tourist Village. Family-friendly apartment complex with kids club. DR / B from 113 euros (Paphos, Coastal Broadwalk, Tel. 26 93 40 00, www.kefalos.com.cy).
Enjoy

Arapis Coral Bay Restaurant. Beach restaurant with a large terrace, also popular with locals. The specialty is freshly caught fish on a mezze plate from 23 euros. The main course salads from 8 euros are also recommended. For the children there are fish fingers with fries for 6 euros (Paphos, Kolpos Karalllon Coral Bay).
Grafico Café. Those who stroll through the historic old town of Paphos can take a break in this open-air café next to the old market hall, drink iced coffee or freshly squeezed juice and watch the Cypriots play backgammon (Paphos, 3 Agoras).
Lara restaurant. A spectacular view of the turtle beach of the Akamas peninsula is offered from the terrace of this wonderful excursion restaurant. There are drinks and small dishes, such as filled pita bread for 6 euros. Next door you can stroke donkeys (Paphos, Lara Beach, Tel. 99 80 90 52).
Experience

Akamas Peninsula Jeep Safari. A discovery tour to the most beautiful natural sites in Cyprus. Since rental cars are not insured on the rough terrain, we booked a German-speaking jeep safari as a full-day excursion: from the banana plantations to the Avakas Gorge, the Lara Bay and the source of Aphrodite. From Latchi, a three-hour boat trip to the Blue Lagoon is part of the excursion. 85 euros p. P. (Polys Jeep Safari, Tel. 99 48 64 37, jeepsafarizü[email protected]).
Archaeological Park. At the port of Paphos, a third of the ancient city of Paphos from the 3rd and 4th centuries has been brought to light since 1962 – the excavations are a UNESCO World Heritage Site. Magnificent mosaic floors show scenes from Greco-Roman legends. If you want to see even more old stones, visit the royal tombs of Paphos: the magnificent burial chambers are over 2000 years old. 4.50 euros or 2.50 euros, children free (Kato Pafos, www.mcw.gov.cy/da).
Aphrodite rocks. According to legend, Aphrodite, the "foam-born", rose from the sea at this point. The Cypriots call the rock that juts out of the water there, "Pétra tou Romioú", the Greek stone. Take the Paphos – Limassol motorway, exit at Koúklia and you will be at the free car park within two minutes. From there an underpass leads to the beach.
Miloméri waterfall. Anyone who, like us, goes to the Tróodos Mountains for a day should definitely stop for a 30-minute hike in the village of Páno Plátres. From here, following the splash, you can walk over hill and dale in the shade of the trees. At the destination it rushes tremendously, only the youngest of us dared to go into the ice-cold pool.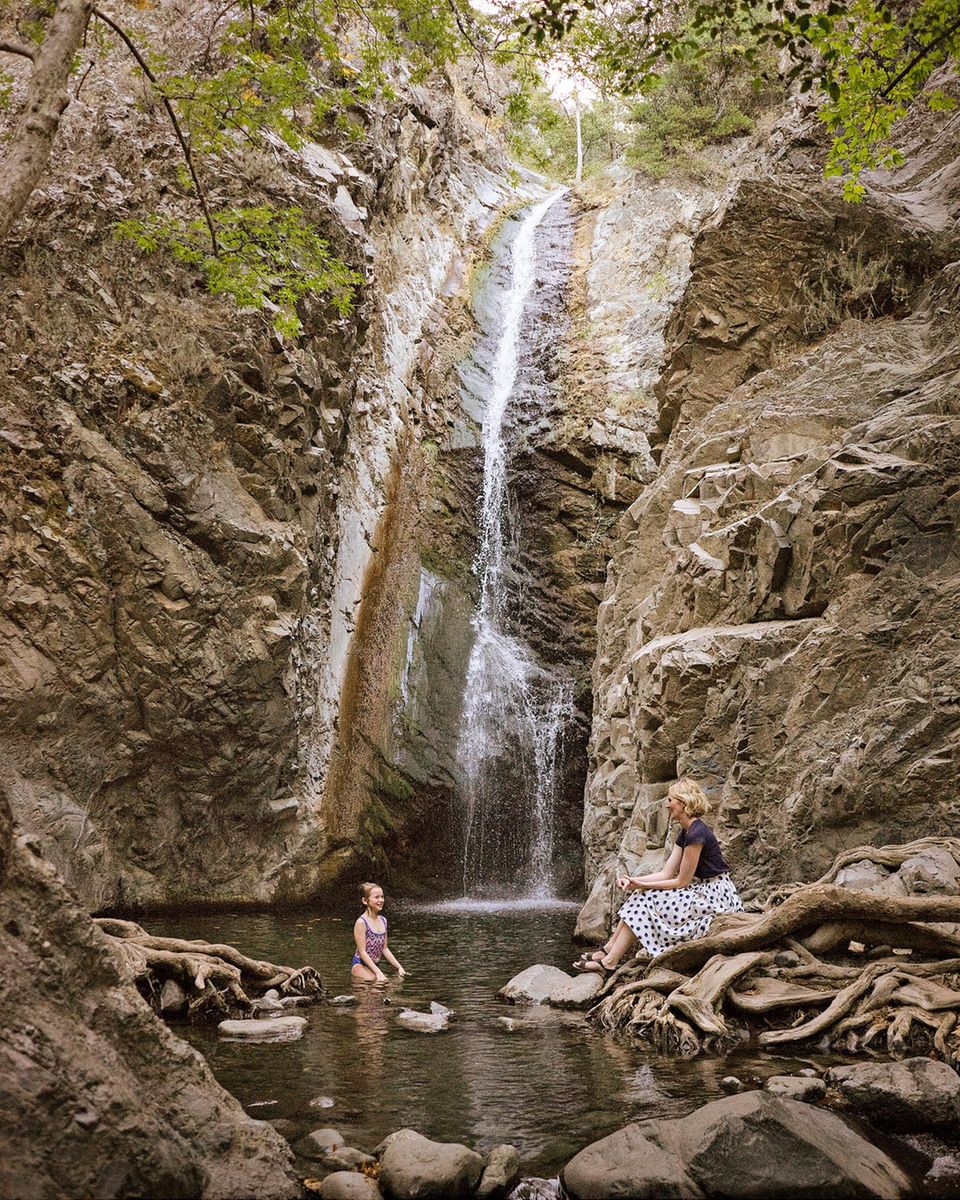 shop

Savvas Pottery. Ceramic engineer Panicos Georgiades offers a great opportunity not only to buy Cypriot pottery, but also to make it yourself on the potter's wheel in his showroom with workshop. The girls were very enthusiastic about the muddy clay and made two mugs; Courses from 50 euros (Paphos-Geroskipou, 129 Arch. Makariou III, Tel. 26 96 08 04, www.savvas-pottery.com).
Ktima Gerolemo. Shop with excellent wines in the village square of the picturesque wine village of Ómodos. The surrounding Tróodos Mountains are one of the oldest wine-growing areas in the world – farmers were already cultivating vines here 5500 years ago. You should definitely take with you: a bottle of the sweet dessert wine "Commandaria" for 18 euros (Omodos, www.ktimagerolemo.com).
Lilipou Gift Store. There are magical toys, trinkets and paper goods in this mini boutique, which is hidden in a pretty backyard in Limassol's old town. Our hearts beat especially for the handmade magnets with wooden motifs (Limassol, 3 Zik Zak Str.).
Take it with you

Bathing shoes with which you can walk over stony beaches without them slipping off your feet. Unfortunately, we only had pines with us, with which we kept kinking, especially on Aphrodite Beach.
If I had known this

We would have better left the stand-up paddling at Coral Bay. The girls struggled to stay away from the rocks because of the current.
Would you like to read more about the topic and exchange ideas with other women? Then have a look at the "Travel Forum" BRIGITTE community past!
Get the BRIGITTE as a subscription – with many advantages. You can order them directly here.
BRIGITTE 02/2021