Four months after Disney's live version, Netflix unsheathes its own version of the Pinocchio tale, directed by filmmaker Guillermo del Toro (The Shape of Water, Pacific Rim). A visually sumptuous adaptation, but which will not please everyone, especially the little ones.
"Don't lie or your nose will get longer, like Pinocchio!" » You've probably heard this sentence in your childhood, like a threat reinforced by watching the cult Disney cartoon. The wooden puppet is absolutely everywhere this year: in video games Lies of P, in a live adaptation with Tom Hanks released in September on Disney+, and now in a stop-motion film imagined by Guillermo del Toro. Available on Netflix this Friday, December 9, 2022, this retelling of Pinocchio's tale is much darker than the animated puppet's previous appearances. From the first teaser, the director warned us: " I will tell you a story. A story that you probably think you know but in fact, no, not really. »
The tone was already announced: Pinocchio Netflix version will break away from Disney's watered-down version. And the least we can say is that the father of Pacific Rim or Cabinet of Curiosities didn't go with a dead hand. Its fantastic, melancholic and sometimes frankly disturbing universe infuses every second of this tale released just in time for Christmas, but which could well disconcert the youngest and their parents looking for a moment. feel good.
A more political context
If you think you know the story of Pinocchio at your fingertips, you can immediately put aside all your knowledge and prejudices. The literary classic, written by Carlo Collodi in 1881, is here completely dusted off by Guillermo del Toro. The plot is set in fascist Italy in the 1930s, as Mussolini rises to power.
Gepetto is an old wood sculptor, lonely and in despair since the death of his young son (in the original version, you may recognize the voice of David Bradley seen in Harry Potter and Game Of Thrones). One evening, quite tipsy, he cuts down the tree planted in homage to his child to make a puppet in his likeness. A visit from the Fairy of Life later, and here is the puppet with words and movements. Then begins a crazy adventure for Pinocchio, accompanied by Sebastian J. Cricket, a philosophical insect who has taken up residence in his heart (interpreted in VO by Ewan McGregor fromObi-Wan Kenobi).
Guillermo del Toro, philosophy teacher
Between the importance of religion, the war as a historical background, the difficult management of mourning and the terrible fascist camps for children, this new interpretation of Pinocchio clearly takes a dramatic turn. Everyone seeks to take advantage of the extraordinary abilities of the puppet, for its resistance to combat or for its lucrative potential in a circus. Guillermo del Toro's subject on the world, on life and death, already very present in his other films, is reinforced even more in this Pinocchio extremely political.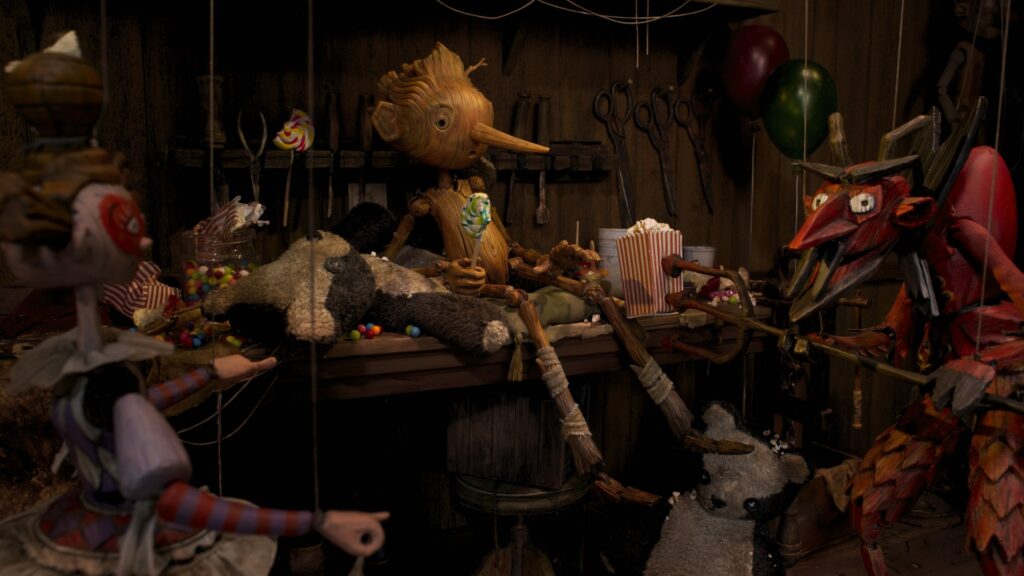 Much more committed than the Disney version, released in 1940, the Netflix film takes liberties with the original tale, to better fit Del Toro's ambitions and convictions. You will find that the conclusion of the feature film is far from being similar to the one we all know. The "real little boy" takes another path, largely oriented towards self-acceptance and tolerance. From this point of view, Pinocchio is very well done, offering an interesting reflection on our human existence, although sometimes too philosophical.
The visual first
To serve this rather dark background, Pinocchio is sublimated by an animated form in stop-motion. Guillermo del Toro is thus accompanied by Mark Gustafson in the production, a regular in this visual technique, who notably worked on Fantastic Mr Fox by Wes Anderson. The stop-motion, which gives volume to the characters by following real figurines and models, animated progressively in front of the camera, gives a look that is both creepy and very original to Pinocchio. You will be amazed, you have been warned. The puppet is particularly well done, while Gepetto's emotions are beautifully conveyed (and he cries a lot, so prepare the handkerchiefs).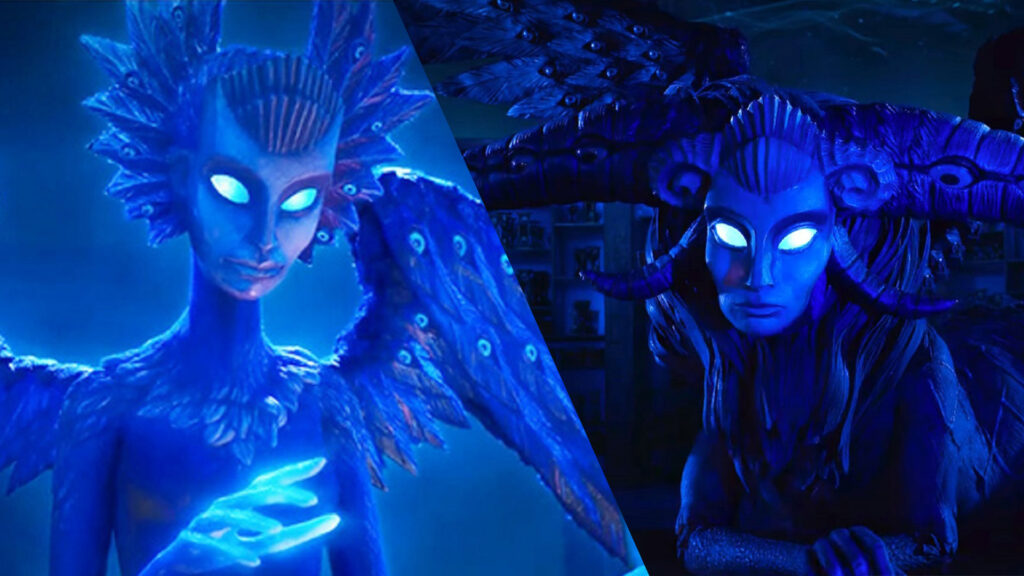 Through unique decors, Guillermo del Toro expresses all his creativity at the border of the strange. We recognize his artistic touch well and we even detect, here and there, more macabre tunes that Tim Burton would not have denied. But the most successful are undoubtedly the two figures of life and death, created by Del Toro for the occasion. Two fairies, two opposite but complementary sisters, both interpreted by the fabulous Tilda Swinton in VO (Snowpiercer, The Chronicles of Narnia). With their huge hourglasses and their enigmatic morals, these protagonists will remain etched in your memories for a long time.
Pinocchio is not a cute christmas movie
This musical project by Guillermo del Toro, developed for nearly 15 years by the filmmaker, almost did not see the light of day, due to lack of funding, before Netflix saved the day. One can easily understand why by discovering the singularity of this Pinocchio, whose audience we cannot really determine. If the visual aspect is undeniably successful, the characters are sometimes unbearable (especially Pinocchio) and it is difficult to get attached to them (except Gepetto). Especially since the film still lasts two (long) hours…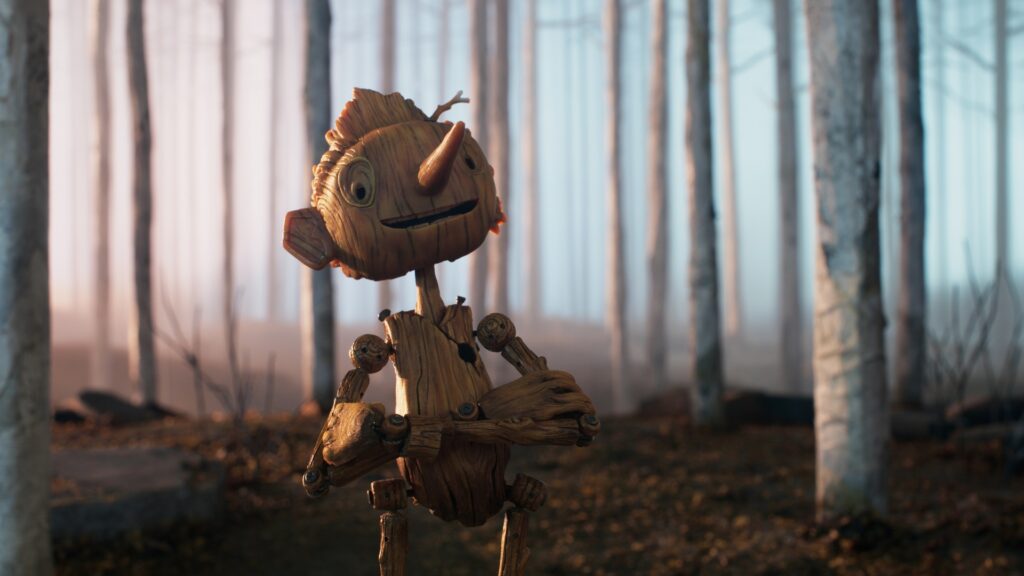 Released right in time for the end-of-year celebrations, it's hard to imagine a Christmas evening spent watching this slightly disturbing political tale. Clearly too dark for young children, we would not necessarily recommend it before 10 years old, as the plot and even the animation can sometimes give chills. If you expected a cartoon feel good to be enjoyed by the fireside with the family, you can go your own way. On the other hand, if you are an absolute fan of the work of Guillermo del Toro, the Pinocchio from Netflix will perhaps be your best gift at the foot of the tree.
The verdict
We liked
A splendid visual appearance
An unforgettable fairy duo
An unexpected political statement
We liked less
Who is this movie for?
Good songs
Pinocchio is unbearable
Why does everyone love Pinocchio?!
On paper, the Pinocchio by Guillermo del Toro already seemed to take the path of obscurity and melancholy. And on screen, this impression is largely confirmed. This rereading of the Italian tale by the father of Pan's Labyrinth is a visual delight, enhanced by lifelike stop-motion animation. Pinocchio comes to life again in a completely new context: that of fascist Italy in the 1930s. But this aesthetic and political bias raises questions about the audience targeted by the film. Too scary for toddlers, sometimes too childish for teens, Pinocchio constantly switches from one to the other and could well confuse uninformed parents, who do not know what they are getting into.