In "Visions", her first series, the first two episodes of which are broadcast tonight on TF1, singer and actress Louane plays Sarah, a young psychologist. She tells us about this role, her partner Léon Durieux, and her projects.
TF1 is broadcasting the first two episodes of Visions this evening, its new event series carried by singer and actress Louane Emera, as well as by Soufiane Guerrab (Lupin), Jean-Hugues Anglade, Julien Boisselier, Anne Marivin, Max Boublil, Marie-Ange Casta, Robinson Stévenin, and the young Léon Durieux, impressive in the role of little Diego.
For her first role on television, Louane plays Sarah Sauvant, a young psychologist who will take a close interest in the case of an eight-year-old boy, Diego Mariani, whose disturbing visions and strange drawings seem to be linked to the disappearance. of Lily, a twelve-year-old girl actively sought by the authorities and by Romain, Sarah's companion, who is a captain of the gendarmerie.
Met during the promotion of Visions, Louane tells us more about her character, about the way she prepared to play a shrink, and about her meeting with Léon Durieux, her young on-screen partner. Without forgetting to tell us about his projects and his next film.
AlloCiné: Visions is your first series. Have you received a lot of offers for television roles before? And why did the role of Sarah and this story catch your eye?
Louane Emera : Actually, no, I had never received offers for TV before Visions. But in the end I don't really ask myself the question of the format, whether it's a film or a series. Unless it's too engaging of course. I really work on the basis of the scenario: do I like it or not.
Here, the idea of ​​playing with a child appealed to me enormously. And I had seen the previous TV movie by director Akim Isker, Nobody's Child, which turned me upside down, and turned upside down the whole of France. And I was thrilled to have the opportunity to work with him.
Visions ventures into the field of fantasy, which is a genre that we still see very little in France. Was that a motivation for you too?
Visions has been given the fantasy label a lot, but I'm not sure that's what the writers wanted to convey with this series. They were more interested in my character's inner quest and in the special dimension that the paranormal could give to the whole and to the investigation into this disappearance of a child.
But what is certain is that Visions moves away from what we can see on television on TF1. By its themes, of course, but also because it's a very luminous, super polished series. There is a real cinema aesthetic in this series. I am delighted to have been able to work with this team which has made Visions a very qualitative object.
We obviously think of Sixth Sense while watching the series. Was it a reference for you and for the whole crew on set?
No not at all. I didn't ask myself the question at first. Afterwards, of course, when I was told about it, I said to myself "Ah yes, it's obvious in fact". But the writers say they wrote the show without giving Sixth Sense a second thought. And it was only after reading that their friends told them "We really think about Sixth Sense". And of course there are links, a common theme, even if the series is very different from the film with Bruce Willis.
Sarah, your character, is a young psychologist. How did you appropriate this role?
I worked a lot with my coach, Catherine Chevalier, who accompanies me on all my projects. She helps me a lot to learn, because it's a job that I'm still learning, that I don't know at all at the fingertips yet. And at the same time, I also talked quite a bit with my little sister who is a student in psychology. Frankly it helps (laughs).
The heart of the series is based in particular on the special relationship that develops between Sarah and Diego. How was filming with Léon Durieux?
It was obvious. We met and immediately fell in love. So much so that today we call each other once a week, we try to see each other as much as possible. I got very attached to his family too. We actually love each other too much. It's very strong between us. And it was very easy right away. But suddenly it was less easy on the set because we laughed a lot.
Léon has a complicated role, he is in a constant distance from the others, he is inhabited by this strangeness. Was it important between scenes to laugh and bring a real good mood to the set to defuse all that and make the shoot as pleasant as possible for him?
Sure. The funny thing is that Leon has nothing to do with his character. That's what's impressive about him. We're talking about a 9-year-old child who plays silence, mystery, like a 40-year-old pro actor, when he doesn't have an ounce of that personality in life.
Léon is a very lively little boy, who runs everywhere, who moves everywhere. He obviously had a coach on set, and Akim was very precise with him, they had their way of working which was very nice to see. But despite all these people around him, Léon impressed me a lot.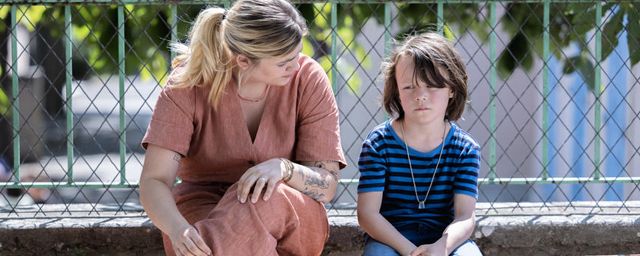 What can you say about what awaits your character over the six episodes of Visions?
There is a real parallel investigation concerning my character. Sarah has a hole in life, there is a lot of research on what she may have lived. And thanks to this little boy, she will discover many things about herself and what she has experienced in the past. This will allow him to open up.
But Sarah is not an investigator. And she doesn't want to be. Sometimes it even makes her uncomfortable, or in complicated situations. If she can help her mate, of course she does. But she doesn't want to be part of the investigation. She just wants to help Diego.
The most important thing for her is to accompany Diego correctly. And everything that happens around her torments her a little. Because even if she understands that Diego will be able to help her explore shadowy areas of her past, she doesn't want to take advantage of this child and his faculties. And at the same time, she feels that, thanks to him, she will be able to learn really enormous things about her life.
Is there a sequence that was harder to shoot than the others, or that sticks in your memory?
I had a very difficult stunt scene, but I can't say more, I don't want to spoiler. But it was very hard.
Did this first television experience make you want to repeat the experience?
For the mini-series, yes, no problem. But an engaging series over several seasons, I'm not sure I'm ready for that. I make music, and that's my "real" job. Or in any case my job of heart, my first job. I will never give up music for something else. So we'll see if other proposals arrive for the small screen. In the meantime, I'm on stage, on tour, and I'm getting ready to shoot a film by Jean-Pierre Améris with Michel Blanc this summer.
CODA, the American adaptation of The Bélier Family, recently won the Best Picture Oscar. How does that feel to you?
I'm super happy to be part of the story somewhere. And I am delighted that this story, which speaks of disability, of openness to the world, of benevolence, can cross the oceans and have an extension of life. And that doesn't surprise me at all. Neither the Oscars nor the success the film had in the United States. Because it's a movie that feels good.
Have you seen CODA? Is it difficult to watch a "remake" of such an important film in your career?
Yes, I saw it, of course. It's crazy. There are things that change, but it's the same story. And it's weird to see on screen something I did, with another actress in the same role. There are scenes that are almost identically reproduced. I was like, 'It's amazing, I've been through this before in my life' (laughs).