For once, AMD is preparing to launch an all-new platform for motherboards of its Ryzen 7000s.
During her Computex 2022 keynote, the CEO of AMD returned to the success of the AM4 platform. Lisa Su thus recalled that, launched in 2016, it is at the origin of more than 500 motherboard designs… A way like any other to underline that it is time to turn the page.
AM5 platform, three chipsets at launch
To accompany the release of the Ryzen 7000 series, AMD has opted for a new platform, a new socket and new chipsets. Similar to what Intel has been doing for some time now, the AM5 is an LGA (for Land Grid Array) socket, with the pins on the motherboard.
Logically, Lisa Su confirmed that the release of the AM5 platform would be at the same time as that of the Ryzen 7000 series processors, i.e. " in the fall of 2022 ". Three chipsets will then be immediately offered: the X670E (for Extreme), the X670 and the B650.
The X670E will be the most ambitious, and the "PCIe Gen 5 everywhere" advanced by AMD suggests that it will add PCIe 5.0 lines to those of the processor. What the X670, a sort of Ryzen 7000 version of the well-known X570, will not do. Finally, the B650 will be content with PCIe 4.0 for the graphics card and will leave it to the CPU to manage the NVMe in PCIe 5.0.
24 PCIe 5.0 lanes and 14 USB 20 Gbps
At its maximum capacity, the AM5 platform must be able to manage up to 24 PCIe 5.0 lines more particularly oriented towards the graphics card and NVMe SSD storage units. It is of course planned to support DDR5 RAM.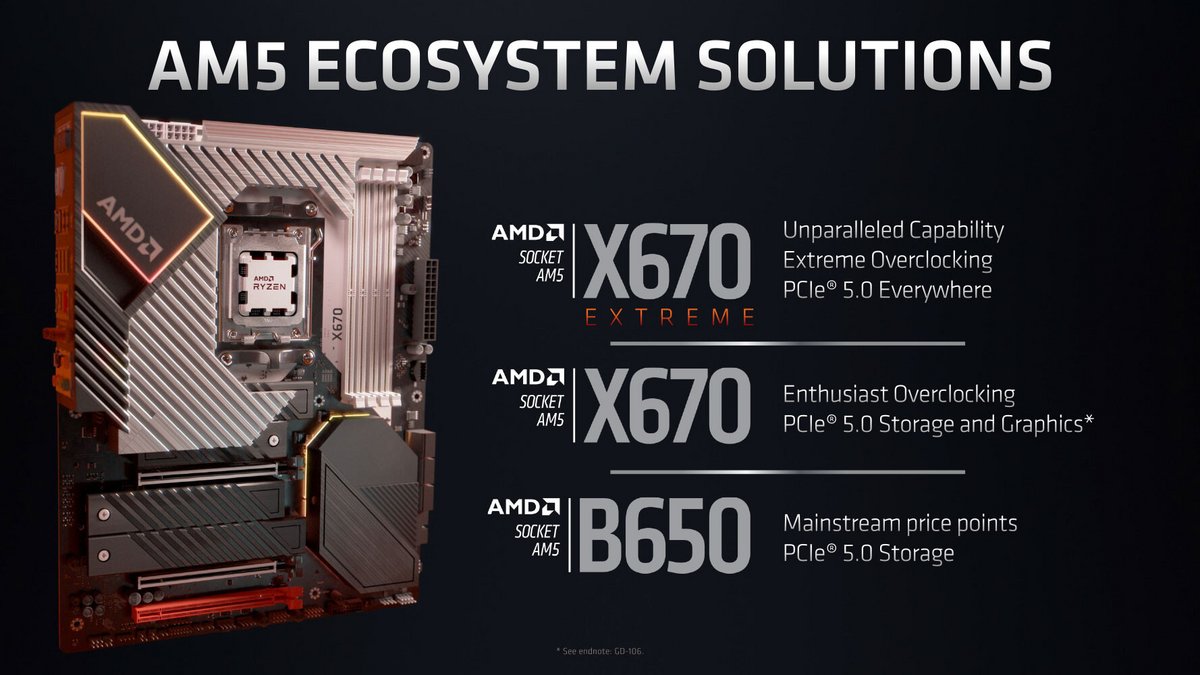 On this subject, AMD mentions DDR5-4800, dual channel compared to the DDR5-3200 put forward by Intel on Alder Lake. On the other hand, there is no question of accepting DDR4. Of course, SuperSpeed ​​USB is on the menu (up to 14 20 Gbps ports), and AMD also mentions Wi-Fi 6E, Bluetooth LE 5.2 and up to 4 DisplayPort 2 and HDMI 2.1 ports.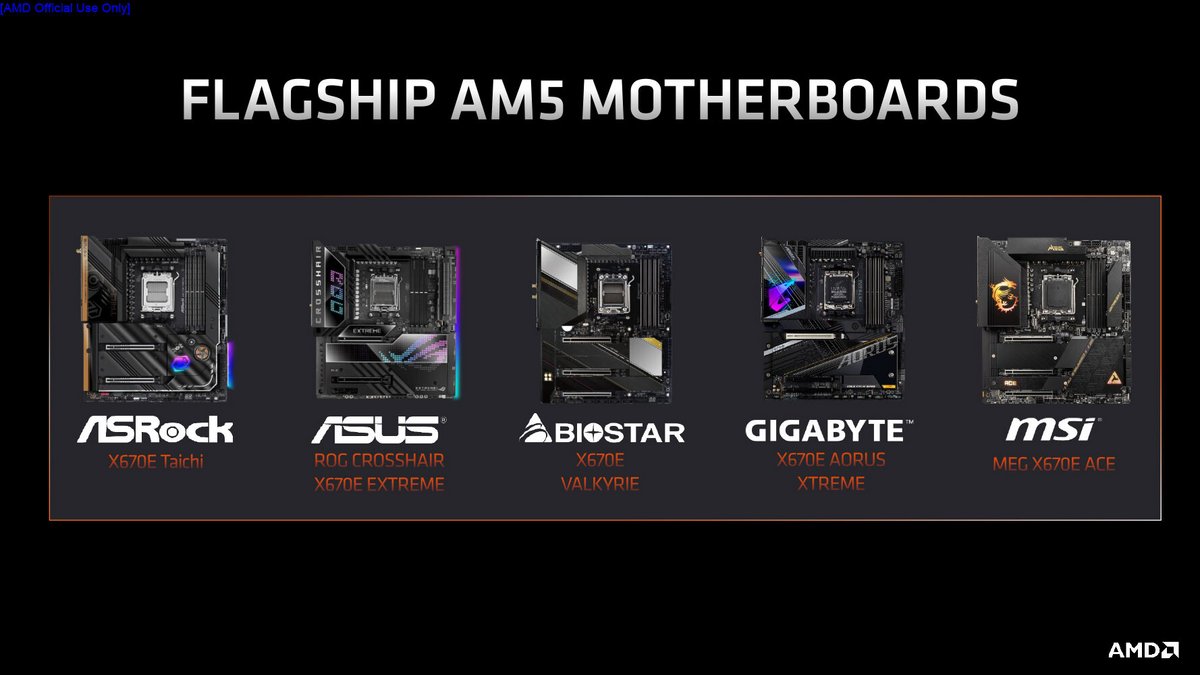 Unsurprisingly, AMD is already working with all the big names in motherboards. Their products will be ready for: ASRock X670E Taichi, ASUS ROG Crosshair X670E Extreme, BioStar X670E Valkyrie, Gigabyte X670E AORUS Xtreme and MSI MEG X670E ACE, among others.
Finally, let us underline a particularly interesting point. AMD has effectively confirmed that despite the socket change, AM4 compatible cooling solutions will be reusable on the new platform.
On the same subject :
AMD Navi 31: the most powerful RDNA3 GPU would have a 384-bit bus and 24 GB of GDDR6
AMD

Motherboard

Computer science

PC components